1999 GIS CD Announcement
[Before the widespread availability for fast internet connections, the BBNEP was making available GIS data sets on CDs and mailing them to towns. This announcement was sent to the towns in 1999.]
Buzzards Bay NEP Releases GIS Data CD
In January 1999, the Buzzards Bay NEP began shipping compact disks containing containing ArcView GIS data coverages of geographic data that will assist local planners and regulators in the Buzzards Bay watershed.
For the past several years, the Buzzards Bay NEP provided grants to Buzzards Bay watershed municipalities to purchase computers, software, and develop geographic data layers to assist local officials in meeting their information needs. Many of the data files contained on this disk are parcel and other town coverages developed by Buzzards Bay municipalities or their consultants with funding provided by the Buzzards Bay NEP. Included on the CD are coverages from other public agencies such as MassGIS (e.g., streams, coastlines, open space), US Geological Survey (Quad Sheet images), and Mass DEP Wetland Conservancy Maps digitized with Buzzards Bay NEP funding.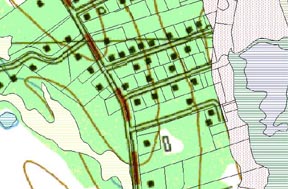 For many of the municipalities in the watershed, GIS users can now display a quad sheet image, show core wetlands, or FEMA maps of coastline velocity zones together with assessors parcel boundaries. We believe this type of data will help towns in a wide range of planning activities such as buildout analyses, development of open space and harbor plans, and help towns identify parcels for acquisition.
The CD is dated and has a version number. The Buzzards Bay NEP frequently updating and revises GIS coverages and obtains new ones. We anticipate that we will issue an upgrade of the data CD every six months as new data becomes available.
This disk has been long in the making and represents the hard work of many individuals. It is our hope that municipal Boards and departments find this data of use in both their day to day and long term planning activities.
---