Nitrogen Pollution in Buzzards Bay
Related pages:     1992 Nitrogen Action Plan |  Citizen Monitoring Program |  Stormwater Pollution
Overview of Management Efforts
This page is a portal to information about nitrogen pollution, and the efforts of the Buzzards Bay NEP and its partners to document impacts, establish loading limits, and mitigate nitrogen pollution in Buzzards Bay.
The Buzzards Bay NEP's tiered nitrogen limits strategy proposed in 1991 has been superseded by the nitrogen TMDL methodology employed by the Massachusetts Estuaries Project effort, and adopted by DEP in 2001. However, because not all estuaries have been evaluated by the MEP, and because managers are need to calculate nitrogen loadings for specific developments, parcels, and subwatersheds, we maintain a Nitrogen Management Tools page which includes loading spreadsheets and guidance that is now more consistent with MEP nitrogen loading assumptions. We also explain loading coefficients used in the MEP watershed loading models so that municipal officials and regulators can better understand various assumptions included in their analysis.
While the science to establish nitrogen TMDL limits has improved greatly during the past twenty years, management solutions to deal with the problem have changed little, and in most watersheds the management focus is to how to better manage nitrogen form onsite wastewater disposal systems (septic systems), and in some watersheds, how to reduce nutrients from agriculture. For a description of Buzzards Bay NEP's past and present efforts to manage nitrogen go to our Nitrogen Management Origins page. Old management plan recommendations are contained on our old Nitrogen Action Plan page. Nitrogen Management recommendations contained in our updated CCMP our found on our new Nitrogen Action Plan page. For information about the Buzzards Bay Coalition and their ongoing efforts to document water quality degradation associated with human sources of nitrogen, go to our Citizen Monitoring Program page.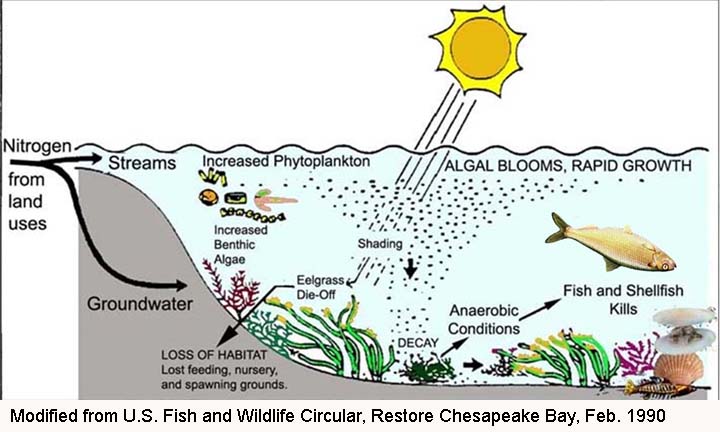 ---