Natural Resource Damage Assessment for the 2003 Bouchard No. 120 Oil Spill
What is the NRDA?
Separate from the cleanup actions for Bouchard No. 120 oil spill, state and federal agencies established a Natural Resources Damage Assessment (NRDA) to evaluate all the short term and long term impacts of the oil spill on Natural Resources. The objective of this process is to restore coastal and marine resources that have been injured by releases of oil, and to obtain compensation for the public's lost use and enjoyment of these resources. Both environmental impacts and indirect economic impacts will be assessed.
The National Oceanic and Atmospheric Association (NOAA) has set up a NRDA page for the Buzzards Bay oil spill, and readers are encouraged to review the information on that page by the link below. At the bottom of the NOAA page is a link to a one-page fact sheet on the Bouchard No. 120 spill (it is a pdf file).
Bouchard No. 120 Organization Chart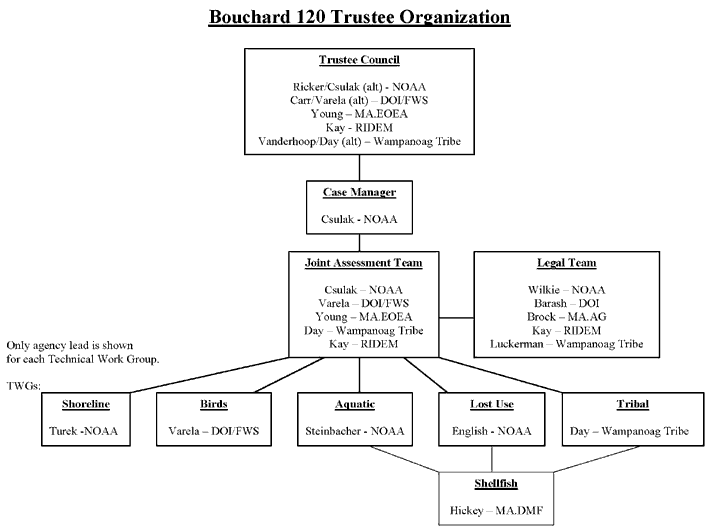 Buzzards Bay NRDA Damage Assessment Reports
It was not until 2006 that the preassassement report for Buzzards Bay was publicly released. This and other documents relating to the NRDA process are posted on NOAA's Administrative Record page for the Bouchard oil spill.
NOAA Links on Buzzards Bay NRDA
NOAA Damage Assessment Page for Buzzards Bay
NOAA Damage Assessment and Restoration Program Fact Sheet for Buzzards Bay (pdf file).
NOAA Damage Assessment Page Photos 
NOAA Links on NRDA Process
NOAA document on Damage Assessment Process for Oil Spills