Related pages: Toxic Pollution  |   Reporting Environmental Violations
What should you do if you discover an oil spill and there appears to be no government officials on scene?
1) If the oil is spilled in coastal waters or the ocean (including land based spills that are entering coastal waters via storm drains or streams), immediately call the National Response Center at 1-800-424-8802. If you are the owner or operator of the vessel causing the spill you have a legal responsibility to call this number. Area local, state, and federal officials should also call this number if they are notified of a coastal or ocean spill.
2) For land based spills, (and for coastal spills after calling the National Response Center number above), call your fire department and report the spill (in most towns the fire department can be reached by dialing 911). Generally, they will begin reporting the spill to other municipal departments and state agencies once they arrive on scene, but it would help for you to also go to step 3.
3) Call Massachusetts DEP emergency spill toll-free hotline at 1-888-304-1133. To report an environmental crime (e.g. intentional illegal dumping) call the state's Environmental Strike Force at 1-888-VIOLATE.
By calling all these parties, you help ensure a quick and favorable response to spills of oil or other toxic materials.
Important Resource Page: Mass DEP Oil Spill Response website
Oil Spill Response
Buzzards Bay area municipal Fire Departments and Harbormasters, and in some cases, shellfish wardens, have long recognized they are the first responders in the event of both big and small oil spills, and that their actions are critical in the first 24 to 48 hours to protect their town's natural resources. They recognized that the Coast Guard is the lead authority for managing oil spills in Buzzards Bay, but these officials recognized a plan of action was needed until the Coast Guard and cleanup contractors arrived on scene.
These municipal officials therefore planned and trained for oil spills. Because of their concerns, in 1996, twelve Buzzards Bay watershed municipalities signed an Oil Spill Mutual Aid Agreement to share equipment and personnel in the event of an oil spill. In 1998, these municipal first responders developed their own Buzzards Bay [Municipal] Oil Spill Response Manual, to identify access points, available equipment, and initial goals. This plan was updated in 2001 before the B120 spill. (Read the 2001 Buzzards Bay Oil Spill Response Manual (184 kb pdf file).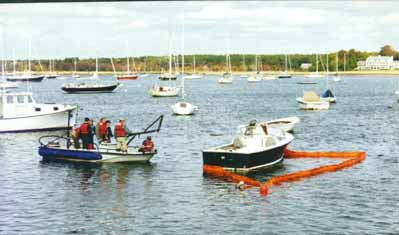 For more than a decade before the April 2003 Bouchard 120 spill, the Buzzards Bay National Estuary Program supported this municipal effort by providing nearly $80,000 in grants to Buzzards Bay municipalities to buy oil spill containment boom and other equipment and pay for emergency response training. (Read this 1998 press release). The goal of this effort was to help municipalities be more effective first responders in both local spills, and to help minimize impacts of larger spills in the bay.
This investment of time and money paid off big dividends during the Bouchard spill because most of the protective boom deployed in the first 48 hours was boom owned by the municipalities around Buzzards Bay and deployed by city and town officials who were in fact the first responders for many areas of Buzzards Bay. (Read this article by Dr. Joe Costa in the NB Standard Times about town actions to protect sensitive areas in the first days of this spill.)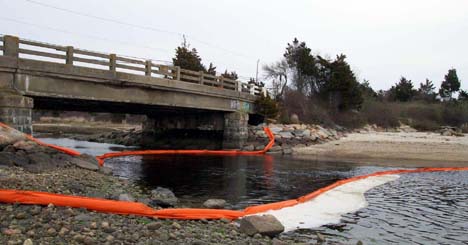 Little River Dartmouth was first boomed off by Dartmouth Town officials (Oil Spill Coordinators Mike O'Reilly, Conservation Agent and Ken Pacheco, Dartmouth Shellfish Warden) prior to private oil spill contractors arriving on scene. In many towns, municipal oil spill coordinators were quick to respond to the oil spill and also assisted state, federal, and private contractors deploy later deliveries of boom.
DEP puts the BBP out of Business (the oil spill grant business, that is)
As of June 2005, grants from the Buzzards Bay NEP to Buzzards Bay municipalities were no longer necessary because the Massachusetts Department of Environmental Protection had agreed to fund municipal oil spill training and equipment purchases with the new Massachusetts Oil Spill Law oil spill fund. This fund receives the 2 cent per barrel fee collected on oil deliveries to Massachusetts ports.
At the time DEP decided to fund these efforts, the Buzzards Bay NEP had in place a $15,000 grant with the town of Fairhaven to purchase oil containment equipment on behalf of the Buzzards Bay first responders. The Project had also set aside $7,000 to have Massachusetts Maritime Academy and oil containment experts to provide both classroom exercises and field training contractors to the fire chiefs, harbor masters, and shellfish officers who represent their municipalities in oil spill emergencies. DEP has agreed to assume these expenses, freeing up the $22,000 in Buzzards Bay municipal grants for other worthy municipal environmental grant awards.
The first DEP funded training session for Buzzards Bay officials occurred on June 1, 2005 at the Massachusetts Maritime Academy. A field training exercise is planned for June 27, 2005 in Dartmouth. Stay tuned for more information about this event.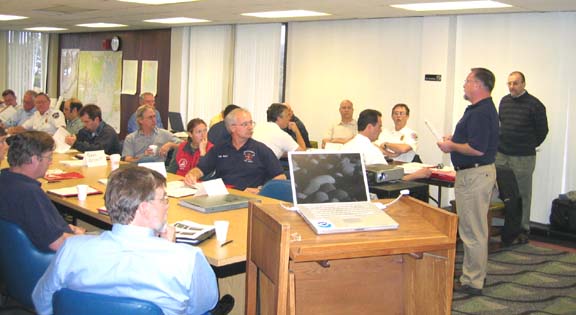 Buzzards Bay municipal first responders attend a classroom training session at Massachusetts Maritime Academy on June 1, 2005 in advance of their June 27 field training exercise in Dartmouth.
GRP and Next Steps
In 2004, The Buzzards Bay Coalition received a grant from the Massachusetts Environmental Trust to hire Research Planning, Inc. of Rhode Island to prepare a "geographic response plan" for oil spill mitigation in Buzzards Bay. Additional funding was provided by the Massachusetts Department of Environmental Protection.
The Coalition coordinated the development of the plan, which was prepared with input from Massachusetts Department of Environmental Protection, the Office of Massachusetts Coastal Zone Management, the National Oceanic and Atmospheric Administration, the United States Coast Guard, the Buzzards Bay National Estuary Program, Massachusetts Maritime Academy, and first responders from ten municipalities surrounding the Bay. The purpose of this plan is to provide responders with guidance on equipment, shore access points and strategies that can be immediately implemented to begin an effective response to minimize oil impacts.
On the second anniversary of the Bouchard Barge B-120 oil spill, the United States Coast Guard – MSO Providence approved this plan. At the June 27, 2005 field training event, a portion of this plan will be put to the test.  This plan was revised in 2009, click the link for more information about, and to download the 2009 Buzzards Bay Geographic Response Plan.
For the Buzzards Bay municipal training event, the Buzzards Bay NEP produced these two 9 foot by 3 foot poster maps of Buzzards Bay showing the GRP. Download these maps if you own a plotter and can handle their large size.
Oil Spill Geographic Response plan, North Buzzards Bay panel
(29 MB! Right click on the file to save to your computer then open. If you open in your browser you may receive a time out error.)
Oil Spill Geographic Response plan, South Buzzards Bay panel
(23 MB!Right click on the file to save to your computer, then open. If you open in your browser you may receive a time out error.)
More Oil Pollution Information from the Buzzards Bay NEP
General Emergency Response numbers
Coast Guard Southern New England District
US Coast Guard Homeport Site for Southern New England District
Mass DEP Oil Spill Response website
(This page was originally written using the 2005 Geographic Response Manual as a guide and has been updated to include references to the 2009 Geographic Response Manual.  For more information on the Massachusetts Geographic Response Manual please visit this Massachusetts Department of Environmental Protection webpage