BBP Funds Oil Spill Training
This page was posted before the 2003 Bouchard oil spill.  The Buzzards Bay NEP and Buzzards Bay Action Committee initiated these actions because of some small oil spills in Buzzards Bay during the 1990s.
FOR IMMEDIATE RELEASE, April 22, 1998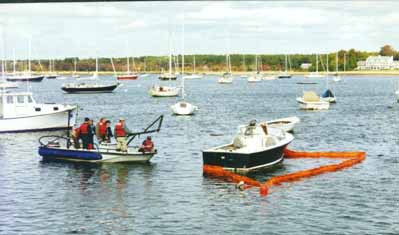 Bay Project funds oil spill training for Buzzards Bay officials
Wareham — Today and tomorrow, municipal officials from Buzzards Bay coastal municipalities will be participating in a two-day oil spill response training course at Massachusetts Maritime Academy. The classroom course, which includes a computer simulation of oil spills, is meant to compliment an earlier hands-on field training class held in Sippican Harbor in Marion for these same officials last fall.
Both courses were funded by the Buzzards Bay National Estuary Program which hired the Massachusetts Maritime Academy to conduct the training. The first course on boom handling and deployment was held twice last Fall in the Town of Marion and was attended by about 30 municipal officials from all the coastal towns from Falmouth to Westport. The second course being held this week will include an oil spill simulation, command and control training, and municipal response prior to state and federal spill responders arrive.
The course instructors at Massachusetts Maritime include David Barry and Ed O'Brien. Steve McKenna, Massachusetts Coastal Zone Managements Assistant Regional Coordinator for Cape Cod has also assisted in the training and has worked with the municipal officials. Mattapoisett Fire Chief Ronald Scott, New Bedford Fire Chief Stephen Schmiel, Marion Shellfish Officer George Jennings, and Rochester DPW Director Jeff Eldrich formed a workgroup to oversee the program and course on behalf of the Buzzards Bay NEP. Chief Scott heads up this workgroup.
According to Chief Scott, the first course was a great success. "We had excellent participation by the towns, and we have been very pleased with work by David Barry and Ed O'Brian."
According to Buzzards Bay NEP Executive Director Dr. Joe Costa, the course is meant to help Buzzards Bay municipalities provide a first response to an oil spill until the Coast Guard and state officials can arrive on the scene. According to Dr. Costa, his program provided more than $30,000 to municipalities around the bay in 1992 and 1996 for the purchase oil spill containment equipment such as booms, storm drain covers, absorbent pads, as well as support equipment such as splash suits and survival suits to help handle spills in cold water. He noted that "area town officials have made it very clear that they need more equipment and additional training to help them to plan for both the big and small spills that may arise. We believe that better local government preparedness is important step to minimize the impacts from oil spills, especially smaller spills near shore."
Buzzards Bay was the site of several major oil spills in past decades. The grounding of an Ocean liner in Buzzards Bay in the early 1990's and a major spill off Rhode Island prompted area municipal officials to assess their ability to respond to both small spills and large catastrophic ones. According to the Buzzards Bay NEP, more than 2000 tankers and barges carrying three billion gallons of oil travel through the Cape Cod Canal annually. Additional shipments arrive in New Bedford Harbor.
The Buzzards Bay NEP has also been working with the Buzzards Bay Action Committee, a nonprofit organization composed of area municipal officials. The Action Committee has also sponsored training for municipal officials, and in 1996, achieved a major milestone for ensuring local preparedness by getting watershed towns to adopt a mutual aid pact to share resources. ###