(LID)
The goal of LID is to mimic a site's predevelopment hydrology by using design techniques that infiltrate, filter, store, evaporate, and detain runoff close to its source.

Photo Credit: Low Impact Development Center.
LID Stormwater Management Practices
Forty foot wide road layouts in one to three acre subdivisions, coupled with piped stormwater treatment practices adopted in the 1980s and 1990s are causing more loss of habitat, water quality problems, and infra structure maintenance issues than anyone anticipated. Is there a better way?
Yes. It is called "Low Impact Development" (LID), and the new philosophy is causing Buzzards Bay watershed environmental managers and municipal Planning Boards to rethink their local subdivision regulations and environmental bylaws.
What is Low Impact Development?
Low Impact Development (LID) is the challenge of making a residential subdivision, or a commercial property, function hydrologically like wooded, undeveloped land. The goal of LID design is to maintain the integrity of each watershed by maintaining the natural, pre-developed hydrology on the site. LID designs move away from a "collect, convey and discharge" strategy to one that minimizes both impervious areas and treats stormwater onsite, not passing it onto another parcel of land or stormwater network. The strategy includes narrower streets, open road swales, and landscape practices that store and filter runoff. All this is accomplished at reduced cost to developers and increased benefits to the municipality and environment. It also means less costs to taxpayer for road repaving and other maintenance. LID practices are also a great way to "green up" a community, using attractive trees and plants.
BBP LID Presentations
9/30/02 Slide Show Presentation to Wareham Planning Board on Low Impact Development (LID)
This is a thumbnail version of the slides in a pdf file. It is 1.1 MB. This slide show was based on a PowerPoint presentation developed by the Puget Sound Water Quality Action Team.
BBAC February 11, 2004 workshop presentation (1.2 MB pdf file).
John Rockwell's November 9, 2004 presentation to the Citizen Planning Training Cooperative (2.1 MB pdf file).
May 24, 2005 LID meeting: How to make Low Impact Development Happen in Your Community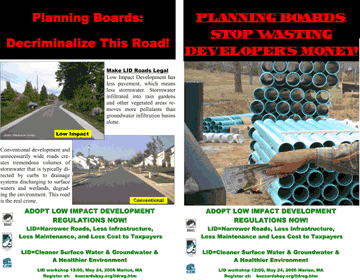 "Low impact development means narrower roads and less impervious surfaces, and treating stormwater closer to where it is generated. But LID is often discouraged by town regulations that attempt to achieve a gold standard of wide roads, curbs, and hard solutions for stormwater treatment. This old school approach is more costly to construct, bad for the environment, and creates a long-term burden for taxpayers in maintenance and repaving costs. Claims of road width to meet public safety do not match the actual needs of emergency vehicles or reflect their ability to use existing roads. Commercial sites often have parking space for the "hundred year parking event" and are rarely designed with rain capturing islands or other LID strategies. "
LID Links
Massachusetts Executive Office of Environmental Affairs LID website
Massachusetts CZM Smart Growth website
The US Environmental protection Agency's LID website
USDA EcoSmart Software Page (free online evaluation software)
Puget Sound Water Quality Action Team LID Manual
The Low Impact Development Center
Center for Watershed Protection's Stormwater Center
U.S. Environmental Protection Agency's Urban Polluted Stormwater Runoff page
Univ. WA Center for Urban Water Resources Clean Waters
Dakota County Soil & Water Conservation District LID Links page
Friends of the Rappahannock LID page
Virginia Department of Forestry rain Gardens page
Stormwater Magazine article on LID
Prince Georges County Page of Bioretention checklist
Other Stormwater Topics
BBP's Stormwater Management Page
What is the "Geometric Mean" and how to calculate it (used for swimming beach and shellfish bed closures)
Broad Marsh River Stormwater Remediation Project.
This is the final report on the Town of Wareham and DEP 319 program funded stormwater remediation project to help open shellfish beds.
Spragues Cove Project.
A two-acre wetland constructed to manage stormwater in the Town of Marion, MA.
Buttermilk Bay Stormwater Project.
Three towns, one bay, and thirty sizable stormwater discharges.
The BBP's model Stormwater Bylaws.
In January 1996, the Buzzards Bay NEP circulated model Municipal Bylaws to help Planning Boards, Conservation Commissions and Boards of Health better manage stormwater discharges. Here is the report we issued. Several towns have already adopted our approach.
MA DEP stormwater regulations and policies.
The Massachusetts Department of Environmental Protection Wetlands and Waterways division released stormwater guidance for Conservation Commissions for evaluating stormwater discharges pursuant to the State's wetland Protection Act.
National BMP Case Study Database
Metropolitan Council Urban Small Sites Best Management Practice Manual
Watersheds Urban Stormwater Site
EPA Stormwater BMP fact sheets