In May 2009, the US EPA Region 1 approved pathogen Total Maximum Daily Loads (TMDLs) for 52 areas in the Buzzards Bay watershed. These TMDLs set water quality standards in 45 estuaries (covering 38.4 square miles) and seven river areas (extending 17.4 river miles) and will have broad implications for the treatment of stormwater, issuance of discharge permits, and the implementation municipal MS4 stormwater permits. Meeting the goals of the TMDL will take many years and possibly cost a billion dollars or more.
As noted in EPA's approval documents and DEP's TMDL report, the goal of the Buzzards Bay Watershed Pathogen TMDL is to support "reduction of waterborne disease-causing organisms, known as pathogens, to reduce public health risk", and "to reopen closed shellfishing areas and protect existing shellfishing areas from degradation." DEP's TMDL report further notes that "in order for estuary areas to meet [the water quality] standards, extraordinary work is necessary to detect specific bacteria sources, and remediate them."
The Buzzards Bay Pathogen TMDL is the result of years of effort by DEP, which "is responsible for monitoring the waters of the Commonwealth, identifying those waters that are impaired, and developing a plan to bring them back into compliance with the Massachusetts Water Quality Standards (WQS). The list of impaired waters, better known as the '303d list', and now part of the Integrated List of Waters, identifies problem lakes, coastal waters and specific segments of rivers and streams and the reason for impairment. "
Key Documents
As further noted in the DEP report, "Once a water body is identified as impaired, the MassDEP is required by the Federal Clean Water Act (CWA) to develop a 'pollution budget' designed to restore the health of the impaired body of water. The process of developing this budget, generally referred to as a Total Maximum Daily Load (TMDL), includes identifying the source(s) of the pollutant from direct discharges (point sources) and indirect discharges (non-point sources), determining the maximum amount of the pollutant that can be discharged to a specific water body to meet water quality standards, and assigning pollutant load allocations to the sources. A plan to implement the necessary pollutant reductions is essential to the ultimate achievement of meeting the water quality standards."
The TMDL report itself relies on a wide variety of information, particularly water quality data from the Division of Marine Fisheries, as well as stormwater discharge maps in the Buzzards Bay NEP's Atlas of Stormwater Discharges in the Buzzards Bay Watershed, and data synthesized by the Buzzards Bay NEP and posted on this website.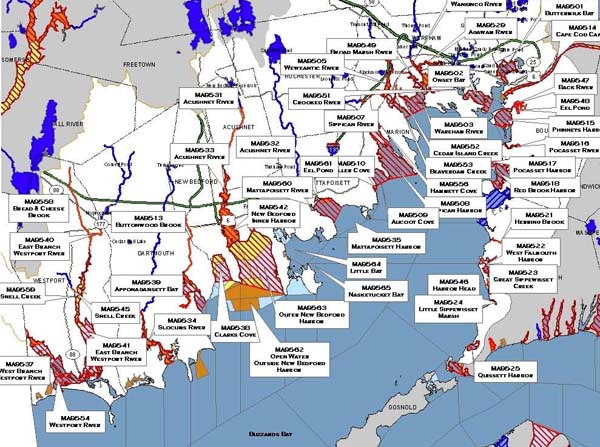 Key Findings and recommendations
"This document provides a framework to address bacterial and other fecal-related pollution in surface waters of Massachusetts. Fecal contamination of our surface waters is most often a direct result of the improper management of human wastes, excrement from barnyard animals, pet feces and agricultural applications of manure. It can also result from large congregations of birds such as geese and gulls. Illicit discharges of boat waste are of particular concern in coastal areas. Inappropriate disposal of human and animal wastes can degrade aquatic ecosystems and negatively affect public health. Fecal contamination can also result in closures of shellfish beds, beaches, swimming holes and drinking water supplies. The closure of such important public resources can erode quality of life and diminish property values." (page v)
"The primary sources of bacteria appear to be; (1) illicit connections, leaking sewer pipes, and sanitary sewer overflows in sewered areas; (2) failing septic systems around embayments in non- sewered areas; and (3) stormwater runoff. Illicit connections, leaking sewer pipes, and sanitary sewer overflows must be detected (sources) and eliminated. The majority of these sources can be found through the implementation of an effective illicit detection and elimination program and by monitoring dry weather discharges in suspected areas. A comprehensive program needs to be conducted to find sources to bacteria hotspots in the stormwater systems of many communities. The Phase II Stormwater program, required in at least parts of all the communities, is an excellent conduit to do this work." (page vi)
"In addition to identifying the loads necessary to meet water quality standards this TMDL provides guidance for setting bacterial implementation priorities within the Buzzards Bay Watershed."(page vii)
Below is a list of the 52 areas of Buzzards Bay with TMDLs established in the DEP report. The priority ranking was based on a pathogen discharge concentrations, degree of impaired uses, and proximity to adjacent important uses.
| | | | | |
| --- | --- | --- | --- | --- |
| Segment ID | Segment Name | Length (mi.) or area (sq.mi.) | Segment Description | Priorities |
| MA95-31 | Acushnet River | 2.7 mi | Outlet New Bedford Reservoir to Hamlin Rd. culvert, Acushnet. (Class B) | No Data |
| MA95-32 | Acushnet River | 1.10 mi. | Hamlin Rd. culvert to culvert at Main St., Acushnet. (Class B) | Medium |
| MA95-33 | Acushnet River | 0.31 sq.mi. | Main St. culvert to Coggeshall St. bridge, New Bedford/Fairhaven. (Class SB, Shellfishing Restricted, entirely) | High: Shellfishing CSOs |
| MA95-29 | Agawam River | 0.16 mi. | From the Wareham WWTP to confluence with Wankinco River at the Rte. 6 bridge, Wareham. . (Class SB, Restricted) | Medium: Shellfishing |
| MA95-39 | Apponagansett Bay | 0.95 sq.mi. | From the mouth of Buttonwood Brook to a line drawn from Ricketsons Point, New Bedford to Samoset St. near North Ave., Dartmouth. (Class SA, Shellfishing Open but restricted 0.68sq.mi.) | Medium: Shellfishing Swimming |
| MA95-09 | Aucoot Cove | 0.50 sq.mi. | From the confluence with Aucoot Creek, Marion to the mouth at Buzzards Bay at a line drawn between Converse Point and Joes Point, Mattapoisett. (Class SA, Shellfishing Open) | Medium: Shellfishing |
| MA95-47 | Back River | 0.08 | Outlet of small unnamed pond, downstream from Mill Pond, Bourne to confluence with Phinneys Harbor, Bourne (excluding Eel Pond). | Medium: Shellfishing |
| MA95-53 | Beaverdam Creek | 0.04 sq.mi. | Outlet from cranberry bogs of Rte. 6, Wareham to confluence with Weweantic River, Wareham. (Class SA, shellfishing restricted). (Class SA, Shellfishing all impaired) | Medium: Shellfishing |
| MA95-58 | Bread and Cheese Brook | 4.9 mi. | Headwaters, north of Old Bedford Road, Westport to confluence with East Branch Westport River, Westport | Medium |
| MA95-49 | Broad Marsh River | 0.16 sq.mi. | From its headwaters in a salt marsh south of Marion Rd. and Bourne Terrace, Wareham to the confluence with the Wareham R. (Class SA, Shellfishing Restricted) | Medium: Shellfishing Swimming |
| MA95-01 | Buttermilk Bay | 0.77 sq.mi. | Bourne/Wareham. Class SA, Shellfishing open, but partially restricted, 0.16/0.77sq.mi) | Medium: Shellfishing |
| MA95-13 | Buttonwood Brook | 3.8 mi. | Headwaters at Oakdale St., New Bedford to mouth at Apponagansett Bay, Dartmouth. (Class B) | Low (no data) |
| MA95-62 | Buzzards Bay | 8.00 | Open water area encompassed within a line drawn from Wilbur Point, Fairhaven to Clarks Point, New Bedford to Ricketson Point, Dartmouth to vicinity of Samoset St., Dartmouth down to Round Hill Point, Dartmouth, back to Wilbur Point, Fairhaven | Medium: Shellfishing |
| MA95-14 | Cape Cod Canal | 1.13 | Connection between Buzzards Bay and Cape Cod Bay in Bourne and Sandwich. | Medium: Shellfishing |
| MA95-52 | Cedar Island Creek | 0.01 sq.mi. | From the headwaters near intersection of Parker Dr. and Camardo Dr., Wareham to the mouth at Marks Cove, Wareham. (Class SA, Shellfishing Restricted) | Medium: (No Data)Shellfishing |
| MA95-38 | Clark Cove | 1.90 sq.mi. | Semi-enclosed waterbody landward of a line drawn between Clarks Point, New Bedford and Ricketsons Point, Dartmouth (Class SA, Shellfishing Open, but entirely restricted) | High: Shellfishing Swimming |
| MA95-51 | Crooked River | 0.04 sq.mi. | From the outlet of a cranberry bog, east of Indian Neck Rd., Wareham to confluence with the Wareham R., Wareham. (Class SA, Shellfishing Restricted) | Medium: Shellfishing |
| MA95-40 | East Branch Westport River | 2.85 mi. | Outlet Lake Noquochoke, Westport to Old County Rd. bridge, Westport. (Class B) | Medium |
| MA95-41 | East Branch Westport River | 2.65 sq.mi. | Old County Road bridge, Westport to the mouth at Westport Harbor, Westport (excluding Horseneck Channel). (Class SB, Shellfishing restricted,0.64/2.65sq.mi.) | High: Shellfishing |
| MA95-48 | Eel Pond | 0.03 | Salt water pond that discharges to Back River, Bourne. | Medium: Shellfishing |
| MA95-61 | Eel Pond | 0.04 | Coastal Pond at the head of Mattapoisett Harbor, Mattapoisett | Medium: Shellfishing |
| MA95-23 | Great Sippewisset Creek | 0.03 | From the outlet of Beach Pond in Great Sippewissett marsh to the mouth at Buzzards Bay, Falmouth, including the unnamed tributary from the outlet of Fresh Pond, and Quahog Pond, Falmouth. | Medium: Shellfishing Swimming |
| MA95-56 | Hammett Cove | 0.07 sq.mi. | Hammett Cove, Marion to the confluence with Sippican Harbor along a line from the southwestern most point of Little Neck to the end of the seawall on the opposite point. (Class SA, Shellfishing impaired 0.02/0.07sq.mi.) | Medium: Shellfishing Swimming |
| MA95-46 | Harbor Head | 0.02 | The semi-enclosed body of water south of the confluence with West Falmouth Harbor at Chappaquoit Rd., Falmouth. | Medium, Shellfishing |
| MA95-21 | Herring Brook | 0.01 | From its headwaters, northeast of Dale Dr. and west of Rte. 28A, to its mouth at Buzzards Bay, Falmouth. | Medium Shellfishing |
| MA95-10 | Hiller Cove | 0.04 sq.mi. | Area landward of a line drawn between Joes Point, Mattapoisett and the second boat dock northeast of Hiller Cove Lane, Mattapoisett. (Class SA, Shellfishing impaired 0.01 sq.mi.) | Medium: Shellfishing Swimming |
| MA95-64 | Little Bay | 0.36 sq.mi. | From the confluence with the Nasketucket River, Fairhaven south to the confluence with Nasketucket Bay at a line from the southernmost tip of Mirey Neck, Fairhaven to a point near Shore Drive. | Medium: Shellfishing |
| MA95-24 | Little Sippewisset Marsh | 0.02 | From the headwaters north of Sippewisset Rd., Falmouth to the mouth at Buzzards Bay near Saconesset Hills, Falmouth. | Medium: Shellfishing Swimming |
| MA95-35 | Mattapoisett Harbor | 1.10 sq.mi. | From the mouth of the Mattapoisett R., Mattapoisett, to a line drawn from Ned Point to a point of land between Bayview Avenue and Grandview Ave., Mattapoisett. (Class SA, Shellfishing Open, but restricted 0.1/1.1sq.mi.) | Medium: Shellfishing Swimming |
| MA95-60 | Mattapoisett River | 0.05 | From the River Road bridge, Mattapoisett to the mouth at Mattapoisett harbor, Mattapoisett | Medium: Shellfishing |
| MA95-65 | Nasketucket Bay | 3.70 | From the confluence with Little bay, Fairhaven to Buzzards bay along Causeway Road, Fairhaven and along a line from the southern tip of Brant Island, Mattapoisett to the eastern tip of West Island, Fairhaven | Medium: Shellfishing |
| MA95-42 | New Bedford Harbor | 1.25 sq.mi. | Coggeshall St. bridge to hurricane Barrier, New Bedford/Fairhaven . (Class SB, Shellfishing Restricted, entirely) | High: Shellfishing |
| MA95-02 | Onset Bay | 0.78 sq.mi. | Wareham. Class SA, Shellfishing open, but partially restricted, 0.15/0.78sq.mi.) | Medium: Shellfishing |
| MA95-63 | Outer New Bedford Harbor | 5.82 sq.mi. | Hurricane Barrier to a line drawn from Wilbur Point, Fairhaven to Clarks Point, New Bedford . (Class SA, Shellfishing Open, but entirely restricted) | High: Shellfishing Swimming |
| MA95-15 | Phinneys Harbor | 0.73 | From the confluence with Back R. to its mouth at Buzzards Bay between Mashnee and Toby's Islands, Bourne. | Medium: Shellfishing Swimming |
| MA95-17 | Pocasset Harbor | 0.33 | From the confluence with Red Brook Harbor near the northern portion of Bassetts Island and Patuisett to the mouth at Buzzards Bay between Bassetts Island and Wings Neck, Bourne. | Medium: Shellfishing Swimming |
| MA95-16 | Pocasset River | 0.05 | From the outlet of Mill Pond, Bourne to the mouth at Buzzards Bay, Bourne. | Medium: Shellfishing Swimming |
| MA95-25 | Quissett Harbor | 0.17 | The semi-enclosed body of water landward of a line drawn between The Knob and Gansett Point, Falmouth. | Medium: Shellfishing |
| MA95-18 | Red Brook Harbor | 0.91 | From the confluence with Pocasset Harbor between the northern portion of Bassett's Island and Patuisett to its mouth at Buzzards Bay between Bassetts island and Scraggy Neck, Bourne (including Hen Cove). | Medium: Shellfishing Swimming |
| MA95-08 | Sippican Harbor | 2.0 sq. | From the confluence with Hammett Cove to the mouth at Buzzards Bay (excluding Blakenship Cove and Planning Island Cove), Marion (Class SA, Shellfishing Open, but impaired 0.30 sq mi.) | Medium: Shellfishing Swimming |
| MA95-07 | Sippican River | 0.08 sq.mi. | County Rd. to confluence with Weweantic R., Marion/Wareham. (Class SA, Shellfishing Open, all impaired) | Medium: Shellfishing |
| MA95-34 | Slocums River | 0.67 sq.mi. | Confluence with Paskamanset R., Dartmouth to mouth at Buzzards Bay. (Class SA, Shellfishing open 0.01 sq.mi.,closed 0.66sq.mi) | Medium: Shellfishing Swimming |
| MA95-44 | Snell Creek | 1.5 mi. | Headwaters west of Main Street, Westport, to Drift Road Westport | Medium |
| MA95-45 | Snell Creek | 0.67 mi. | Drift Rd. to Marcus' Bridge in Westport. (Class B) | Medium |
| MA95-59 | Snell Creek | 0.01 sq.mi. | 'Marcus Bridge', Westport to confluence with East Branch Westport River, Westport | Medium: Shellfishing |
| MA95-50 | Wankinco River | 0.05 sq.mi. | Elm St. bridge, Wareham to confluence with the Agawam R., at a line between a point south of Mayflower Ridge Drive and a point north of the railroad tracks near Sandwich Rd., Wareham. (Class SA, Shellfishing Restricted) | Medium: Shellfishing |
| MA95-03 | Wareham River | 1.18 sq.mi. | Rte. 6 bridge to mouth at Buzzards Bay (at an imaginary line from Cromset Point to curved point east, southeast of Long Beach point), Wareham. Includes Mark's Cove, Wareham. (Class SA, Shellfishing open, but partially restricted, 0.68/1.18sq.mi.) | Medium: Shellfishing |
| MA95-37 | West Branch Westport River | 1.28 sq.mi. | Outlet Grays Mill Pond, Adamsville, Rhode Island to mouth at Westport Harbor, Westport. (Class SA, Shellfishing open, but impaired 0.78/2.65sq.mi.) | High: Shellfishing |
| MA95-22 | West Falmouth Harbor | 0.29 | From the confluence with Harbor Head at Chappaquoit Rd., Falmouth to the mouth at Buzzards Bay at a line connecting the ends of the seawalls from Little Island and Chappaquoit Point, Falmouth (including Snug Harbor). | Medium: Shellfishing Swimming |
| MA95-54 | Westport River | 0.74 sq. mi. | From the confluence of the East and West Branches to Rhode Island Sound; Bounded by a line drawn from the southwestern point of Horseneck Point to the easternmost point near Westport Light. (Class SA, Shellfishing, open 0.5 sq.mi.,closed 0.78 sq.mi.) | Medium: Shellfishing |
| MA95-05 | Weweantic River | 0.62 sq.mi. | Outlet Horseshoe Pond, Wareham to mouth at Buzzards Bay, Marion/Wareham. (Class SA, Shellfishing Open, partially impaired,0.45sq.mi.) | Medium: Shellfishing |
| MA95-20 | Wild Harbor | 0.15 | Embayment extends from Point Road, Nyes Neck to Crow Point at the end of Bay Shore Road in North Falmouth | Medium: Shellfishing |
---