The Problem
Buttermilk Bay is a small tidal embayment located in the towns of Bourne and Wareham, Massachusetts, at the north end of Buzzards Bay. In 1984, Buttermilk Bay was closed to shellfishing due to high levels of fecal coliform bacteria. Since that time, portions of the bay have been reopened for shellfishing, only to be closed again due to recurring high fecal coliform levels. Fecal coliform bacteria, present in the fecal matter of warmblooded animals, are considered indicators of the presence of human pathogens. A 1985 study of water quality in Buttermilk Bay produced an inventory of sources of fecal coliform bacteria, which included storm drains, septic systems, wildlife fecal waste, marina discharges, and freshwater inputs (streams, marsh areas). The inventory showed that closure of the shellfishing areas was often required following periods of rain due to contamination by pollutants in stormwater runoff and illustrated that storm drains were the greatest source of fecal coliform bacteria.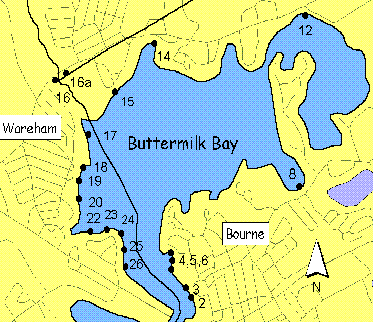 The Solution
The comprehensive remediation of stormwater runoff pollution in Buttermilk Bay took more than a decade of concerted effort by the towns of Wareham and Bourne to complete, with technical and financial support from the Buzzards Bay NEP, as well as from additional grants from MA DEP and MCZM Buzzards Bay NEP (BBP). The effort actually began in 1988, when the US Environmental Protection Agency (EPA) joined forces with the BBP, Massachusetts Executive Office of Environmental Affairs, and Barnstable County Health and Environmental Department to plan and implement a restoration and protection project in Buttermilk Bay. Of the approximately 30 storm drains that discharge into Buttermilk Bay, the storm drains at Electric Avenue Beach (in the town of Bourne) and at Red Brook (in the town of Wareham) were selected for inclusion in the Buttermilk Bay Demonstration Project. Local officials and residents supported treatment of the stormwater discharge as a way to improve water quality and enhance the communities' enjoyment of the bay's natural resources. In 1990, the town of Bourne installed several subsurface stormwater infiltration systems (leaching chambers and galleys) to address runoff from the Electric Avenue parking lot and town boat ramp. Financial assistance for these facilities was provided by the EPA through the Buzzards Bay Project.
The Town of Wareham is currently working with the BBP in the design and construction of stormwater treatment units along Red Brook Road, and the Town of Bourne is just beginning remediation work on eight stormwater discharges to Buttermilk Bay funded through a non-point pollution remediation grant from the Massachusetts Department of Environmental Protection (see map, other side). Four of the remaining nine priority sites, located at Indian Mound Beach,
received funding from the MCZM Coastal Pollutant Remediation (CPR) grant program in 1996. By correcting these stormwater inputs, the existing shellfish closures will be reduced to the smallest area possible, and the threat to existing
open areas will be significantly lowered. All that remain are five sites in the Jefferson Shores area of Wareham and three state owned discharges from Cranberry Highway (Rt.6&28). Remediation of these discharges is expected in 1997. In doing so, this project will complete nearly a decade of pollution remediation work in Buttermilk Bay.
The Design
Planning and design assistance was provided to the BBP by the USDA Natural Resources Conservation Service. Upland soils surrounding Buttermilk Bay are mapped Carver soils, which are excessively drained and are considered excellent for infiltration. This allowed for the use of subsurface infiltration structures such as leaching chambers and galleys. Stormwater is diverted to low areas where catch basins collect the water (see diagram). Water is then discharged to the surrounding soils via adjacent leaching galleys surrounded with crushed stone. The crushed stone provides additional treatment by straining out both fecal coliform bacteria and other potential contaminants. This same stormwater Best Management Practice (BMP) design was used at other sites around Buttermilk Bay, including Red Brook, Head of the Bay Road, and Indian Mound Beach.
Results
By all accounts, the Buttermilk Project is one of Buzzards Bay's greatest success stories. The oldest stormwater control system constructed at Electric Avenue Beach in 1989 achieved a 98% reduction in fecal coliform levels. In addition, through the efforts of Wareham and Bourne, the communities have extended sewer lines and replaced failing septic systems, thereby reducing this important potential pollution source. Through public education and outreach efforts, residents organized community information and education programs, including community surveys and meetings. This form of public involvement enabled citizens to become informed and educated on the pollution problems that face the Bay, and provide guidance on how residents could become part of the solution.
As a result of these actions, Buttermilk Bay's water quality has shown a marked improvement. At the start of the project, all of Buttermilk was closed to shellfishing and recreational activities due to high coliform levels. By 1999, large areas of the bay were re-opened. The towns and the Massachusetts Division or Marine fisheries continue to chip away at the pollution problems, and new areas were re-opened about 2003. Today, thanks to stormwater control and septic system improvements, 90 percent of the bay is presently open, and residents and visitors are once again enjoying the bay's resources.
Of course, more work is needed, and the older stormwater treatment systems will need to be maintained, so like stormwater efforts all along the coast, the effort will remain a work in progress.