Regulated Drinking Water Contaminants
Related pages: Seafood Safety | Reporting Environmental Violations
ACTIVE INGREDIENTS REGULATED UNDER THE PUBLIC DRINKING WATER PROTECTION REGULATIONS
(333 CMR 12.00)
All Pesticide Products containing one or more of the active ingredients listed below are now RESTRICTED USE Products in Massachusetts according to the pesticide regulations, and cannot be applied in ZONE II well recharge areas (public water supply wells) unless:
(1) They have adopted a Department approved integrated pest management program.
(2) They have obtained a pesticide management plan approved by the Department pursuant to 333 CMR 12.04.
The regulations also state:
"No person shall apply any product on the groundwater protection list within a primary recharge area inconsistent with the conditions of a pesticide management plan or the integrated pest management program."
and
"No person shall apply any product on the groundwater protection list within a primary recharge area if a viable alternative exists."
| | | | | | | | | |
| --- | --- | --- | --- | --- | --- | --- | --- | --- |
| acetochlor | aldicarb | bentazon | chlorothalonil | dacthal | diuron | fonofos | metolachlor | terbufos |
| acifluorfen | atrazibe | bromacil | cyanazine | dimethenamid | fenamiphos | lindane | metribuzin | PCP |
| ALACHLOR | baygon | alachlor | cyproconazole | disulfoton | folpet | MCPA | simazine | propazine |
ACCORDING TO THE MA DEPARTMENT OF FOOD AND AGRICULTURE, IT IS VERY IMPORTANT THAT IF YOU ARE USING ANY OF THE PESTICIDES GIVEN ON THIS LIST, CHECK THE DEP's "TITLE 5 MAPS" EVERY YEAR (ALSO AVAILABLE FROM YOUR BOARD OF HEALTH) TO DETERMINE IF YOUR PROPERTY IS WITHIN A "ZONE II" DRINKING SUPPLY WELL RECHARGE AREAS.
The Massachusetts Department of Food and Agriculture web site states:
"If you plan to apply pesticide products containing any of these regulated active ingredients in one or more of the listed towns, you must determine whether your application site(s) falls within a Zone II area(s)
For each listed town where you have an application site, go to the local Board of Health and ask to see the TITLE V MAP (TITLE FIVE) provided by the Massachusetts Department of Environmental Protection (DEP). You can also ask to see this map at the DEP's Regional Offices. Call (617)292-5500 for the information on the Regional Office nearest to you. A third option is to view individual town maps at the Pesticide Bureau's Boston Office. Please call the Pesticide Bureau to make an appointment if you wish to use this third option (617)727-3020 X 126 or 127.
This TITLE V MAP contains the groundwater information, i.e. Zone II areas, you need to know about, covered under these regulations (333 CMR 12.00). This map will help you determine if your application site is in a Zone II area, and whether or not you are subject to these regulations."
Massachusetts Dept. of Food and Agriculture website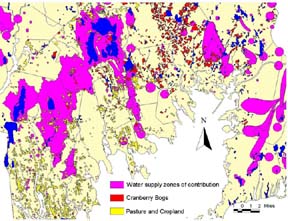 click on map for zone 2s and ag land details