Related Pages:   B120 Shellfish Oil Spill Closures    Red Tide Closures
The maps to the right below show pollution related shellfish resource area closures in Buzzards Bay as of July 1, 2015 (top) and classification status on July 1, 2015 (bottom). The closure map does not include resource area management closures for seeded areas, shellfish relay area closures, or temporary rainfall related closures (either local rainfall conditionals or bay-wide closures related to extreme rainfalls). It does include a management area in Little River, Dartmouth which is an under-tested area presumed to have high bacteria. Permanent closures are areas closed year round. Temporary closures are generally "seasonal closures", that is, areas closed during the June to September, but in some areas closures may extend from April to November, or longer.
As shown by the chart at the bottom of the page, the acreage of permanently closed shellfish resource area closures in Buzzards Bay continue to decline, albeit at a slower pace than past years.
Credit: Much of the information on this page was based on data kindly provided by the Massachusetts Division of Marine Fisheries which was analyzed by the BBNEP to prepare the maps and charts on this page. Note that all of Buzzards Bay is carved into "shellfish resource areas", but only portions of these resource areas may have commercially or recreationally viable "shellfish beds."
2015 Closure Boundaries
Caution: This map is superseded by maps posted at town hall or notices posted at the shoreline

Brief history of shellfish bed closures in Buzzards Bay
2015 CLOSURE STATUS

Map of closed areas during the summer of 2015. Click to open a
full screen map
, or an
XL (1.6MB) scrollable map
.

Map of Shellfish area Classifications as of July 2015, with area numbers labeled. Click to open a
full screen map
, or an
XL (1.6MB) scrollable map
.These maps are subject to revision, may contain errors, and should not be used to determine fishable areas. These maps are for planning and educational purposes only, they do not define the legal boundary of these shellfish areas. Consult your municipal shellfish warden for current closure areas.
Throughout the 60s, 70s, and 80s, shellfish beds were increasingly being closed in Buzzards Bay due to fecal coliform contamination. As a result, keeping shellfish beds open and reopening closed beds were among the highest priorities contained in the Buzzards Bay Comprehensive Conservation and Management Plan when it was drafted in 1990. As shown on the graph below, the situation has considerably improved.
While the Buzzards Bay NEP contributed in modest ways to this turn around, the real credit goes to the State Division of Marine Fisheries (DMF) and numerous municipal officials who have worked together to identify and remediate pollution sources. The opening of shellfish beds in Buzzards Bay resulted from two factors: water quality improvements and improvement capacity to undertake "conditional closure" programs.
After these early successes, the Massachusetts DMF and town Boards of Health and Shellfish Wardens continued to rigorously monitor and identify upstream pollution sources. Throughout the 1990s, Buzzards Bay municipality Department of Public Works continued to remediate stormwater discharges, many farmers implemented agricultural best management practices (BMPs), and homeowners replaced failed septic system with new septic systems, or tied into community or municipal wastewater systems. The hard work by Buzzards Bay communities have paid off and contributed to the decline in shellfish bed closures in Buzzards Bay shown below.
Recent Trends and Events
Several important events and trends have occurred during the past several years. First, in April 2003, the Bouchard No. 120 closed large areas of Buzzards Bay to shellfish, and some areas of Buzzards Bay (approximately 231 acres) remain closed to this day (the last change in classification was October 2004). Go to our Bouchard No. 120 Shellfish bed closure page for more info.
One important trend is that the Division of Marine Fisheries has been dramatically reducing the geographic extent of shellfish bed closures in some estuaries to confined zones in the vicinity of discharge pipes. This is illustrated by the map of closures in Buttermilk Bay below. This openings have been offset by new shellfish bed closures in other harbors, so that the overall picture of closures on July 1 has remained essentially neutral.
Another important trend that has occurred, one which is not reflected on the shellfish closure chart, is that the duration of "seasonal closures" has been lengthened in many areas. A decade ago, seasonal closures typical lasted June 1 through September 1 (or Memorial Day to Labor Day). In recent years these closures have extended, with closures beginning May or April, and closures ending October or November. This means that although the closures on July 1 have been relatively unchanged during the past few years (except for the oil spill closures), the actual acre-days of shellfish closures has increased.
The expansion of seasonal closures is occurring principally because the warm water period of degraded water quality has also expanded. This decline in water quality in some cases relates to increased development near shore, increased year round occupancy rates in some coastal vacation communities, and even extended occupation of harbors by waterfowl due to delayed migrations.
Another factor that has come into play in a few areas is the fact that testing methodology has changed somewhat which in a few cases is triggering geometric mean concentrations above permittable thresholds.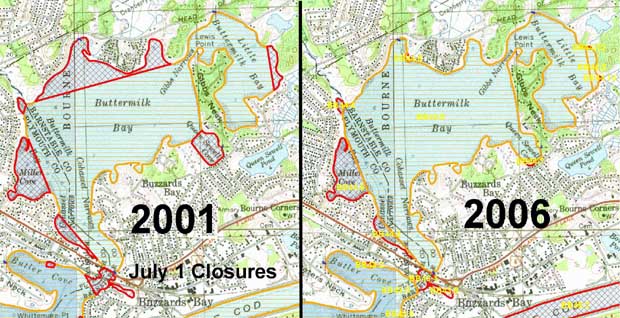 This figure shows that although shellfish bed closures bay-wide have declined during the past 20 years, those declines are largely due to water quality improvements in the New Bedford area.  When shellfish bed closures in Buzzards Bay are evaluated by town, the picture is less rosy, with shellfish bed closures in some towns like Bourne and Gosnold increasing, whereas in other towns the long term trends are less clear.