Info about 1999 Hurricane / Tropical Storm Floyd
Fast Fading Tropical Storm Floyd affects only high erosion areas around Buzzards Bay
In 1999, passing far to west of Buzzards Bay, and having only tropical storm force winds, the remnants of Hurricane Floyd affected only areas prone to high beach erosion in Buzzards Bay communities. The tidal surge was modest, only coming up to the edge of dune grass, even in exposed areas. Low lying coastal areas prone to coastal erosion appeared to be the only areas affected.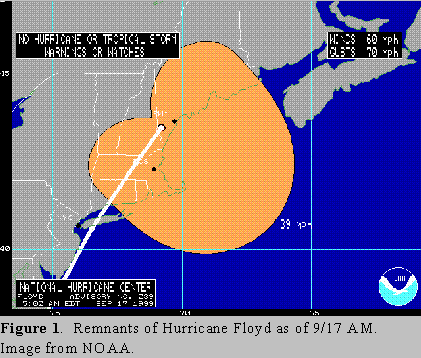 For example, on the south coast of Falmouth, actually on the body of water known as Vineyard Sound, a portion of Menahaunt Road was over-washed, causing its temporary closure. Modest under cutting and sand overwash along a 100 foot stretch prompted action by Falmouth Department of Public Works. This road was built along a string of barrier beaches and coastal ponds along the south coast of Falmouth many decades ago. The damage from Floyd occurred on the road near a narrow isthmus in front of Great Pond.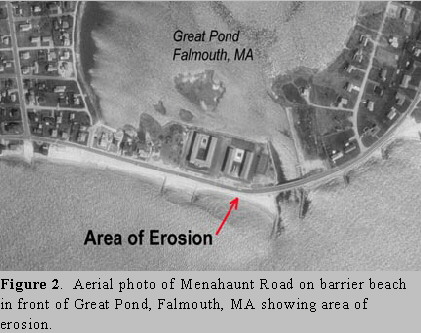 For years, the town of Falmouth has been protecting this network of coastal roads through beach nourishment, armoring, and sometimes, as happened after Hurricane Bob in 1991, abandoning portions of the road and moving them inland.
The damage to Menahaunt Road was repaired by early morning after the storm by the Town Department of Public Works, shown here dumping large cobble stones to armor the edge of the road.
Elsewhere in Falmouth beach combers and shellfisherman gathered. As often happens after fall storms, bay scallops were washed onto shore in great abundance. Here shellfishermen gather this catch was onto shore and in the surf zone. Scallop season does not officially begin until October 1st in Falmouth.