Hurricane Sandy storm damage in Buzzards Bay and Falmouth, MA 29-30 October 2012
While Buzzards Bay watershed towns were not devastated by Hurricane Sandy in the same way as New York and New Jersey, some areas did experience coastal erosion more severe than the damage in our area caused by Tropical Storm Irene in 2011, and the April 2007 Nor'easter. Because of the persistent easterly winds for much of the storm, most of Buzzards Bay was little affected by the storm, particularly along the coasts of Bourne and Falmouth on Buzzards Bay. It appears that the most severe damage from this storm among Buzzards Bay watershed communities occurred on the south side of Falmouth (on Vineyard Sound), and on the south coast of Westport (although there was appreciable flooding reported up the East ands West Branch of the Westport River). Cities and towns took the usual precautions in advance of the storms, and the City of New Bedford closed the Hurricane Barriers at 5 AM on October 29, and did not reopen them until sometime on October 30.
A good predictor of likely storm impacts is the maximum tidal elevation during the storm. The maximum tidal elevation in Woods Hole for Hurricane Sandy was 5.8 ft (at NOAA station BZBM3), which exceeded tidal levels at this station for both the April 2007 Nor'easter (4.98 ft), and the 2011 Tropical Storm Irene (4.61 ft). Of course other factors such as wind direction and persistence of sustained winds at the time of the highest tide are especially important in defining the extent of coastal erosion and flooding, so some areas were more affected by this storm, and other areas lest affected than the previous two notable storms.
On this page we show some pictures from the south coast of Falmouth during the afternoon of Monday the 29th and after the storm on the 30th. Please also watch this video of Surf Drive Beach parking lot 13:45 October 29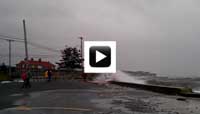 .
It is worth noting that Falmouth is at the confluence of two tidal regimes. The Buzzards Bay side of Falmouth, through Woods Hole to Nobska Point coincides with the Newport , RI tide table, whereas Falmouth Heights on eastward on Vineyard Sound coincide with the Boston Tide table, and are about three hours later. On the 29th, high tide (the lower semi-diurnal high) was at 8:00 AM in Woods Hole, whereas high tide along East Falmouth was at 11:15 AM. These competing tidal regimes also explain why the normal tidal range along surf drive, only a few feet, is one of the lowest in the region.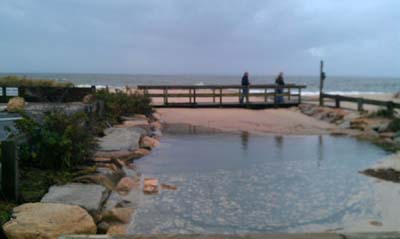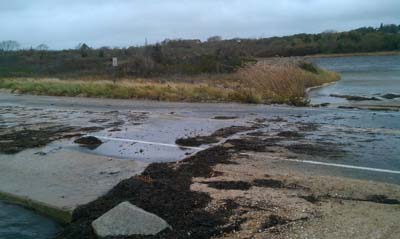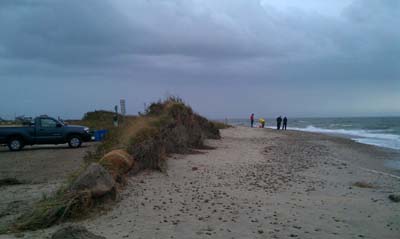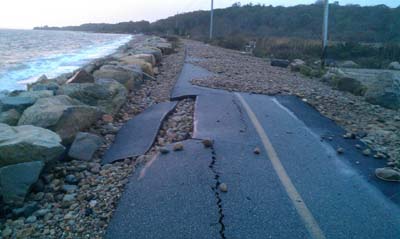 Links