GIS Technical Assistance from the Buzzards Bay NEP
Land Use Management fact sheet
date: Fall 1998
Development of Geographic Information Systems for use in natural resource & land use planningThe Problem
The Buzzards Bay Comprehensive Conservation and Management Plan (CCMP) identified local governments within the Bay watershed as having the primary responsibility for the implementation of land use and natural resource management measures necessary to protect and restore water quality and living resources in the Bay. Comprehensive watershed planning, growth management, as well as natural resource protection and utilization efforts all require access to accurate information in formats that can be related to one another for analysis. In the Bay watershed, most towns did not have adequate inventories of coastal and inland natural resources or the baseline parcel ownership information in formats that could be interpreted together. In response to this need, the Buzzards Bay NEP made available funding from its Municipal Grant Program to encourage the development and expansion of town and regional computerized Geographic Information Systems (GIS).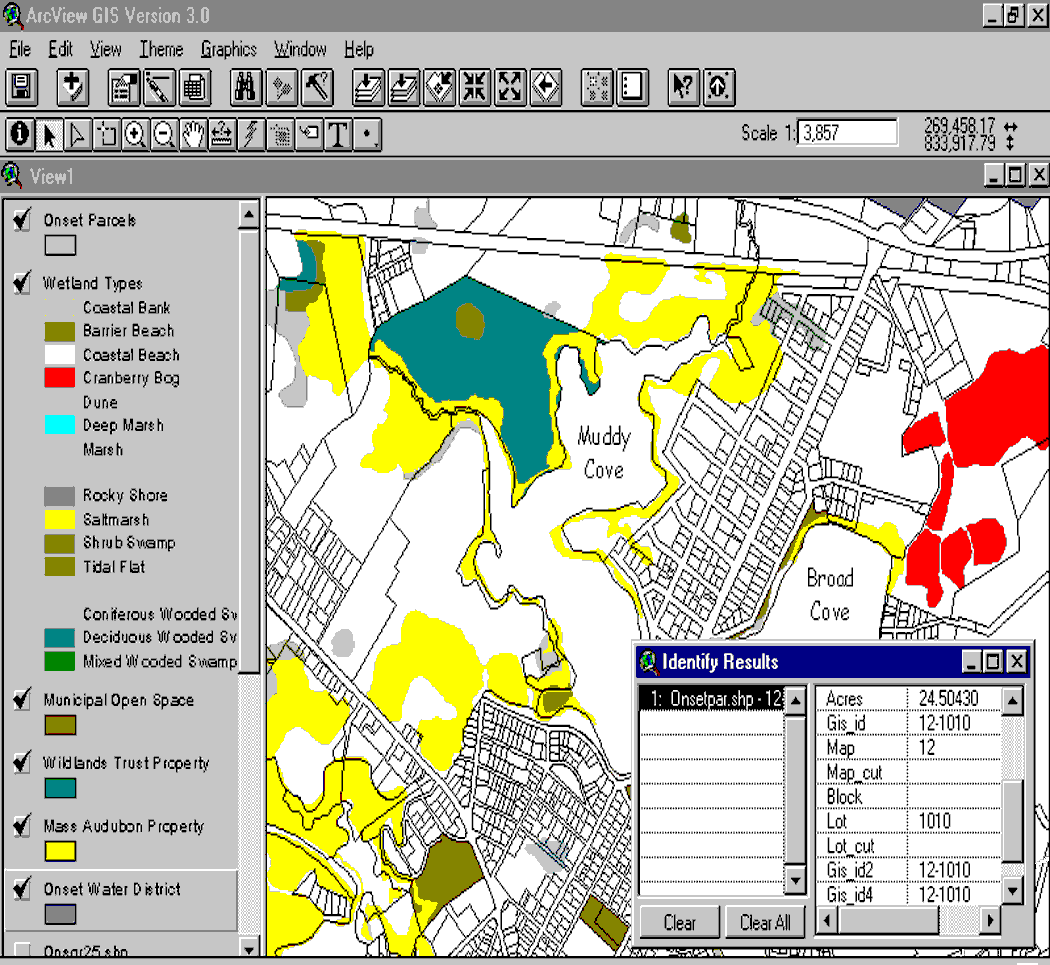 Geographic Information Systems (GIS)
GIS enables the user to organize, maintain, visualize, analyze, and disseminate maps and spatial information. Going beyond digital representation of maps, GIS systems allow for the analysis of this map data by referencing spreadsheet or tabular information connected to individual features on a map. For example, town parcel maps can be linked to assessors' data on a particular parcel making information such as lot size, owner, assessed value, and land use code available to anyone working with the parcel map coverage. Similar links can be made with town building permit, septic system upgrade, or any other database with references to town parcels. Environmental monitoring data can be similarly linked to natural resource features such as surface waters, wetlands, and living resources.
Municipal GIS systems have proven valuable tools for communities to improve town land use inventories, mapping, and data management capabilities. From the Buzzards Bay NEP's coastal water quality planning perspective GIS meets a number of important planning needs. Build-out analysis and other parcel level calculations are greatly aided by the use of GIS. Once GIS hardware and software are in place within the town, digitized town parcel data can be used to identify watershed development densities, characterize natural features and pollutant loadings, locate undeveloped areas or areas serviced by sewer or town water within a defined boundary, and numerous other forms of information useful in the development of informed land use decisions.
The Solution in Buzzards Bay
In 1993, the Buzzards Bay NEP provided $24,000 to the Town of Dartmouth to pioneer a shoreline GIS mapping project. The project was designed to map parcels near the coast, shellfish areas by type and status, coastal wetlands, sewer lines, public access points, and protected open spaces. A similar project was funded by the Buzzards Bay NEP in West Falmouth that same year. The interest generated by these projects among other towns prompted the City of New Bedford and the Town of Fairhaven to join together the following year to extend the Dartmouth mapping effort up the coast to the Mattapoisett border. Again, this work was supported by a $19,000 grant from the Buzzards Bay NEP's Municipal Grant Program. Other towns within the Bay watershed soon recognized the value of GIS and requested that the Project focus $80,000 of its 1996 Municipal Grant budget toward expanding basic GIS coverages for the remainder of the drainage basin.
In response to computer equipment and training requests, the Buzzards Bay NEP devoted $4,500 to each town developing GIS capabilities to purchase a computer workstation. The Project also provided a two day training course in ArcView
TM
GIS software to 30 municipal planning, health, and conservation staff from throughout the Bay watershed in August 1996.
The towns of Westport, Acushnet, Fairhaven, Rochester, Marion, and Wareham all responded to the Buzzards Bay NEP's Request for GIS Mapping Proposals in early 1996. Of these, each town was seeking development of its parcel and wetlands data coverages as the basis for all future data development. GIS mapping work was completed independently of this initiative in Wareham, Bourne, and Falmouth. Completion of these new town projects in June 1997 will result in near complete parcel and wetlands coverages in the Buzzards Bay watershed.
Spreading the Information - Buzzards Bay GIS Compact Disks
The Buzzards Bay NEP gathered GIS ArcView data of Buzzards Bay towns and watershed information and placed it on a CD. This data came from MassGIS, the Cape Cod Commission, and Buzzards Bay Towns, and the Project itself. This Buzzards Bay Watershed GIS CD was released in the fall of 1997. The BBP is planning to update this disk with additional coverages in the fall of 1999. The revised disk include all data currently under development in Bay towns such as town-wide Assessor's parcel and Wetlands Conservancy Map data for Westport, Dartmouth, Acushnet, Fairhaven, Rochester, Mattapoisett, Marion, Wareham, Bourne, Falmouth, and Massachusetts Military Reservation. Image data of bay watershed aerial photographs shot in 1995 will also be included on Vol. II.
---