Town of Acushnet, MA Information
Go to the Town of Acushnet Website
Commonwealth of Massachusetts Information Page on Acushnet
Government
Address: Town Hall, 122 Main Street, Acushnet, MA 02743. Hours: 8:30 a.m. to 4:00 p.m.; phone: (508) 998-0200; Fax: (508) 998-0203
Form of Government: Board of Selectmen; Executive Secretary; Open Town Meeting
Board of Selectmen Meetings: Monday evenings; every other week in summer; every week starting in September. Robert F. Brown, chairman (2008)
Demographics
2005 Population estimate: 10,544 (U.S. Census estimate based on past trends)
2000 Population (U.S. Census): 10,161 (percent increase since 1990=6.4%)
1990 Population (U.S. Census): 9,554
2000 Housing Units: 3,889; (including unoccupied)
Average Persons per Unit: 2.61 (2000 US Census; includes unoccupied)
More Info:US Census Demographic Profile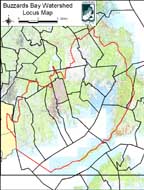 Acushnet Locus Map
Open 150 kb size map.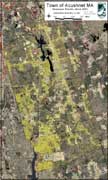 Acushnet Parcel Map
Open 82 kb size map.
Open 389 kb size map.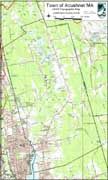 Acushnet Topographic Map
Open 128 kb size map.
Open 567 kb size map.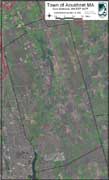 Acushnet Core Wetlands
Open 130 kb size map.
Open 570 kb size map.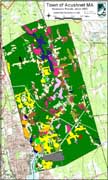 Land Use in Acushnet, MA
Open 130 kb size map.
Open 570 kb size map.
Land and Water Statistics:
| | | |
| --- | --- | --- |
| Category | Value | Comments |
| Corporate Boundaries including coastal waters: | 18.93 mi2 | BBNEP calculation from MassGISTown Boundary layer. |
| Land + Freshwater: | 18.88 mi2 | BBNEP calculation from from MassGISTown survey layer. DHCD=18.92. Town parcel data totals 18.87 mi2 |
| Area in watershed: | 18.88 mi2 | =100%. BBNEP calculation usingBBNEP watershed boundary. |
| Land Area – Freshwater bodies: | 18.61 mi2 | BBNEP calculation using open water and deep marsh area fromDEP wetlands gis layer. DHCD=18.46 |
| 2005 Population Density: | 558 per mi2 | BBNEP calc, based on land+freshwater |
Utilities
Trash and recycling: 100% municipal pickup
Sewer: Approximately 60 percent of town is sewered
Water: Approximately 70 receives town water
Potential Wetland Restoration Sites
The following downloads are excerpts from our reportSelected Inventory of Potential Wetland Restoration Sites in the Buzzards Bay Watershed. Click the links to open the files in your web browser, or right click to save to your computer. Graphics on these pdf files has been degraded to reduce file size. Request a CD if this report (click the above link for more info)to obtain higher resolution pdf files.
Appendix 1. Sites in Acushnet (2.1 MB pdf file).
Acushnet Filled Wetlands Locus Map
Links
Visit the Town of Acushnet's Home Page
Commonwealth of Massachusetts Information Page on Acushnet
New Bedford Standard Times info page on Acushnet Appointed Officials
Today's Acushnet News from the New Bedford Standard Times
Acushnet Town Meeting Approves BBNEP model stormwater regulation
As part of Acushnet's Phase 2 Stormwater Management Plan, they were required to review their local regulations that address stormwater discharges, and if needed, adopt new stormwater regulations. The Stormwater Committee (consisting of representatives from town departments including Planning, Conservation, the Highway Department, and the Town Administrator) decided the towns regulations needed revising, and asked the Buzzards Bay NEP to help. The Committee decided the best way to accomplish this task was to adopt a new bylaw through the Planning Board, in part because the Planning Board also has the authority to review projects outside of the Wetlands Protection Act.
On May 21, 2007, Acushnet Town meeting approved the new bylaw. The bylaw establishes a Stormwater Review Board (SRB) which is made up of members of the Planning Board. The bylaw gives the SRB the authority to adopt regulations (we are working with the town on the regulations now) and establishes a maximum threshold of 5,000 sq. ft. of land disturbance, after which a stormwater permit is required.
Highlights include:
Require that new development and redevelopment maintain the pre-development hydrologic characteristics in their post-development state as nearly as practicable in order to reduce flooding, streambank erosion, nonpoint source pollution, and maintain the integrity of stream channels and aquatic habitats and provide protection from property damage
Establish minimum post-development stormwater management standards and design criteria for the regulation and control of stormwater runoff quantity and quality; Establish minimum design criteria for the protection of properties and aquatic resources downstream from land development and land conversion activities from damages due to increases in volume, velocity, frequency, duration, and peak flow rate of storm water runoff; establish minimum design criteria for measures to minimize nonpoint source pollution from stormwater runoff which would otherwise degrade water quality;
Encourage the use of nonstructural stormwater management and stormwater better site design practices, such as reducing impervious cover and the preservation of greenspace and other natural areas. Coordinate site design plans, which include greenspace within the town's Open Space Protection Plan.
Read the new Acushnet Stormwater Bylaw.
Selected Correspondence and Reports
BBP 8/14/02 letter of support for sewer extensions in Acushnet (37 kb pdf file)
Page about a 1992 case and letter to Acushnet Conservation Commission about a town wetland form the created
This correspondence is notable because in 1992, Acushnet was one of several Commonwealth communities that created their own wetland permit form and application process. The Buzzards Bay NEP felt that the town's application process did not provide adequate public notice, due process, or state review. In 1992, the town of Acushnet filed only 3 wetland permits with DEP, whereas 200 "in-house" wetland permits were issued without review. As a result of this letter, and an appeal by the Buzzards Bay NEP of a town-accepted wetland boundary in a particular case, the Town of Acushnet abandoned their in-house wetland permit application form by the following year.
Permitted Pollution Discharges and Toxic Waste Generators
EPA's enviro-mapper showing surface water dischargers or waste generators.Groundwater dischargers are not shown.
Acushnet 2007 NPDES Phase II MS4 permit annual report
Appointed Officials
Town Administrator: Alan Coutinho, 998-0200
Police Chief: Michael G. Alves, 998-0240
Fire Chief: Kevin Gallagher, 998-0250
Highway Superintendent: Daniel Menard, 998-0230
Treasurer/Collector: Kristie Costa, 998-0212
Building Commissioner/Zoning Officer: James Marot, 998-0225
Conservation Agent: Merilee Kelly, 998-0202
Animal Control Officer/Animal Inspector: Rebekah Tomlinson, 998-9040
Health Agent: Joseph Correia, 998-0275
Appointed Boards
Board of Appeals
Paul B. Hipolito, Chairman Richard Lally, Member Marc Cenerizio, Member Carol Westgate, Member 2006), Paul Trahan, alternate (2006)
Conservation Commission, 998-0202
Robert Rocha Jr, Chairman Ted Cioper, Vice Chairman Marc Brodeur, Member Everett Philla, Jr., Member Heidi Pelletier, Member Christopher Green, Member
Conservation Agent: Merilee Kelly, 998-0202
Elected Officials
Selectmen, 998-0200 David E. Wojnar, Chairman, 2016 Garry L. Rawcliffe, 2017 Kevin Gaspar, Sr., 2018
Town clerk: 998-0215 Pamela Labonte
Assessors, 998-0205
Marc Cenerizio, Chairman Matthew Lopes, Member Liberio Soares, Member
Board of Health, 998-0275
David Davignon, Inspector Robert Medeiros, Clerk Thomas J. Fortin, Chairman
Health Agent: Joseph Correia , 998-0275
Planning Board, 996-6662
Marc Cenerizio, Chairman Richard A. Ellis, Member Mark DeSilva, Member Richard P. Forand, Member Philip Melo, Member
Moderator: Robert Francis (2017)
Tree warden: Raymond F. Barlow (2018)