Town of Bourne, MA Information
Go to the Town of Bourne Website
Commonwealth of Massachusetts Information Page on Bourne
Government
Address: Town Hall, 24 Perry Avenue, Bourne, MA 02743
Hours: 8:30 a.m. to 4:30 p.m.
phone: (508) 759-0600; Fax: (508) 759-8026
Form of Government: Board of Selectmen (5 members) with Town Administrator (Thomas Guerino)
Open Town Meeting
Board of Selectmen: Meetings: With the exception of the summer months the Board meets weekly on Tuesday evenings at 7:00 PM in the Bourne Memorial Community Center, located at 239 Main Street in Buzzards Bay. Meetings include a public comment period and are televised the local access cable channel.
Board Members :
Stephen Mealy Chair, 2016; Donald J. Pickard, Vice Chair, 2015; Michael Blanton, Clerk; Donald E. Ellis, 2016; Peter J. Meier, 2016
Demographics
2005 Population estimate: 19,356 (U.S. Census estimate based on past trends)
2000 Population (2000 U.S. Census): 18,721 (percent increase=16.5%)
1990 Population (1990 U.S. Census): 16,064
2000 Housing Units: 9,648; (including unoccupied)
Average Persons per Unit: 1.94
Land and Water Statistics:
Category
Value
Comments
Corporate Boundaries including coastal waters:
57.28 mi2
BBNEP calculation from MassGIS Town Boundary layer.
Land + Freshwater:
41.08 mi2
BBNEP calculation from MassGIS Townsurvey layer. DHCD=52.82 (appears to be error; may include canal, other coastal waters). Town parcel data totals= 38.00 mi2 (does not include roads, and some ponds).
Area in watershed:
34.166 mi2
=83.2%. BBNEP calculation using BBNEP watershed boundary.
Land Area – Freshwater bodies:
40.69 mi2
Entire Town. BBNEP calculation using open water and deep marsh area from DEP wetlands gis layer. DHCD=40.9
2005 Population Density:
471.2 per mi2
BBNEP calc, based on land+freshwater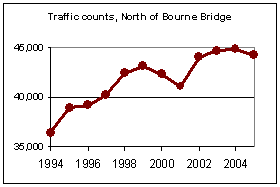 Bourne Bridge Traffic Counts
Mass Highways raw traffic statistics for Bourne
Permitted Pollution Discharges and Toxic Waste Generators
EPA's enviro-mapper showing surface water dischargers or waste generators.Groundwater dischargers are not shown.
Wetland Regulations
Town of Bourne May 2000 Wetland Bylaw (links to Town's website).
Bourne Wetland Regulations, promulgated August 2000 to implement the bylaw (a 113 KB PDF file)
–The town developed these regulations with the assistance of the Buzzards Bay NEP.
Reports and Presentations
September 9 Presentation to the Bourne Shellfish Advisory Committee on Causes of Eelgrass Degradation and Jet-Clamming Issues(1 MB pdf file)
Potential Wetland Restoration Sites
The following downloads are excerpts from our report Selected Inventory of Potential Wetland Restoration Sites in the Buzzards Bay Watershed. Click the links to open the files in your web browser, or right click to save to your computer. Graphics on these pdf files has been degraded to reduce file size. Request a CD if this report (click the above link for more info)to obtain higher resolution pdf files.
Appendix 1. Sites in Bourne (1.2 MB pdf file).
Site Locus Map for Bourne (1.2 MB pdf file).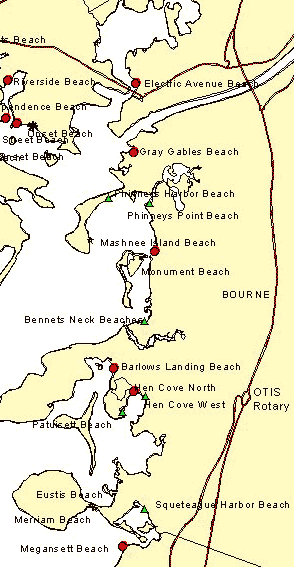 Links

Town of Bourne, Official Home Page
(includes town bylaws, department info and lots more)
Commonwealth of Massachusetts Information Page on Bourne
Bourne 2007 NPDES Phase II MS4 permit annual report
Public Boat Ramps
Electric Ave. Buttermilk Bay
Buttermilk Bay Marina
Maco's Marina
Caldara's Marina
A & G Marina
Monument Beach Landing
Shore Road, Pocasset
Barlow's Landing
Red Brook Harbor
Public Beaches
Town Beaches have resident parking only.
Sagamore Beach
Gray Gables, Pocasset
Monument Beach, Pocasset
Barlows Landing, Pocasset
Patiusset
Electric Avenue, Buttermilk Bay
Gilder Road Beach
Cataumet Harbor (off Squeteague Harbor Road)
Scenic Park
---
Town Officials (Environmental and Planning Departments)
Conservation Commission (and term end)
Robert Gray, Chair, 2015
Martha Craig Rheinhardt, Vice Chair 2016
Melvin Peter Holmes, Member 2015
Elizabeth R. Kiebala, Member, 2016
Thomas L. Ligor, Member, 2017
Robert Palumbo, Member, 2017
Susan J. Weston, Member, 2015
Mike Gratis, Associate Member, 2015
Michael Leitzel, Associate Member, 2015
Paul S. Szwed, Associate Member, 2015
Conservation Department (508) 759-0600 x1344
Brendan Mullaney Conservation Agent
Board of Health
Kathleen Peterson, Chair, 2017
Stanley Andrews, Vice Chair, 2017
Donald Uitti, Secretary, 2015
Galon Barlow Jr., 2015
Kelly Mastria, 2016
Board of Health Staff
Terri Guarino, Health Agent, 508-759-0600 x1513
Lisa Collett, Secretary, 508-759-0600 x1513
Planning Department
Ann Gratis, Planning Board Secretary
Planning Board (elected)
Christopher Farrell, Chair, 2016 Daniel Doucette, Vice Chair, 2018 Vincent Michienzi, Clerk, 2017 Joseph Agrillo Jr., 2017 Elmer Clegg, 2016 Louis Gallo, 2016 John Howarth, 2017 Robert Gendron, 2018 Steven Strojny, 2018 Shaun Handy, Associate Member
Zoning Board of Appeals (appointed)
Lee M. Berger, Chair, 2017
Thomas C. Armstrong, 2019
Harold Kalick, 2018
Wade M. Keene, 2016
John E. O'Brien, 2015
Timothy M. Sawyer, 2015
Selectmen's Task Force on Local Pollution Stewart Bell, 2015
Jennifer Cheyne, 2015
Elaine Cook Graybill, 2015
Christine Kane, 2015
James Mulvey, 2015
Leslie Perry, 2015
Mort Toomey, 2015
Shore and Harbor Committee
Richard Libin, Chair, 2016
David Wiggin, Vice Chair, 2015
B. Paul Bushueff, 2015
David Crane, 2017
Irving C. Salley, 2015
R. Hunter Scott, 2016
Chris Southwood, 2017
Department Natural Resources
Director Timothy Mullen
Natural Resource Officers: Michael J. Gratis, Daniel Warncke Jr., John Thompson, Patricia Hamilton
Administrative Addistant: Jennifer M. Chisser
Secretary: Loretta Brochu
Open Space Committee
Andrew Cooney, Chair, 2017
Mardi Mauney, Clerk, 2015
Richard Anderson, 2017
Mary Gelsthorpe, 2016
Barry H. Johnson, 2017
Penny Myers, 2015
Leslie Perry, 2015
Rick Rheinhardt, 2015
Patrick Sweeney, 2016
staff: Michael E. Leitzel
staff: Brendan Mullaney
staff: Coreen V. Moore
Helpful Bourne Telephone Numbers
Commonwealth of Massachusetts Economic Profile of Bourne