Town of Carver, MA Information
Go to the Town of Carver Website
Commonwealth of Massachusetts Information Page on Carver
Government
Address:Town Hall, 108 Main Street, Carver, MA 02330 Phone: (508) 866-3400; Fax: (508) 866-4213
Hours: Monday-Thursday 8:00 a.m. to 4:00 p.m.; Friday 8 a.m. to 12 noon; Tuesday evening 7:00-9:00 p.m..
Board of Selectmen Meetings: Every Tuesday evening at 7:30 p.m. at the Carver High School Library; Board of Selectmen Chairman: Jack Angley
Form of Government: Board of Selectmen; Town Administrator (Rick LaFond); Open Town Meeting
Demographics
2005 Population estimate: 11,562 (U.S. Census estimate based on past trends)
2000 Population (2000 U.S. Census): 11,163 (percent increase=5.4%)
1990 Population (1990 U.S. Census): 10,590
2000 Housing Units: 4,127; (including unoccupied)
Yr. 2000 Average Persons per Unit: 2.70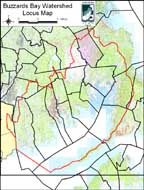 Carver Locus Map
Open 150 kb size map.
Land and Water Statistics:
Category
Value
Comments
Corporate Boundaries including coastal waters:
39.76 mi2
BBNEP calculation from MassGIS Town Boundary layer.
Land + Freshwater:
39.72 mi2
BBNEP calculation from MassGIS Townsurvey layer. DHCD=39.81). Town parcel data totals= 39.77 mi2).
Area in watershed:
33.51 mi2
=84.3%. BBNEP calculation using BBNEP watershed boundary.
Land Area – Freshwater bodies:
36.65 mi2
Entire Town. BBNEP calculation using open water and deep marsh area from DEP wetlands gis layer. DHCD=37.55
2005 Population Density:
291.1 per mi2
BBNEP calc, based on land+freshwater
Deed and Assessors Online Data Links
Town of Carver Online Assessors Data Base
Plymouth County Online Deeds Data Base
Of Interest
Web Slideshow: Flora and Fauna of Carver, MA
Featuring photographs by Carver resident Robert Conway.
Carver Wetlands Brochure (320 kb pdf file)
Do you know what your Conservation Commission does? The Carver "ConCom" wanted to better communicate their mission to the public, and wanted applicants to better understand their bylaw and regulations. At their request, the Buzzards Bay NEP prepared this fact sheets to educate the public and developers about their wetlands bylaw and regulations. Click the link to read the brochures.
Permitted Pollution Discharges and Toxic Waste Generators
EPA's enviro-mapper showing Carver surface water dischargers or waste generators.Groundwater dischargers are not shown.
Links
Official Town of Carver Home Page
Commonwealth of Massachusetts Information Page on Carver
Selected Reports
Read the Carver Open Space Survey prepared by the BBP (208 kb pdf file)