Town of Dartmouth, MA Information
Go to the Town of Dartmouth Website
Commonwealth of Massachusetts Information Page on Dartmouth
Government
Address: Town Hall, P.O. Box 79399, Dartmouth, MA 02747. Hours: 8:30 a.m. to 4:00 p.m.;
Phone: (508) 910-1813; Fax: (508) 910-1839
Form of Government: Board of Selectmen, Executive Administrator (David G. Cressman); Representative Town Meeting (elected members)
Board of Selectmen Meetings: Chairman: Shawn D. McDonald
Demographics
2000 Population (2000 U.S. Census): 30,666 (percent increase=12.6%)
1990 Population (1990 U.S. Census): 27,244
2000 Housing Units: 11,283; (including unoccupied)
Average Persons per Unit: 2.72
Land Use and Geography
Total Land Area: 61.83 sq. miles
Dry Land Area: 62.67 sq. miles
Population Density: 434.7 per sq. miles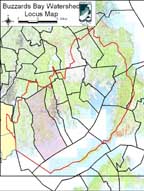 Dartmouth Locus Map
Open 150 kb size map.

Dartmouth Parcel Map
Open 150 kb size map.
Open 750 kb size map.

Dartmouth Topographic Map
Open 150 kb size map.
Open 750 kb size map.

Dartmouth Core Wetlands
Open 150 kb size map.
Open 750 kb size map.

Land Use in Dartmouth, MA
Open 150 kb size map.
Open 750 kb size map.
Open 1.2 MB pdf file with Dartmouth roads on topo map.
Public Boat Ramps
Padanaram Bridge, 1 pier and 2 paved ramps
Public Beaches
Demarest Lloyd State Park (Slocums River Estuary)
Jones Beach (Clarks Cove)
Apponagansett Beach (Apponagansett Bay)
Deed and Assessors Online Data Links
Town of Dartmouth Online Assessors Data Base
Bristol County Online Deeds Data Base
Permitted Pollution Discharges and Toxic Waste Generators
EPA's enviro-mapper showing Wareham surface water dischargers or waste generators.Groundwater dischargers are not shown.
Potential Wetland Restoration Sites
The following downloads are excerpts from our report Selected Inventory of Potential Wetland Restoration Sites in the Buzzards Bay Watershed. Click the links to open the files in your web browser, or right click to save to your computer. Graphics on these pdf files has been degraded to reduce file size. Request a CD if this report (click the above link for more info)to obtain higher resolution pdf files.
Appendix 2. Sites in Dartmouth (3.4 MB pdf file).
Dartmouth 2009 NPDES Phase II MS4 permit annual report
Links

Town of Dartmouth, MA Official Home Page
Commonwealth of Massachusetts Information Page on Dartmouth
The Lloyd Center for Environmental Studies Home Page.
"The Center provides educational programs to students and their parents about our unique and fragile coastal environments and our special responsibility to them."
New Bedford Standard Times info page on Dartmouth, MA
Today's Dartmouth News from the New Bedford Standard Times
Other Information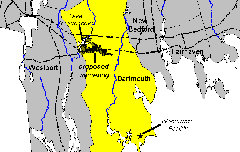 Proposed sewering around Lake Noquochoke
ELECTED OFFICIALS
Selectmen Shawn D. McDonald, Chairman, 2016
Stanley M. Mickelson, Vice-Chairman, 2017
Kelli Martin Taglianetti, 2018
Frank S. Gracie III, 2018
Planning Board: 910-1816 Joel Avila, Chairman, 2017
Joseph E. Toomey, Jr., Vice-Chairman, 2019
Lorri-Ann Miller, Clerk, 2016
John V. Sousa, 2018
Kevin Melo, 2018
APPOINTED OFFICIALS Police Chief, Timothy M. Lee, 910-1700
Animal Control Officer, Sandra Gosselin, 910-1840
Fire Chiefs: District 1, John Judson; District 2, Tim Andre; District 3, Richard Arruda
Department of Public Works Acting Superintendent: David T. Hickox, P.E., 999-0740
Director of Public Health, Christopher Michaud, 910-1804
Environmental Affairs Coordinator: Michael O'Reilly
Harbormaster, Steven Melo, 999-0759
Natural Resources/Shellfish Warden, Kenneth Pacheco, 910-1819
Conservation Commission: 910-1822 – Appointed by the Select Board
Michael A Kehoe, Chairperson, 2016
Jaquelyn McDonald, Vice-Chairperson, 2015
Patricia Sweriduk, 2017
Richard Mallen, 2017
Richard Golen, 2017
Kyle Ross, 2015
Board of Health – Elected
Leslie E.J. McKinley, Chair, 2018
Thomas W Hardman, Vice-Chairperson, 2017
Lynne Brodeur, Member, 2016
Board of Parks and Recreation
Joseph Vieiria, Chairman 2019
James A. Vieia, Vice Chairman, 2019
James  C. Bosworth, Member, 2018
Joan Britto, Member 2018
Sherri L. Tetrault, Member, 2017
Board of Public Works – Appointed by the Select Board
Lee M. Azinheira, P.E., Chairman, 2016
Mark S. Nunes, Vice Chairman, 2017
Manuel Branco, Clerk, 2015
Board of Appeals – Appointed by the Select Board
Jacqueline Figueiredo, Chairperson, 2017
Halim Choubah, P.E., Clerk, 2016
Robert K. Gardner Jr., Member, 2015
Alvin Youman, Alternate, 2018
Michael Medeiros, Alternate, 2016
Rahim Aghai, Alternate, 2017
Waterways Management Committee – Appointed by the Select Board
Roger Race, Chair
Gerald Hickey, Vice Chair
Diane Vieira (non-voting), Recording Secretary
Gerard Clark
Joseph Hannon
Warren Hathaway
SERVICES
Trash collection: Town is member of Greater New Bedford Regional Refuse Management District, which manages trash collection and curbside recycling for entire town.
Water: 90 percent of town receives municipal water
Sewer: 50 percent of town served by municipal sewer system.
Parks and beaches
Demarest Lloyd State Park, off Barney's Joy Road, South Dartmouth.
Apponagansett Town Beach, opposite Smith Neck Road, near Padanaram Harbor.
Round Hill Beach (parking for town residents only), off Smith Neck Road.
Jones Beach, end of St. John's Street.