Town of Fairhaven, MA Information
Subpages: Fairhaven Buildout
Go to the Town of Fairhaven Website
Commonwealth of Massachusetts Information Page on Fairhaven
Government
Address: Town Hall, 40 Center St., Fairhaven, MA 02719. Hours: 8:30 a.m. to 4:00 p.m.;
Phone: (508) 979-4025; Fax: (508) 979-4079
Form of Government: Board of Selectmen (3 members); Executive Secretary (Jeff Osuch); Representative Town Meeting
Board of Selectmen Meetings: Monday evenings. Board of Selectmen Chairman: Michael Silvia.
Demographics
2000 Population (2000 U.S. Census): 16,159 (percent increase=0.2%)
1990 Population (1990 U.S. Census): 16,132
2000 Housing Units: 7,266; (including unoccupied)
Average Persons per Unit: 2.22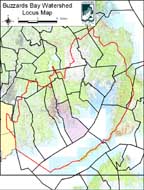 Fairhaven Locus Map
Open 150 kb size map.

Fairhaven Parcel Map
Open 150 kb size map.
Open 500 kb size map.
Land Use and Geography
Area (including ponds): 14.10 Sq. Miles Total Land Area: 12.53 sq. miles, Dry Land Area: 12.39 sq. miles
Population Density: 1,302 per sq. mile
Utilities
Water: 90 percent of town receives town water
Sewer: 65 percent of town is sewered
Trash: 100 percent of town receives municipal trash pickup
Public Boat Ramps
Pease Park, Middle Street, paved ramp.
Scoaticut Neck, Seaview Avenue, paved ramp.
Public Beaches
Fort Phoenix State Beach, swimming, picnic facilities. Parking fee.
Town beach, West Island.
Deed and Assessors Online Data Links
The Town of Fairhaven has an online Assessors database.
Deed information can be obtained at the Bristol County Online Deeds Data Base
Permitted Pollution Discharges and Toxic Waste Generators
EPA's enviro-mapper showing surface water dischargers or waste generators.Groundwater dischargers are not shown.
Fairhaven 2007 NPDES Phase II MS4 permit annual report
Potential Wetland Restoration Sites
The following downloads are excerpts from our report Selected Inventory of Potential Wetland Restoration Sites in the Buzzards Bay Watershed. Click the links to open the files in your web browser, or right click to save to your computer. Graphics on these pdf files has been degraded to reduce file size. Request a CD if this report (click the above link for more info) to obtain higher resolution pdf files.
Appendix 3. Sites in Fairhaven (3.3 MB pdf file).
Links

Town of Fairhaven website
Commonwealth of Massachusetts Information Page on Fairhaven
New Bedford Standard Times info page on Fairhaven
Today's Fairhaven News from the New Bedford Standard Times
Reports and other Information
As part of their effort to project future wastewater facility capacity needs, the Fairhaven Department of Public Works requested that the Buzzards Bay NEP prepare a buildout analysis for the Town of Fairhaven. On this page we have links to the 2010 draft report, GIS files, and some additional maps that show potential buildout on each parcel:Fairhaven 2010 Buildout.
July 2000 report on N loading and possible TMDLs for the Fairhaven wastewater treatment facility as it relates to water quality in New Bedford Harbor
Buzzards Bay NEP March 1999 report on nitrogen management needs for Little Bay, Fairhaven
BBP proposal to restore wetlands at old Fairhaven Drive-In Theater on Bridge St.
The Fairhaven Drive-In was built in a wet meadow during the 1950s. After it was abandoned in the early 1980s, wetland plants began breaking through the old asphalt, attempting to recolonizing the site. The site also has become a trash dumping ground. We are proposing to remove the asphalt and fill and create a wetland, pond and nature trail in an urban setting. Click on the link for the details.
Flushing Analysis of the Acushnet River Estuary. (2 MB pdf)
Hyun-Sook Kim, J. Craig Swanson, Jiganesh Patel. 2003. Flushing Analysis in the Acushnet River Estuary. ASA Report 01-123. A flushing study was performed for the Acushnet River estuary (New Bedford Inner Harbor), supported by the New England Interstate Water Pollution Control Commission (NEIWPCC) and U. S. EPA-New England. This work consisted of two parts: field program and numerical computations. The field study was conducted to support the numerical computations. The ultimate goal of this study is to determine the flushing characteristics of the estuary and residence time of the wastewater discharged from the Fairhaven Wastewater Treatment Plant (WWTP) in the lower estuary. This study will eventually serve as a preliminary step in determining the nitrogen TMDL (Total Maximum Daily Load) that the estuary can assimilate through the Massachusetts Estuary Project effort.
Appointed Officials
Executive Secretary: Jeffrey W. Osuch, 979-4023.
Police Chief: Gary Sousa, 997-1344.
Fire Chief: Timothy Francis, 994-1428.
Tax Collector: Carol Brandolini, 979-4027.
Assessor: Jeanne C. Reedy, 979-4018.
Assistant assessor: Jane Bettencourt.
Part-time assessor, Paul Keefe, Ronald Manzone, and Paul Matheson: 979-4018.
Treasurer and Finance Director, John L. Nunes, 979-4026.
Town Accountant, Anne M. Carreiro, 979-4017.
Health Agent/Sanitarian: Patricia Fowle, 979-4022.
Animal Control Officer: Tiffany Tripp, 979-4028.
Public Works Superintendent: Bill Fitzgerald, 979-4030.
Building Commissioner, Wayne Fostin, 979-4019.
Town Planner: Bill Roth, 979-4082.
Recreation Center Director: Warren Rensehausen, 979-4029.
Council on Aging Director, Deborah Jenkins.
Conservation Commission: 979-4019 Andrew Jones, Carol Tyson, Debroah Davis, Jay Simmons, Susan Morris, Kathleen Sturtevant, Jeanne Van Orman. Associate Members: Steven Pereira and Joseph Taylor
Finance Committee John Roderiques, Mark Badwey, Jeffrey Lucas, Ted Sylvia, William Machado, Diane Hahn, Ron Quintin, Scott Fernandes, Henry Pietrzykowski, Kim Hyland, Antonio DeNardis, Theresa M. Szala
Elected Officials
Selectmen: 979-4023 Dr. Brian K. Bowcock (2010) Michael Silvia (2009) Charles F. Murphy (2011)
Planning Board: 979-4082 Raymond Fleurent (2011), Wayne Hayward (2011), Albert Borges Jr. (2010), Marinus Vanderpol Jr. (2012), Gary Staffon (2009), Timothy Cox (2010), Dennis Vello (2009), Albert Silva (2012)
Town Clerk: 979-4025 Eileen M. Lowney (2007)
Town Moderator: Robert W. Foster (2006)
Board of Health: 979-4022. Delores Caton (2006), Jeannine Lopes (2011), Peter DeTerra (2010)
Board of Public Works: 979-4030 Robert Bosworth (2005), Robert D. Hobson (2009), G. Steven Riley (2009), Richard Brodeur (2010), Geoffrey Haworth, II (2011)
Tree warden: Antone Medeiros Jr.