Town of Falmouth, MA Information
Related Pages: Hurricane Floyd impact on Falmouth |  2007 Nor'easter Impacts: Falmouth |
Town of Falmouth interactive GIS page
Commonwealth of Massachusetts Information Page on Falmouth
Government
Address: Town Hall, 59 Town Hall Square, Falmouth, MA 02540. Hours: 8:30 a.m. to 4:30 p.m.; phone: (508) 548-7611; Fax: (508) 457-2511
Form of Government: Board of Selectmen (5 members) with Town Manager (Julian M. Suso)
Elected Town Meeting members
Board of Selectmen Meetings: Monday evenings. Chairman: Doug Jones, Chairman; Susan L. Moran, Vice Chairman; Mary Pat Flynn, Rebecca Moffitt, Samuel H. Patterson
Conservation: 508-495-7445
Health: 508-495-7485
Planning: 508-495-7440
Selectmen: 508-495-7320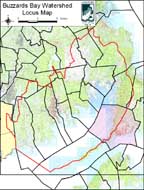 Falmouth Locus Map
Open 150 kb size map.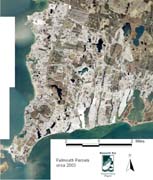 Map of Falmouth Parcels, circa 2003
Open 110 kb size map.
Open 500 kb size map.

Falmouth Topographic Map
Open 100 kb size map.
Open 460 kb size map.

Falmouth Core Wetlands
Open 150 kb size map.
Open 750 kb size map.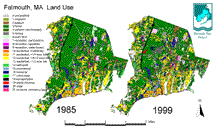 MassGIS Land Use Map of Falmouth (1985 vs. 1999)
Open 170 kb size map.
Open 450 kb size map.
Falmouth Protected Open Space
Open 150 kb map
Open 450 kb map
Demographics
2000 Population (2000 U.S. Census): 32,660 (percent increase=16.8%)
1990 Population (1990 U.S. Census): 27,960
Population in Buzzards Bay basin estimated at 9,554 in 1990;
2000 Housing Units: 20,055; (including unoccupied)
Average Persons per Unit: 1.63 (based on year round occupancy, summer occupancy closer to 2.8
County: Barnstable
Land Use and Geography
Total Land Area: 44.52 sq. mi (18.92 sq. miles in Buzzards Bay basin);
Population Density: 628 persons per sq. mile
Permitted Pollution Discharges and Toxic Waste Generators
EPA's enviro-mapper showing surface water dischargers or waste generators.Groundwater dischargers are not shown.
Falmouth 2007 NPDES Phase II MS4 permit annual report
Falmouth Wetland Regs and the Conservation Commission
Falmouth Wetland Regulations.
In Massachusetts, implementation of the state wetland regulations is delegated to municipal Conservation Commissions. These Conservation Commissions, generally made up of 5 or 7 volunteer members, are appointed by Town Boards of Selectmen or City Councils. Under Massachusetts Home Rule legislation, municipalities may also adopt local bylaws that are more stringent or better reflect local needs than regulations under the state's Wetlands Protection Act. Most Buzzards Bay municipalities have adopted these local bylaws. On this page you will find new revised wetland regulations that the Town of Falmouth is about to adopt. In 1987, the Town of Falmouth adopted through Town Meeting its current wetland bylaw and regulations. In 1997, the Buzzards Bay NEP is helping the town rewrite these regulations to bring them up to date and to be more consistent with the State's Wetland Protection Act regulations."
Do you know what your Conservation Commission does? The Falmouth Conservation Commission wanted to better communicate their mission, and wanted builders to better understand their stormwater regulations. At their request, the Buzzards Bay NEP prepared these two fact sheets:
Falmouth Wetland Regulations brochure for the general public (129 kb pdf)
Falmouth Wetland Stormwater Regulations brochure for developers (132 kb pdf)
Zoning Information
Zoning Map as a PDF file (450 kb)
Special Permits and Site Plan Review Regulations as a PDF file (150 kb)
Minimum Lot Dimension Regulations as a PDF file (95kb)
Coastal Pond Overlay Protection Districts Map (695kb)
Falmouth, MA Public Boat Ramps
Ashumet Pond (freshwater) a State ramp on Currier Rd. Public Access Board Map    Google Map
Town Ramp, Menauhant Rd., Green Pond Google Map
Great Pond – Harrington St. Google Map
Falmouth Inner Harbor Google Map
West Falmouth Harbor, Old Dock Road Google Map
Megansett Harbor, County Road, North Falmouth Google Map
Waquoit Bay – Seapit Rd., East Falmouth
Waquoit Bay – Seapit Rd., East Falmouth
Whites Landing- Childs River
Water St. adjacent to Woods Hole at Aquarium
Public Beaches
Menauhant Beach, East Falmouth
Falmouth Heights Beach
Bristol Beach on Vineyard Sound
Woodneck Beach Near Little Sippewisset Marsh on Buzzards Bay
Old Silver Beach, Quaker Rd., No. Falmouth
Surf Drive Beach, Surf Drive, Falmouth.
Stony Beach, Woods Hole
Chappaquoit Beach, West Falmouth
Megansett Beach, North Falmouth
Falmouth, MA Beach Information from Town of Falmouth website
Potential Wetland Restoration Sites
The following downloads are excerpts from our report Selected Inventory of Potential Wetland Restoration Sites in the Buzzards Bay Watershed. Click the links to open the files in your web browser, or right click to save to your computer. Graphics on these pdf files has been degraded to reduce file size. Request a CD if this report (click the above link for more info)to obtain higher resolution pdf files.
Appendix 3. Sites in Falmouth (0.7 MB pdf file).
Site Locus Map for Falmouth (0.7 MB pdf file).
Reports/Correspondence/Other
In December 2005, the Buzzards Bay NEP wrote the Falmouth Board of selectmen a letter (view as a 1.3 MB pdf file -includes maps and photos) to encourage the town to consider restoring tidally restricted salt marshes during its planned 6.2-mile expansion of the Shining Sea Bike Path in Falmouth. The bike path is being built on the old railroad bed that borders portions of Buzzards Bay, and crosses the Great Sippewissett Salt Marsh, a large and scenic marsh that is also ecologically important. These tidal restrictions were identified in the BBNEP's 2002 Atlas of Tidally Restricted Salt Marshes in Buzzards Bay.
The restoration is needed because culverts installed during construction of the railroad bed more than a century ago, have subsided, collapsed, become filled, or were altered in later years, increasingly isolating the salt marshes east of the tracks from the beneficial effects of tidal flushing from Buzzards Bay. Some problems were also the result of Hurricane Bob in 1991, when track bed ballast was washed into salt marsh areas east of the tracks, channels became filled, and a new culvert was installed at the wrong elevation after the hurricane.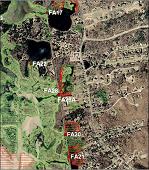 In January, we learned that others were interested in restoring these wetlands. Interested parties included the wildlife protection non-profit Ducks Unlimited, some local residents, and a Falmouth engineering firm.
In a January meeting organized by Ducks Unlimited with Town officials and state and federal regulators, it was agreed that it would be best if the wetland restoration designs and and permitting be conducted separately from the planned bike path expansion permitting. In this way, the wetland restoration project would not delay in any way the ongoing bike path expansion work.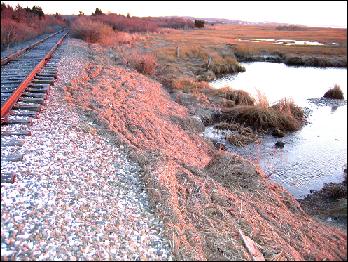 Presently the Buzzards Bay NEP is providing technical support to Ducks Unlimited to evaluate the sites. We are also supporting DU in their efforts use private donations to leverage federal grant funds to pay for these wetland restoration projects.
Falmouth Wetland Violation Case on Penzance Point
A property owner cleared and filled roughly 10,000 square feet of wetland on Penzance Point Road in Woods Hole in Falmouth (area of red arrows between tennis court and structure). The case is unusual in part because the property owner offered to donate $400,000 to the town of Falmouth for wetland restoration projects in lieu of fully restoring the site. Read the Falmouth Enterprise article on this case to learn more. However, on November 30, the owner withdrew the offer and stated that they would restore the wetlands instead. Photos below taken from MassGIS website.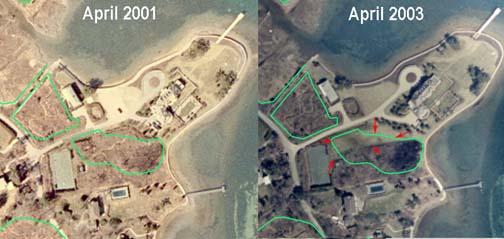 Green lines show the minimum extent of wetlands based on aerial photograph interpretation by Massachusetts DEP. The actual extent of wetlands may be greater than that shown.
February 7, 2005 talk to Dock and Pier Workgroup (330 kb pdf file).
Follow-up response to questions about quorums on the Falmouth Conservation Commission (12/3/04 74 kb pdf file)
Response to a question about quorums on the Falmouth Conservation Commission (10/5/04 74 kb pdf file)
BBP review of a technical report on a proposed culvert replacement to improve tidal flow to a salt marsh at Little Island in West Falmouth (7/23/03 pdf file)
Our review illustrates what kinds of complex issues can surround a tidal restriction salt marsh restoration project, and a common sense approach for evaluating proposed designs.
Comments relating to Cape Cod Commission Hearing on Falmouth Wastewater Treatment Plant 11/4/99
Buzzards Bay NEP August 1996 report on West Falmouth Harbor watershed and Sewage Treatment Plant nitrogen contributions
Buzzards Bay NEP correspondence to facilities manager on N loading calculations
Buzzards Bay NEP October 9, 1997 report on Falmouth Sewage Treatment Facility
Correspondence at start of BBP involvement with Town of Falmouth Bogs (1996) -12 kb PDF.
---
Correspondence on Falmouth DPW Gifford Street road work
Only occasionally does the Buzzards Bay National Estuary Program file a Request for Determination of Applicability (RDA) for a project under the Massachusetts Wetland Protection Act. In August 2004, the Buzzards Bay NEP filed a RDA with the Falmouth Conservation Commission for their failure to require a permit for roadwork by the Falmouth Department of Public Works for activity on Gifford Street, near Sols Pond. The DPW's activity was causing ongoing erosion of the pond bank and discharge of mud and silt into the pond. The Falmouth Conservation Commission issued a Negative Determination to our request, saying that the DPW did not need a permit. In September 2004, after visiting the site, the Massachusetts Department of Environmental Protection appealed the Conservation Commission's decision, and issued a Superseding Determination, saying the DPW did need a permit. To learn more about these events, go to our Gifford Street Wetlands Case page.
Clausen Corner Case and Stormwater Review
The correspondence below relates to a project in which the Falmouth Conservation Commission asked the Buzzards Bay NEP to provide a technical review of stormwater treatment from a proposed commercial development site along Rt. 151. The Conservation Commission agreed with Buzzards Bay NEP's analysis on how stormwater needs to be treated according to the Town's regulations. Our work on this case led to the BBP developing for the Town a stormwater management brochure for developers because we recognized there was considerable confusion among town personnel and applicants about the implementation of the local and state wetland stormwater regulations (note January 2003 letter). An important message in the brochure was that the Falmouth Planning Board regulations for stormwater management do not meet either the state or local wetland bylaw requirements. Developers that discharge stormwater to wetlands must design stormwater treatment for the most rigorous state or local standard.
Buzzards Bay NEP acceptance of Clauson Corner Review (12/03/02)
Buzzards Bay NEP's review of Clauson Corner Project (12/06/02)
Buzzards Bay NEP's response to comments on Clauson Corner Project (1/7/03)
Buzzards Bay NEP's final review of Clauson Corner Project stormwater designs (2/24/03)
---
BBP Cranberry Bog Initiative and Falmouth Coonamessett Bog
In 1996, prompted by concerns by the Falmouth Conservation Commission about pesticide use on town-owned bogs, the Buzzards NEP developed a proposal to separate the river from the Coonamessett Bog system, which was a "flow-through" bog. An additional goal of the Buzzards Bay NEP was to educate the commission about their responsibilities to manage pesticide use on their property, and to be cognizant of the different precautions associated with the various pesticides used on their property.
Our proposed was funded by several entities, but the effort to separate of the Coonamessett River from the Town of Falmouth cranberry bog ended by the discovery of an EDB plume entering the Coonamessett River from the Mass Military Reservation (the EDB plume was subsequently treated).  In the face of the failure of the project to move forward, Falmouth and its residents struggled for more than two decades about what to do with the bogs and how to restore them, and disputes over management of the property arose with their tenant farmer.  Some of portions of the river were subsequently separated from the bogs, but ultimately, in 2017, all in all remaining town-owned bogs, agricultural activities were abandoned by a vote of the Conservation Commission Commission, more than 20 years after the Buzzards Bay NEP sought to reduce pesticide discharges to Falmouth's coastal ponsds.
Buzzards Bay NEP 1996 letter, responding to a Conservation Commission inquiry about pesticide release from their bog
Buzzards Bay NEP 1997 319 Proposal on a Cranberry Bog Initiative and Falmouth-Owned Cranberry Bog
BBP notification of award of funds in 1997
Meeting with Selectmen
Post EDB contamination discovery, alteration of proposal to retain funding
Letter to Falmouth Conservation Commission regarding pesticide application on Cranberry Bogs in 1998
March 13, 2003 letter to Falmouth Conservation Commission regarding management options for the town bogsBuzzards Bay NEP PowerPoint Presentation to Falmouth Bog Committee on December 11, 2003 pdf version.BBP letter to the Town Of Falmouth on legal authorities of Conservation Commission over conservation lands
We were mistaken about lease funds being deposited in the town's Conservation Fund. Read the letter to learn more about the 1995 Department of Revenue legal opinion we discovered.USDA Manual for Wetland Reserve Program 2008 Farm Bill update
2017: Falmouth Con Com Votes To Abandon Town Owned Bogs
Click here to visit our cranberry bog information page
Town of Falmouth – Coonamessett River Restoration Working Group web page (the committee dissolved in 2009)
---
Falmouth Wetland Regulations (developed with the assistance of the Buzzards Bay NEP).
Mapped Tidal restrictions for Falmouth: (Note: we recently discovered additional sites along the railroad tracks and these will be included in a future draft of our report. Go to our main page for the description and information about these sites.)
Falmouth Links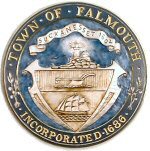 Town of Falmouth, Official Home Page
Commonwealth of Massachusetts Information Page on Falmouth
Nature's Circle: A Falmouth Environmental Group with regularly scheduled field trips and lectures.
Falmouth Associations Concerned with Estuaries and Saltponds (FACES).
UNH site with 1893 historic topo maps of Falmouth
---
Town Officials (Environmental and Planning Departments)
Conservation Commission (and term end)
Russell Robbins, Chairman, June 30, 2017
Michael Powers, Vice-Chairman June 30, 2016
Mario DiGregorio, June 30, 2016
Mary Schumacher, June 30, 2017
Jonathan Polloni, June 30, 2016
Maureen Harlow-Hawkes, June 30, 2017
Jamie Mathews, June 30, 2017
Elizabeth Gladfelter, June 30, 2016
Courtney Bird, June 30, 2016
Conservation Department 508-495-7445
Administrator: Jennifer L. McKay
Agent: Mark Kasprzyk
Health Department
Health Agent: David Carignan 508-495-7485
Scott McGann, Assistant Health Agent
Board of Health
Jared Goldstone, Chairperson
Gail A. Harkness
George Heufelder
Stephen Rafferty
John Waterbury
Note: This is the only appointed Board of Health in the watershed
Planning Department
Town Planner: Brian A. Currie, AICP
Assistant Town Planner: Marlene V. McCollem, AICP
Planning Board (elected)
Jim Fox,Chairman [2017]
Patricia H. Kerfoot, Vice Chairman (2016)
Paul Dreyer, Clerk/Secretary (2016)
Robert Leary (May 2018)
Kenneth Medeiros (May 2017)
Ralph E. Herbst (2017)<
Douglas C. Brown (May 2018]
) Zoning Board of Appeals (appointed)
Chairman – Kimberly Bielan
Vice Chairman – Kenneth Foreman
Clerk – Terrence Hurrie
Edward Van Keuren
Paul Murphy
Associate – Mark Cool & John Sutherland
Public Works
Director of Public Works, Raymond A. Jack: (508) 495-2543
Town Engineer Peter M. McConarty, P.E., P.L.S.
Wastewater Superintendent, Gerald Potamis P.E. (508) 495-7340
Marine and Environmental Services
Director Gregg Fraser, 508-457-2550
Department of Natural Resources Deputy Director: Chuck Martinsen
Natural Resource Officer: Sarah Brooks 508-495-2536
Harbor Master & Town Marina
Chief Harbor Master: Gregg P. Fraser 508-457-2550
Location: Falmouth Harbor 180 Scranton Avenue
Helpful Falmouth Telephone Numbers
Falmouth Enterprise Town Numbers Page