Town of Falmouth, MA Wetland Regulations
Background
In Massachusetts, implementation of the state wetland regulations is delegated to municipal Conservation Commissions. These Conservation Commissions, generally made up of 5 or 7 volunteer members, are appointed by Town Boards of Selectmen or City Councils. Under Massachusetts Home Rule legislation, municipalities may also adopt local bylaws that are more stringent or better reflect local needs than regulations under the state's Wetlands Protection Act. Most Buzzards Bay municipalities have adopted these local bylaws.
In 1987, the Town of Falmouth adopted through Town Meeting its current wetland bylaw and regulations. During 1997 and 1998, the Buzzards Bay NEP helped the town rewrite these regulations to bring them up to date and to be more consistent with the State's Wetland Protection Act regulations. They went into effect in August 1998. The Buzzards Bay NEP also helped the town adopt their original Town of Falmouth District of Critical Planning Concern for Black Beach. In subsequent years, the Town of Falmouth further updated these regulations. The official Falmouth code is at Falmouth code link.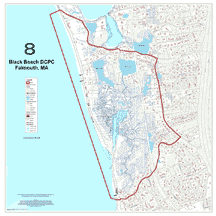 View the Town of Falmouth's GIS Department's Black Beach DCPC Boundary Map (2.5 MB pdf file).