Town of Gosnold, MA Information
Commonwealth of Massachusetts Information Page on Gosnold
About Gosnold
The Town of Gosnold is composed of a chain of small islands along the eastern boundary of Buzzards Bay known as the Elizabeth Islands. They extend southwestward for 16 miles (26 km) from the Falmouth village of Woods Hole, at the southwestern tip of Cape Cod, toward Rhode Island Sound. The Elizabeth Islands form the boundary between Buzzards Bay and Vineyard Sound. The Town of Gosnold is part of Dukes County, which includes Marthas Vineyard. Gosnold was settled in 1641 and incorporated in 1864. Most residents and municipal offices are located on the southwestern most island of Cuttyhunk. It is the least populated municipality in Massachusetts. The largest island is Naushon Island, which is the largest privately owned Island in Massachusetts. Other large islands include Nonamesset, Naushon, Pasque, and Nashawena. The gaps between the Islands are called "holes," the most famous and most traveled of which is Woods Hole, the name also of the village in the town of Falmouth that borders the Hole. Cuttyhunk harbor at the western end of the Elizabeth Island chain and Hadley Harbor at the northeastern end of the chain are the most popular boating destinations.
Government
Address: Town Hall, P.O. Box 28, 28 Tower Hill Rd, Cuttyhunk, MA 02713
Hours: 8:30 a.m. to 4:00 p.m.; phone: (508) 990-7408; Fax: (508) 990-3318
Form of Government: Board of Selectmen; Executive Secretary; Open Town Meeting
Board of Selectmen Meetings: Monday evenings; every other week in summer; every week starting in September. Chairman: Everett L. Hardy, Jr.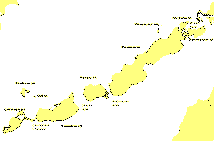 Plain Map of Gosnold
Demographics
2000 Population (2000 U.S. Census): 86
2000 Housing Units: 215; (including unoccupied)
Average Persons per Unit: 0.40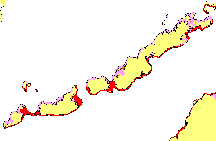 Gosnold Flood Zones
Land Use and Geography
Total Land Area: 18.92 sq. miles;
Dry Land Area: 18.46 sq. miles
Population Density: 4.5 per sq. miles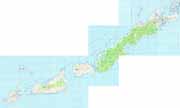 USGS Quad map of Gosnold (474 kb)
Links
Commonwealth of Massachusetts Information Page on Gosnold
Applied Geographics study funded by CZM of shoreline change on Cuttyhunk and Nashaweena Islands