Town of Marion, MA Information
Related pages:      Island Wharf LID Project   |   Spragues Cove Stormwater Wetland     External Links:  Town of Marion Website   |     Commonwealth of MA Marion Info
Government
Address: Town House, 2 Spring St., Marion, MA 02738.
Hours: 8:30 a.m. to 4:30 p.m.
Phone: (508) 748-3500, Fax: (508) 748-2845
Form of Government: Board of Selectmen (3 members); Executive Secretary: Paul F. Dawson; Open Town Meeting
Board of Selectmen Meetings: Monday evenings every week.
Board of Selectmen Chairman: Stephen M. Cushing (2017).
For this week's Board of Selectmen's meeting agenda, visit the Wanderer Newspaper website.
Marion Locus Map
Open 150 kb size map.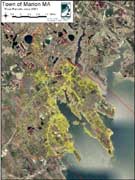 Marion Parcel Map
Open 150 kb size map.
Open 500 kb size map.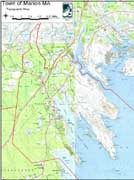 Marion Topographic Map
Open 150 kb size map.
Open 860 kb size map.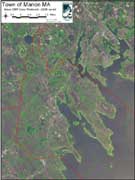 Marion Core Wetlands
Open 150 kb size map.
Open 500 kb size map.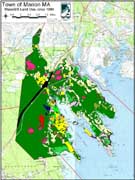 MassGIS Land Use Map of Marion (1999)
Open 450 kb size map.
Open 600 kb size map.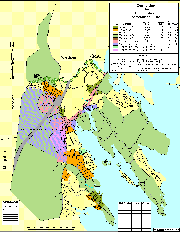 Marion Zoning -1999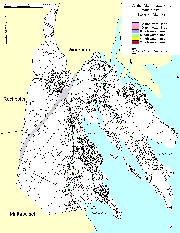 Marion Water Mains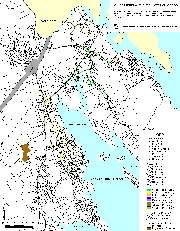 Marion Sewer Lines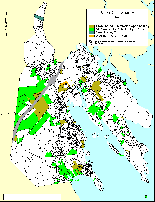 Marion Open Space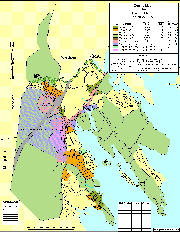 Marion 2001 Proposed Zoning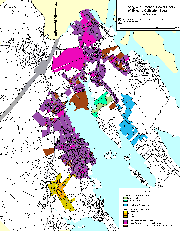 Marion sewered lots

Aerial of Bird Island showing eelgrass
Demographics
2000 Population (2000 U.S. Census): 5,123 (percent increase=13.9%)
1990 Population (1990 U.S. Census): 4,496
2000 Housing Units: 2,439; (including unoccupied)
Average Persons per Unit: 2.10
Land Use and Geography
Total Area: 26.69 sq. miles
Dry Land Area: 14.63 sq. miles
Population Density: 307 per sq. miles
Deed and Assessors Online Data Links
Town of Marion Online Assessors Data Base
Plymouth County Online Deeds Data Base
GIS Shapefiles of Marion Open Space and Parcels
The Buzzards Bay National Estuary Program maintains a GIS parcel coverage of open space and town parcels, but generally you can get the most up to date coverages at the MassGIS website.
Marion, MA Public Boat Ramps
Public Beaches
Silver Shell Beach (public beach but resident parking only).
Permitted Pollution Discharges and Toxic Waste Generators
EPA's enviro-mapper showing surface water dischargers or waste generators.Groundwater dischargers are not shown.
Marion 2007 NPDES Phase II MS4 permit annual report
Potential Wetland Restoration Sites
The following downloads are excerpts from our report Selected Inventory of Potential Wetland Restoration Sites in the Buzzards Bay Watershed. Click the links to open the files in your web browser, or right click to save to your computer. Graphics on these pdf files has been degraded to reduce file size. Request a CD if this report (click the above link for more info) to obtain higher resolution pdf files.
Appendix 4. Sites in Marion (3.5 MB pdf file).
Site Locus Map for Marion (3.5 MB pdf file).
Links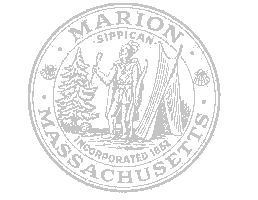 Town of Marion Homepage
Commonwealth of Massachusetts Information Page on Marion
New Bedford Standard Times info page on Marion
Today's Marion News from the New Bedford Standard Times
Reports and Correspondence
May 16, 2005 Letter to to Marion Housing Committee regarding a review of environmental impacts of a chapter 40B project.
This letter includes a potential management solution in applying an unused provision of the state Title 5 onsite wastewater disposal regulations to minimize environmental impacts from Chapter 40Bs.
May 26, 2005 follow-up letter on a proposed Chapter 40B project comparing possible nitrogen loading scenarios.
This letter compares standard development to a 40B project with different nitrogen limit standards.
BBP Produced map of certified and potential vernal pools, and endangered species habitat in the Marion area.
This map (2.0 MB pdf file) was prepared at the request of the Marion Conservation Commission.
February 2005 Buildout Report for the Town of Marion prepared by BBNEP Regional Planner, John Rockwell (91 kb pdf)
This report was prepared at the request of the Marion Board of Selectmen. The report includes links to maps and additional sites of information.
March 2004: Docks and Piers model watersheet zoning bylaw (29 kb pdf)
The Marion Marine Resources Commission developed this model zoning bylaw with the assistance of the Buzzards Bay NEP. However, the planning board never decided to review the proposed bylaw, so the bylaw never came to town meeting for a vote.. Story on the Dock and Pier Bylaw
October 29, 1998 draft report on analysis of nitrogen loading in Marion (2 MB pdf)
Spragues Cove Stormwater Remediation Fact Sheet
Report: The Financial Impact of Town-Wide Conservation Restrictions to the Marion Town Budget (78 kb pdf)
Appointed Officials
Town Administrator, Paul F. Dawson, 748-3550
Elected Officials
Selectmen: 748-3520
Stephen M. Cushing, Chairman, 2017
Jonathan F. Henry, Vice-Chairman, 2016
Jonathan E. Dickerson, Clerk, 2018
Assessors: 748-3518
Bradford N. Eames, Chairman, 2016
Catherine A. Gibbs, M.A.A., Assessor, 2017
Ray E. Pickles, Assessor, 2018
Patricia A. DeCosta, M.A.A. Associate Assessor
Planning Board: 748-3517
Norman A. Hills, Clerk, 2016
Robert H. Lane, Chairman, 2017
Jerry Ferrari, Vice Chairman, 2016
Jennifer A. Francis, 2018
Stephen C. Gonsalves, 2018
Eileen J, Marum, 2017
Michael D. Popitz, MD, 2017
Moderator:
David B. Titus
Board of Health: 748-3530
John B. Howard, M.D., Chairman, May 2018 Albin R. Johnson III, Vice Chairman, May 2016 Elizabeth S. Dunn, R.N., Clerk, May 2017
Open Space Acquisition Commission:
John Rockwell, Chairman
Joseph P. Keogh, Clerk
Randy L. Parker
Jeffrey Oakes
Jonathan Howland
Conservation Commission: 748-3560
Norman A. Hills, Chairman, June 30, 2016
Joel D. Hartley, Vice Chairman, June 30, 2017
Jeffrey J. Doubrava, Clerk, June 30, 2018
Stephen C. Gonsalves, June 30, 2017
Cynthia Callow Trinidad, June 30, 2016
Lawrence B. Dorman, Associate Member, June 30, 2018
Finance Committee
Alan Minard, Chairman Jeffrey P. Dickerson Hamish Gravem Karen Kevelson Lee Vulgaris
Other Staff, Appointed Officials and Department Heads
Fire Chief, Brian Jackvony, 748-3510Building Inspector, Scott Shippey, 748-3516
Superintendent of Public Works, Robert C. Zora, 748-3540Harbormaster, Michael H. Cormier, 748-3535Council on Aging Director, Susan J. Schwager, 748-3570Health Director, Karen A. Walega, CHO, 748-3533