Town of Middleborough, MA Information
Go to the Town of Middleborough Website
Commonwealth of Massachusetts Information Page on Middleborough
Government
Address: Town Hall, 10 Nickerson Ave., Middleborough, MA 02346
Phone:(508) 947-0928; Fax: (508) 946-2320
Form of Government: Board of Selectmen ; Town Manager (John F. Healey); Open Town Meeting
Board of Selectmen: (5 members) Wayne C. Perkins, Chairman, Term expires 2008; James W. Wiksten, Term expires 2006; Lincoln Andrews, Term expires 2007; Adam Bond, Term expires 2007; Marsha L. Brunelle, Term expires 2008
Planning Board:Chairman: J. Nathaniel Hailey, Town Planner: Ruth McCawley Geoffroy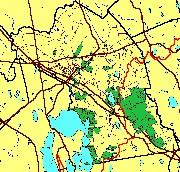 Map of Middleborough Open Space
Demographics
2000 Population (2000 U.S. Census): 19,941 (percent increase=11.6%)
1990 Population (1990 U.S. Census): 17,867
2000 Housing Units: 7,249; (including unoccupied)
Average Persons per Unit: 2.75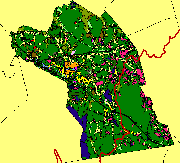 Middleborough Land Use
Land Use and Geography
Total Town Area: 72.18 sq. miles; Dry Land Area: 69.13 sq. miles
Buzzards Bay watershed Town Area: 17.00 sq. miles; Dry Land Area in BB watershed: 16.8 sq. miles
Population Density: 288 per sq. mile town wide
___ in the Buzzards Bay watershed
Deed and Assessors Online Data Links
There is no Town of Middleborough Online Assessors database.
Plymouth County Online Deeds Data Base
Potential Wetland Restoration Sites
The following downloads are excerpts from our report Selected Inventory of Potential Wetland Restoration Sites in the Buzzards Bay Watershed. Click the links to open the files in your web browser, or right click to save to your computer. Graphics on these pdf files has been degraded to reduce file size. Request a CD if this report (click the above link for more info)to obtain higher resolution pdf files.
Appendix 6. Sites in Middleborough (0.5 MB pdf file).
Site Locus Map for Middleborough (0.5 MB pdf file).
Permitted Pollution Discharges and Toxic Waste Generators
EPA's enviro-mapper showing surface water dischargers or waste generators.Groundwater dischargers are not shown.
Links
Go to the Town of Middleborough Website
Go to the SRPEDD information page on the Town of Middleborough
Go to the Commonwealth of Massachusetts information page on the Town of Middleborough
Appointed Officials
Conservation Commission
Richard Chamberlin, Chairmain
Michael Brady
Patricia Delaney
Leonard Ruprecht
D. Jeffrey Erickson
Deborah Kirsch
John Mateiro
Rosemarie Correia, Agent
Phyllis Barbato, Secretary
Land-Use Subcommittee
Richard Rebell, Chairman Ron Burgess
Richard Chamberlin
Mary Jigerjian
Sarah Jigerjian
Nancy Kitchen Robert Orkin
Leonard Ruprecht
Ellen Williams