City of New Bedford, MA Information
Sub-pages:      2005 Sea Lab Groundbreaking
Go to the City of New Bedford Website
Commonwealth of Massachusetts Information Page on New Bedford
New Bedford and the Environment
The City of New Bedford is the largest municipality in the Buzzards Bay Watershed, accounting for about 37% of the watershed's population. With a long history as a leading American whaling, industrial, and fishing port, the City of New Bedford faces many pollution problems typical of older industrial sites along the Northeast US seaboard, including impacts from wastewater discharges, industrial discharges, and combined sewer overflows. Because of past industrial dumping, New Bedford became the largest marine EPA Superfund for PCB (polychlorinated biphenyls) contamination.
In the past decade, the City of New Bedford has made remarkable strides to improve pollution reduction, including the construction if a new wastewater treatment facility, and the elimination of dry weather CSO discharges. Still, many challenges remain, and the Buzzards Bay NEP is committed to assisting the City of New Bedford achieve its environmental goals and meet the objectives of the Buzzards Bay Comprehensive Conservation and Management Plan. This page has links that highlight the city's progress on protecting the environment.
Government
Address: City Hall, 133 William Street, New Bedford, MA 02740
Phone: (508) 979-1410, Fax: (508) 979-6189
Form of Government: Mayor with City Council
ELECTED OFFICIALS:
Mayor: Mayor: Jon Mitchell
City Council President: Brian K. Gomes (508) 979-1455
Demographics
2000 Population (2000 U.S. Census): 93,768 (percent decrease=6.2%)
1990 Population (1990 U.S. Census): 99,922
2000 Housing Units: 41,511; (including unoccupied)
Average Persons per Unit: 2.26
Land Use and Geography
Total Land Area: 24.04 sq. miles
Dry Land Area: 20.14 sq. miles
Population Density: 4,961/sq. mile
Public Boat Ramps
East Rodney French Boulevard, H Street, 2 jetties, 1 pier and a paved ramp.
West Rodney French Boulevard, 4 jetties and a paved ramp.
Public Beaches
East Beach (East Rodney French Boulevard)
West Beach (West Rodney French Boulevard)
New Bedford CSOs and NPDES discharge permits
Dredging of PCB and metal contaminated sediments from the EPA Superfund site in New Bedford
Approximately 18,000 acres New Bedford Harbor are highly contaminated with polychlorinated biphenyls (PCBs) and heavy metals, and have been designated a superfund site. The PCB discharges occurred between 1940 to the late 1970s (when PCBs were banned), primarily because of discharges from two manufacturers of electrical equipment. The industrial wastes containing PCBs were discharged directly into the harbor and indirectly via the city's sewerage system.
In the 1980s, the legal cases related to these discharges were settled, and the cleanup planning process began. Actual remediation of the site did not begin until the late 1990s. The Superfund site, and its ongoing cleanup is overseen by EPA. Some of the highest contaminated sediments have already been dredged and removed to an out-of-state disposal site. Related to the superfund process, Damage Assessment Trustees oversee the use of Natural Resource Damage Assessment fines to help fund environmental restoration projects in the affected area. Links with information on these efforts are found below.
EPA Region I's homepage for New Bedford Harbor
EPA's New Bedford superfund cleanup summary page
NOAA's Trustee Information on New Bedford's PCB Superfund Site
Unrelated to superfund activities, the City of New Bedford and Town of Fairhaven worked with MCZM to develop a Harbor Dredged Material Management Plan for dredging of non-hazardous sediments.The 1998 New Bedford/Fairhaven Harbor Dredged Material Management Plan (DMMP) Draft Environmental Impact Report (DEIR) contains information on that effort.
Potential Wetland Restoration Sites
The following downloads are excerpts from our report Selected Inventory of Potential Wetland Restoration Sites in the Buzzards Bay Watershed. Click the links to open the files in your web browser, or right click to save to your computer. Graphics on these pdf files has been degraded to reduce file size. Request a CD if this report (click the above link for more info)to obtain higher resolution pdf files.
Appendix 5. Sites in New Bedford (2.2 MB pdf file).
2005 Award for Brownfields
From CZMail: The city of New Bedford received an Excellence in Local Government Award through NOAA's Excellence Awards Program. This award recognizes the city, under the leadership of Mayor Frederick M. Kalisz, Jr., for the progress it has made in redeveloping brownfields. The city has established numerous partnerships with the public and private sector to support environmental, economic, and social benefits at these sites and is considered a model for coastal communities addressing clean up and reuse of brownfields to meet community goals. For more information about NOAA's award recipients, or to learn more about NOAA's Excellence Awards Program, go to www.nos.noaa.gov/programs/ocrm/jonesawards/announcement_05.html.
Selected Reports and Correspondence
July 2000 report on N loading and possible TMDLs for the Fairhaven wastewater treatment facility as it relates to water quality in New Bedford Harbor
1991 Watershed Management Plan Chapter 6: Pollution Remediation Projects in New Bedford
Flushing Analysis of the Acushnet River Estuary (2 MB pdf).
Hyun-Sook Kim, J. Craig Swanson, Jiganesh Patel. 2003. Flushing Analysis in the Acushnet River Estuary. ASA Report 01-123. A flushing study was performed for the Acushnet River estuary (New Bedford Inner Harbor), supported by the New England Interstate Water Pollution Control Commission (NEIWPCC) and U. S. EPA-New England. This work consisted of two parts: field program and numerical computations. The field study was conducted to support the numerical computations. The ultimate goal of this study is to determine the flushing characteristics of the estuary and residence time of the wastewater discharged from the Fairhaven Wastewater Treatment Plant (WWTP) in the lower estuary. This study will eventually serve as a preliminary step in determining the nitrogen TMDL (Total Maximum Daily Load) that the estuary can assimilate through the Massachusetts Estuary Project effort.
Proposed Bilge Oil Facility for the New Bedford Fishing Fleet and Related Information
Fishing Fleet Bilge Oil Facility proposal for New Bedford Harbor
This April 2000 proposal was developed by Buzzards Bay NEP in partnership with New Bedford Harbor Development Commission. Matching funds were provided by Massachusetts Coastal Zone Management, Massachusetts Environmental Trust, and the City of New Bedford. This project languished for two years because the original proposed waterfront site for the waste oil facility fell through, alternative sites had complex permitting and siting issues, and because the City did not want to assume the long term operating costs of operating the facility.
November 2002 announcement from BBP about loss of grant funding for the New Bedford Bilge oil facility
Links
Go to the SRPEDD information page on the City of Fall River
Go to the Commonwealth of Massachusetts information page on the New Bedford
Great EPA site on the ecological history of New Bedford Harbor
US Army Corps website on the Hurricane Barrier ("dikes") which they manage
New Bedford Whaling National Historical Park
NOAA's Trustee Information on New Bedford's PCB Superfund Site
US EPA Record of Decision for the PCB superfund site in New Bedford Harbor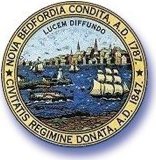 Visit the City of New Bedford's website
Newspaper Clippings
November 2006 ST article on PCB cleanup status in New Bedford Harbor.
Elected Officials
Mayor:Jon Mitchell 979-1410City Council: 979-1455
Brian K. Gomes, City Council President
Joseph P. Lopes, First Vice-President
Steven Martins, Second Vice-President
Dennis Farias, City Clerk & Clerk of the City Council
Linda M. Morad
Dana Rebeiro
Joseph P. Lopes
Naomi R.A. Carney
Debora Coelho
James D. Oliveira
Henry G. Bousquet
Steven Martins
Kerry Winterson
David Alves
APPOINTED OFFICIALS
Airport manager Erick D`Leon, 991-6160
Auditor Robert W. Ekstrom, 979-1530
Commissioner, Inspectional Services (building, wire, health), Danny D. Romanowicz, 979-1540
Cemeteries Superintendent Ronald H. Labelle, 979-1550
Chief Financial Officer/Treasurer Ari J. Sky, 979-1441
City Clerk Rita D. Arruda, 979-1450
City Planner David Kennedy (acting), 979-1488.
City Solicitor Irene B. Schall, 979-1460
Clerk of committees, (508) 979-1482
Conservation Commission, John Gurney, chairman, 991-6188.
Council on Aging, 991-6250
Elderly Nutrition Program, 999-6400
Election Commissioner Maria Tomasia, 979-1420; assistant commissioners Debbie Gonzaga, Sherrie Silva
Emergency Management Director Mark Mahoney, 991-6386
Emergency Medical Services Director James M. Trout, EMT-P, 991-6390
Environmental Stewardship, Scott Alfonse, senior planner, 979-1487
Contract Compliance Director Donald Gomes, 979-1446
Facilities Management, Jeff Lauro, 979-1520
Fire Chief Paul Leger, 991-6105
Harbor Development Commission Director Kristin Decas, 961-3000
Health & Human Services Director Marianne B. DeSouza, R.D.H., B.A., M.S., 991-6290
Licensing Board Chairman Stephen A. Beauregard; director Nicholas Nanopoulos, 979-1457
MIS Director Robert Tetreault; assistant director Larry Langlois 991-6245
New Bedford Economic Development Council, Robert Luongo, 991-3122
Personnel Director Angela Natho, 979-1444
Public Facilities Commissioner Lawrence D. Worden, 979-1520
Public Infrastructure Commissioner Ronald H. Labelle, 979-1556; Euzebio Arruda, superintendent of highways; Vincent Furtado, superintendent of wastewater; John Perry, assistant superintendent of wastewater.
Police Chief Ronald E. Teachman; Deputy Chiefs David Provencher and Kevin M. Hegarty, 991-6300
Purchasing Agent Jacqueline Coucci, 979-1433
Recreation, acting director Andre Breton; coordinator Chic Rose, 991-6295
Zoological Services, director Louis Garibaldi, 991-6178
Redevelopment Authority, Robert Luongo, executive director, 997-4850
Retirement Board, Executive Director Gerard Arnaudet, 979-1538
Shellfish Constable, Bradford K. Bourque, 991-6289
Tourism/Marketing Director Arthur Motta, 979-1745
Traffic Commission Secretary Scott Downing, 979-1766
Veterans Services Director Dan Leblanc, 991-6184
Department of Public Infrastructure/Water Superintendent Ronald Labelle, 979-1550
Weights and Measures, Theodore Machado, 991-6144
PARKS AND BEACHES
Buttonwood Park: West End, between Rockdale and Brownell avenues. Activities: zoo, greenhouse, pond, senior center, community center, basketball, baseball, tennis, playground.
Hazelwood Park: South End, between Brock Avenue and West Rodney French Boulevard. Activities: gazebo overlooking Clarks Cove, lawn bowling, community center, basketball, baseball, tennis, playground.
Brooklawn Park: North End, between Ashley Boulevard and Acushnet Ave. Activities: ice skating, street hockey, basketball, baseball, tennis, playground.
Ashley Park: South End, corner of Rivet and Boulton streets. Activities: senior center, baseball, basketball, playground.
Clasky Common Park: North End, between County and Purchase streets. Activities: basketball and playground.
Dr. O'Toole Playground: South End, next to East Beach on East Rodney French Boulevard. Activities: playground.
West Beach: South End, West Rodney French Boulevard. Activities: swimming and bathhouse on Clarks Cove.
East Beach: South End, East Rodney French Boulevard. Activities: sandy beach on New Bedford outer harbor; parking.
Municipal Golf Course: Hathaway Rd. opposite Days Inn.