New Bedford Sea Lab Program 2005 Groundbreaking
Go to the New Bedford Sea Lab Website.
Sea Lab marine education program has permanent home
What began as an open air morning summer program in 1968 with a few teachers from New Bedford teaching ocean sciences on a beach to junior high school students, would, over the years, grow and blossom into one of the most successful youth marine science programs in the country. The new program was called "Sea Lab." The following year the program moved into some empty military barracks at Ft. Taber, and the program continued to expand — and move — in subsequent years.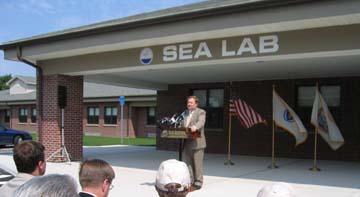 New Bedford Mayor Kalisz makes his welcoming remarks at the Sea Lab dedication ceremony.
Sea Lab need not worry about relocating again. On July 11, 2005 in a dedication and ribbon cutting ceremony, New Bedford Mayor Fredrick Kalisz, opened a new $8.4 million, 30,000 square-foot permanent facility to house Sea Lab, and to create a Marine Science Education Center for the city's public school system. The facility will continue to teach marine science to schoolchildren in a summer program, but it will also be a year round marine science education center for students K-12, and be part of an educational collaboration with UMass Dartmouth and Boston College to give students the opportunity to learn science and technology skills to help prepare them as adults and in their careers.
Speakers at the event included longtime Sea Lab Principal Arthur Dutra, and US Environmental Protection Agency Deputy Regional Administrator Ira Leighton. Mr. Dutra outlined the 37 year history of the Sea Lab program, and the successes and challenges they faced over the years. Mr. Leighton spoke because the EPA gave the city an $800,000 grant to help outfit the new school with science equipment.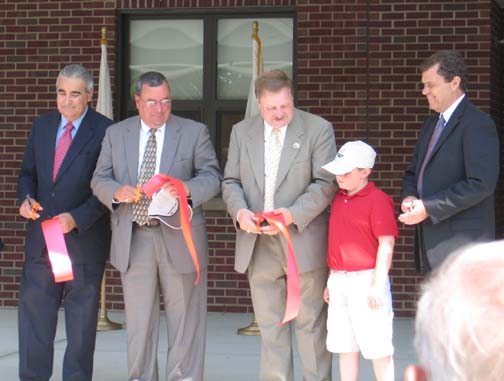 Cutting the Ribbon (l to r): Principal Arthur Dutra, School Superintendent Michael Longo, Mayor Fred Kalisz, Ricky Kalisz, and EPA Region 1 Deputy Administrator Ira Leighton.
In his comments, Mr. Leighton noted that students will go on to various careers, but he hoped Sea Lab will help to produce "the next generation of PhDs" in marine science, and return to benefit the area. At the end of the ceremony, Mayor Kalisz responded to Mr. Leighton's comments by noting that some of the original students had already gone on to marine science careers, and that he knew this first hand. He went on to explain that prior to becoming mayor, he worked at the Buzzards Bay National Estuary Program as our Toxic Use Reduction Program coordinator. He noted that Dr. Joe Costa, Executive Director of the Buzzards Bay NEP, had told him the he was a student at Sea Lab in its opening years, and how valuable the program was, and how it influenced him to become a marine biologist. Mayor Kalisz went on to state that his experiences with the Buzzards Bay NEP, and his work with Dr. Costa, helped prepare him as Mayor to understand and address the many environmental problems the city faced. It also helped him appreciate the value of Sea Lab, and recognize how a strong science and technology curriculum could benefit the city and local economy. These experiences helped lead to his commitment to build the new Sea Lab school.
Read this related New Bedford Standard Times story, about Woods Hole Scientist John Farrington's remarks at the 1996 Sea Lab commencement ceremony: Sea Lab- An Absolute Jewel.
Additional Backstory
When Fred Kalisz first became mayor, we posted this story:
"On January 5, 1998, former Buzzards Bay NEP Toxics Use Reduction Program Coordinator, Fredrick M. Kalisz, was inaugurated as Mayor of New Bedford. Fred Kalisz worked at the Buzzards Bay NEP from 1993 to June 1997 when he left the Project to run for Mayor of his hometown. During his tenure at the Project, Fred worked with many area businesses to encourage them to meet state and federal toxics use reductions goals, an important theme in the Buzzards Bay Comprehensive Conservation and Management Plan. He did this through a newsletter, workshops, meetings, and trade shows, and by bringing area businesses and industry into a better working relationship with state and local regulators and the State's Office of Technical Assistance. A major theme in Fred's work was that efforts to reduce the use and discharge of toxics also makes good financial sense for business since reduced expenses associated with water use and toxic waste disposal can save businesses a lot of money. Fred also successfully called attention to local accomplishments in toxics reduction, and in 1994 and 1995 helped two area companies receive the Governor's awards for "Outstanding achievement in toxic use reduction." He also helped Brittany Dye and Printing secure a $425,000 grant for energy and toxic use reduction."