Town of Wareham, MA Information
Go to the Town of Wareham Website
Commonwealth of Massachusetts Information Page on Wareham
Government
Address: Town Hall, 54 Marion Road, Wareham, MA 02571 Hours: 8:30 a.m. to 4:30 p.m.;
Phone: (508) 291-3100; Fax: (508) 291-3143
Form of Government: Board of Selectmen with Town Administrator; Open Town Meeting
Board of Selectmen Five members, Chairman: Walter B. Cruz, Sr. Generally meets every Monday.
Demographics
2000 Population (2000 U.S. Census, year-round): 20,335 (percent increase from 1990=5.7%)
2000 Housing Units: 10,670; (including unoccupied)
1990 Population (1990 U.S. Census): 19,232
Average Persons per Unit: 1.91
Land Use and Geography
Total Land Area: 46.27 sq. miles
Dry Land Area: 35.79 sq. miles
Population Density: 537 per sq. miles
Deed and Assessors Online Data Links
Town of Wareham Online Assessors Data Base
Plymouth County Online Deeds Data Base
Public Boat Ramps
Mass Maritime Academy, 1 paved ramp, 2 docks
Tempest Knob, off Oak Street.
Onset, East Boulevard, paved ramp
Maco's, Route 28, paved ramp
I-195, at the eastbound rest area, paved ramp.
See our boatramps page for maps
Public Beaches
Onset Beach
Little Harbor Beach
Briarwood Beach
Minot Forest Beach
Point Independence Beach
Long Beach
Swifts Beach
ShellPoint Beach
Go to our beaches page to see a map.
Permitted Pollution Discharges and Toxic Waste Generators
EPA's enviro-mapper showing Wareham surface water dischargers or waste generators.Groundwater dischargers are not shown.
Wareham 2007 NPDES Phase II MS4 permit annual report
Wareham Town Meeting Passes then Repeals Nitrogen Loading Bylaw
Since the early 1990s, the Buzzards Bay NEP has been providing technical assistance to various boards in the Town of Wareham in their efforts to adopt strategies to better manage nitrogen pollution to the town's coastal estuaries. In 2003, the Buzzards Bay NEP proposed revisions to the town's subdivision regulations and special permits, to require that a per acre loading limit be achieved by nitrogen removal onsite septic systems and other mechanisms. In 2006 and 2007,at the request of the Board of Selectmen, the BBNEP developed bylaws that would require nitrogen removal onsite septic systems for new construction. These efforts failed, and drafts of these bylaws and other background information related to this effort can be found on our Model Nitrogen Bylaw page.
In 2009, the Buzzards Bay Coalition started a new effort to develop a consensus among Wareham residents and town officials on how to best address nitrogen pollution in the town's estuaries. The Buzzards Bay NEP provided technical assistance to both the Coalition and workgroup members in their efforts to develop a new nitrogen management plan for the town. This new consensus document was finalized in the Summer of 2010 and was titled The Wareham Nitrogen Consensus, AN ACTION PLAN, 2010. The document included numerous recommendations, and the participants agreed to "work toward presentation of bylaws and regulations related to this goal by Fall 2010 or Spring 2011."
In the Fall of 2010, the Chairman of the Clean Water Committee brought an article to town meeting to require that new development with wastewater exceeding 3,300 gpd meet a no-net-nitrogen increase standard. This bylaw, Article 80 on the town warrant, passed on November 8, 2010. Specifically, the bylaw requires the Board of Health not to issue a permit for "any residential construction equal to or greater than ten (10) homes/units, totaling 3,300 GPD (Gallons per Day) or more, unless the standard of Nitrogen Net Zero has been met." The Buzzards Bay Coalition began working with the Board of Health to develop regulations that meet the terms of this bylaw.
However, concerns were raised about how the no-net-nitrogen increase standard would be achieved on a single lot, and opponents brought to the Wareham spring 2011 town meeting an article to repeal the bylaw (Article 42), which was still under review by the Attorney General's office. In a June 10, 2011 letter to the town, the Attorney General noted the original bylaw is now moot, but that she would have disapproved the bylaw "on grounds of vagueness" because it did not specify how an applicant could meet the nitrogen net zero standard. Read the AG's letters:
AG: Article 42 Repeal Approved     AG: Article 80 Moot, and in any case, too vague
Wareham Nitrogen Management Issues
Since 1991, the Buzzards Bay National Estuary Program has provided technical assistance to the Town of Wareham on a variety of projects relating to nitrogen pollution and the degradation of coastal water quality of the Town's waters. During this period the town has struggled to address reducing discharges of nitrogen from existing sources like the town's wastewater facility, residential septic systems, and discharges from agricultural lands, as well as minimizing the impacts of new commercial and residential development. Some of our efforts are described in the correspondence and reports listed at the bottom of this page.
Among the town's estuaries, The Wareham River and Weweantic River are the most degraded. The poor water quality with respect to nitrogen loading of the Wareham River, and the Agawam River Branch in particular, have been well documented by the citizen group, The Buzzards Bay Coalition. These waters, and the Weweantic River, are on the state's list of impaired waters.
In 2008, Massachusetts DEP received a draft nitrogen total maximum delay load (TMDL) report for the Wareham River estuary from UMass Dartmouth's SMAST program, DEP's partner in the Massachusetts Estuaries Project. The release of this report to the town has been delayed because the United States Geological Survey is in the process of updating the watershed boundary for the Wareham River estuary system, and these findings could affect some of the conclusions of the report.
Despite these delays, the Buzzards Bay NEP has maintained, and the Massachusetts DEP has acknowledged, that the solution to restoring the Wareham River estuary will require dramatic reductions of existing nitrogen discharges (mostly from onsite wastewater disposal), and a resulting no-net-increase in nitrogen from new development. These TMDL goals can only be achieved if new development uses advanced nitrogen removal while at the same time old septic systems are either upgraded or tied into advanced nitrogen removing wastewater treatment systems. Agricultural lands, particularly cranberry bogs, are also important contributors to the nitrogen load of Wareham's waters, but these cumulative discharges are not currently regulated.
Within this landscape of complex nitrogen management issues, the Town of Wareham is trying to cope with the potentially extensive new large developments within Wareham, or within neighboring communities that are within the town's coastal watersheds (and consequently will affect the town's waters). Most recently, the 1,800 acre AD Makepeace Agawam Mixed Use Development in Plymouth, and the 6,000 acre Tihonet Mixed Use Development Project in Carver, Plymouth and Wareham represent the biggest challenge to state and local officials seeking a way to have these projects conform to meet the soon-to-be adopted state and federal nitrogen TMDL limits to protect Wareham's waters.
ADM Tihonet Mixed Use Development project
This project was filed with the MEPA office on July 23, 2008 and can be found at http://www.mass.gov/eea/mepa/pdffiles/enfs/072308em/13940A.pdf. Summary information about the filing is also available at: http://mepadata.env.state.ma.us/ (Click the search key, then type 13940 where it says "EOEA number"; don't add the letter A at the end.) The actual filing is a binder containing hundreds of pages of maps and information. Copies of the binder was mailed to 46 parties in late July including Wareham Board of Selectmen, Planning Board, Conservation Commission, Board of Health, Administrator, Wareham Community Development, Economic Development, and the Wareham Public Library. The MEPA office emailed notification about the public meeting to numerous officials on town boards and state agencies on July 29, 2008. The A.D. Makepeace website has posted most of the filing information and maps relating to the project consisting of hundreds of megabytes of downloads.
The project is a follow-up to a December 2006 request by ADM (which was approved January 2007) for a somewhat streamelined special environmental review procedure approval from EEA for their 6000 acres of land holdings described in the current application. These so-called "Special Review Process" projects do not require a traditional Environmental Impact Reports (see the regulations at: www.mass.gov/envir/mepa/thirdlevelpages/meparegulations/301cmr1109.htm). In this case, the Special Review Process is meant to collectively evaluate multiple phases of development comprehensively, rather than review several phases of development in a peicemeal fashion. The 2007 Special Review certificate issued by the Secretary for this project (see www.mass.gov/envir/mepa/pdffiles/certificates/021507/13940srp.pdf) specifies that EIRs and additional documents can be required for elements of this project. On July 23, 2008, AD Makepeace submitted an Expanded Environmental Notification Form to the state for this project as the first step under the Sprecial Review Process.
The proposed project consists of multiple phases, and is quite complicated with multiple alternatives. Below is a simplified summary that the BBNEP believes accurately captures the essence of the proposed project with the applicant's preferred alternatives.
Phase A consists of two commercial sites in Wareham. One site is an 115,200 sq. ft. office, laboratory, and manufacturing space with 407 parking spaces on an 18.4 acres site. A second site will have a 40,000 sq. ft. medical office on a 6 acre site that will include 170 parking spaces. The latter project has a preferred alternative connection to the Wareham Sewage Treatment facility.
Phase B of the project, exclusively in Wareham, covers approximately 1,140 acres with two possible scenarios: ADM's prefers a moderate build (as opposed to a maximum build) conceptual plan 1.68 million sq. ft. of mixed use commercial development including light industrial, manufacturing, research and development, office, warehouse, medical office, retail, and hotel with wastewater flows estimated up to 121,000 gpd. The wastewater from development in the southern portion of the conceptual plan, estimated to be approximately 32,000 gpd, is proposed to be collected and treated at the Wareham Sewage Treatment Facility. The remaining wastewater is proposed to be treated at a package sewage treatment facility.
Phase C of the project covers approximately 4,910 acres mostly in Carver and Plymouth, but with some land in Wareham, but is less well defined at this point. The conceptual plan for Phase C includes agricultural (principally existing), mixed use residential, village scale retail, and areas for conservation uses. Purportedly discussions are underway with the communities of Wareham, Plymouth, and Carver to modify zoning to allow for Transfer of Development Rights for this area. In the absence of zoning changes, the project is anticipated to include 1,366 single-family homes, 380 condominiums/townhouse units, and 110 apartment units, as well as existing and expanded agricultural uses.
While the Buzzards Bay NEP has reviewed this MEPA filing with respect to potential environmental impacts, officials and residents in Wareham, Carver, and Plymouth may have other concerns, including traffic, infrastructure, public services, and water supply issues among others, and these would also need to be addressed by the applicant during the various permitting phases of the project. The state MEPA filing process does not automatically convey any other state and local permits needed for a project, but instead identifies statewide issues and concerns that will need to be addressed before the project moves forward.
Comment Letters to MEPA
January 2007 EEA Secretary Special Review Process approval certificate
Buzzards Bay September 2008 NEP comments on EENF
Carver Conservation Committee September 2008 Comments on EENF
Plymouth Carver Aquifer Advisory Committee September 2008 comments on EENF
The Nature Conservancy September 2008Comments on EENF
See also the BBNEP 2006 comments on the related Makepeace Wareham Road "River Run" Mixed Used Development Project in Plymouth, on the Agawam River, which will also discharge nitrogen to the Wareham River estuary.
MEPA Filings and Decisions for Tihonet MUD
Selected Reports, Presentations, and Correspondence
Nitrogen Management Presentation to Board of Selectmen, April 17, 2007
(1.6 MB pdf file, left click to open, right click to save on your computer).
Nitrogen Management Presentation to Onset protection League, April 19, 2007
(1.8 MB pdf file, left click to open, right click to save on your computer).
Nitrogen Management Presentation to Wareham Town Meeting, April 30, 2007
(1.3 MB pdf file, left click to open, right click to save on your computer).
Read our April 13, 2007 BBNEP MEPA comment letter on the AD Makepeace Agawam Project (in Plymouth at the Wareham border, 1.3 MB pdf file).
April 20, 2007 letter by EEA Secretary on AD Makepeace Agawam Project (addresses BBNEP concerns about nitrogen impacts from the project).
January 2007 One page nitrogen general bylaw. Includes the January 2007 cover letter to Town Planner Charles Gricus, and the bylaw as it appeared in the April 2007 town meeting warrant.
Background information on this one page bylaw
June 2006 Draft Nitrogen loading zoning overlay district bylaw drafted by the BBNEP in 2006, but rejected as too complex.
April 20, 2005 comment letter to the Wareham Conservation Commission on a proposed expansion of the Onset Bay Marina.
This review (450 kb pdf file) was conducted at the request of the Wareham Marine Resources Commission, as well as to address concerns raised by some residents. One of the purposes of this letter was to clarify for interested parties the jurisdictional authorities and relevant issues that need to be addressed in each step of the permitting process for marina expansions.
A May 12, 2004 letter to the Wareham Marine Resources Commission about the distribution of eelgrass in Onset Bay in response to a request for information.
Buzzards Bay NEP 8/7/02 comments on proposed Tihonet Pond Subdivision (Makepeace Parcel).
Buzzards Bay NEP 9/9/02 comment letter on proposed Tihonet Pond Subdivision (Makepeace Parcel; 78 kb pdf file).
Buzzards Bay NEP's August 11, 1998 draft report on analysis of nitrogen loading in the Wareham River (126 kb pdf file, resolution of graphics reduced to minimize file size)
December 2000 BBP review of CDM nitrogen loading report for the Wareham River (230 kb pdf file, resolution of graphics reduced to minimize file size)
January 13, 2003 review of an applicant's proposed nitrogen loading limit for the Tihonet Subdivision (17 kb pdf)
February 2003 Correspondence to the Board of Health on regulations needed for the management and oversight of nitrogen removal septic systems
September 30, 2002 Stormwater and Nitrogen Management Workshop Downloads
Excel Spreadsheet "n-subdivision.xls": Calculate nitrogen loading from a subdivision with this spreadsheet
9/30/02 Slide Show Presentation to Wareham Planning Board on Low Impact Development (LID)
This is a thumbnail version of the slides in a pdf file. It is 768 kb. This slide show was based on a PowerPoint presentation developed by the Puget Sound Water Quality Action Team.
Puget Sound Water Quality Action Team LID Information
9/30/02 Slide Show Presentation to Wareham Planning Board on Nitrogen Management Needs for the Town
This is a thumbnail version of the slides in a pdf file. It is 661 kb and has reduced graphics resolution. We are working on a smaller web page summary for this presentation also.
Wareham Nitrogen Brochure
In 2001 we produced a glossy brochure about nitrogen pollution and nitrogen management needs in Wareham. This brochure was updated in 2003 at the request of the planning Board, and then again in 2006 and 2007 at the Request of the Board of Selectmen. Below is the October 2007 version handed out at Town Meeting. This is a 300 kb pdf file that prints on legal size paper. Graphics are somewhat reduced in quality to reduce file size. If you need better quality copies, please contact us.
October 2007 Wareham Nitrogen Management Brochure
Potential Wetland Restoration Sites
The following downloads are excerpts from our report Selected Inventory of Potential Wetland Restoration Sites in the Buzzards Bay Watershed. Click the links to open the files in your web browser, or right click to save to your computer. Graphics on these pdf files has been degraded to reduce file size. Request a CD if this report (click the above link for more info)to obtain higher resolution pdf files.
Appendix 9. Sites in Wareham (3.7 MB pdf file).
Site Locus Map for Wareham (3.7 MB pdf file).
Story threads in the Press
Proposed Construction Moratorium
Construction moratorium meeting scheduled for tomorrow 9/24/03
New Makepeace Subdivisions and Surrounding Debates
Water board suit costs taxpayers twice: 9/17/2003
Division in Wareham hurts region's future : 9/7/2003
Board misses deadline on Makepeace: 8/20/03
Planning Board halts Makepeace maneuver: 8/13/03
Second subdivision won't have septic restrictions: 8/13/03
Tihonet Pond Project
Makepeace, board agree to talk: 9/10/02
Makepeace, officials to discuss Tihonet Pond: 9/30/02
Makepeace considers alternative suggestions: 10/2/02
Makepeace asks for nitrogen recommendation: 10/9/02
Planning Board closes Makepeace hearing: 12/11/02
Board uses new bylaw to delay Makepeace vote: 1/14/03.
Historic chance to protect Wareham waters: 1/17/03
Tihonet Pond plan gets OK in Wareham: 2/11/03.
Makepeace exceeds requirements: 2/20/03
Wareham must be proactive on development: 2/20/03
Wareham has chance to set a high standard: 1/24/03
Links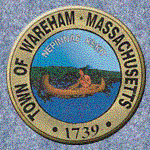 Town of Wareham Homepage
Commonwealth of Massachusetts Information Page on Wareham
New Bedford Standard Times info page on Wareham
Today's Wareham News from the New Bedford Standard Times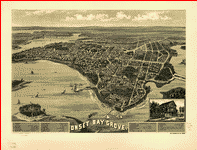 Library of Congress Panoramic Map of Onset Bay Grove (opens in new window)
Elected Officials
Selectmen: 291-3100 x3103
Patrick G. Tropeano, Chairman 2016
Judith Whiteside, Clerk 2017
Stephen M. Holmes, 2016 Alan H. Slavin, 2018 Peter Teitelbaum, 2017
Town Clerk 291-3100, x3140
Mary Ann Silva (2007)
APPOINTED OFFICIALS
Town Administrator, Derek Sullivan, 291-3100, x3110
Chief of Police, Kevin Walsh, 295-1212
Fire Chief, Wareham Fire District, Robert McDuffy, 295-2973
Fire Chief, Onset Fire District, Ray Goodwin, 295-0603
Town Accountant, Judith Lauzon, 291-3100, x3127
Director of Assessment, Jacqui Nichols, 291-3100 x3167
Community and Economic Development, Salvador Pina, 291-3100, x3172
Director of Library Services, 295-2343.
Municipal Maintenance Director, David Menard, 295-5300
Health Agent, Robert M. Ethier, 291-3100, x3197
Director of Inspectional Services, Dave Moore, 291-3100, x3190
Plumbing Inspector, Mike Golden, 291-3100, x3190
Building Inspector, George Stuart, 291-3100 x3190
Wiring Inspector, James Parker, 291-3100, x3190
Conservation Agent, David Pichette, 291-3100 x6505
Animal Control Officer, Cheryl Gorveatt-Dill, 295-1473 x250
Harbormaster/Shellfish Constable, Gary Buckminster, 291-3100, x3186
Council on Aging Office Manager, Pam Dudley , 291-3130
Treasurer/Collector, John D. Foster, 291-3150
Appeals Board: 291-3100 x6504
Nazih Elkallassi, Chairman, June 2020 James Eacobacci, Clerk, June 2017 Wilma Engerman, Member, June 2019 Jan Kendrick, Member, June 2018 Karl Baptiste, Sr., Member, June 2016 Timothy Lydon, Associate, June 2016
Board of Health: 291-3100,x3197
Dr. Amy Wiegandt, Chairman, June 2017 Glenn Monteiro, Member, June 2016 Catherine Phinney, Member, June 2016 Dr. Thomas Gleason, Associate, June 2016 Frank DeFelice, Associate,June 2018 Robert M. Ethier, Health Agent
Planning Board: 291-3100 x6504
George T. Barrett, Chairman, June 2018 Michael A. Baptiste, Sr., Vice Chairman, June 2017 Michael Fitzgerald, Clerk, June 2018 John P. Cronan, Member, June, 2018 Robert Reed, Member, June 2017 Michelle Fernandes, Associate Member, June 2016
Finance Committee
David Heard, Chairman, June, 2016 Joan Fontes, Vice Chairman, June, 2016 Bernard R. Pigeon, Member, June 2017 Ellis Bailey, Clerk, June, 2017 Stuart Novick, Member, June, 2016 Patricia A. Rumney, Member, June, 2018 Thomas B. Worthen, Member, June, 2017
Conservation Commission: 291-3100 ext. 6505
Kenneth Baptiste, Chair, June 2017 Sandy Slavin, Vice Chair, June 2018 William Smith, Member, June 2016 Joseph Leggett, Member, June 2017 Mark Carboni, Member, June 2018 Donald J. Rogers, Member, June 2016 Elizabeth Lydon, Member, June 2016 Elissa Heard, Associate Member, June 2016 David Pichette, Conservation Agent