Town of Westport, MA Information
Related Pages:   Drift Road Stormwater Project  |   Head of the Westport Stormwater Project  |   2009 Stormwater Engineering Services for Westport
Go to the Town of Westport Website
Commonwealth of Massachusetts Information Page on Westport
Government
Address:Town Hall, 816 Main Road, Westport, MA 02790
Phone: (508) 636-1150; Fax: (508) 636-1147
Form of Government: Board of Selectmen with Town Administrator;
Open Town Meeting
Board of Selectmen Meetings: Monday evenings; Board of Selectmen Chairman: Antone C. Vieira Jr.
Demographics
2010 Population (2010 U.S. Census): 15,532 (Go to Census.gov for more data )
2010 Average Persons per Unit: 2.62
2000 Population (2000 U.S. Census): 14,183
1990 Population (1990 U.S. Census): 13,852
2000 Housing Units: 6,143; (including unoccupied)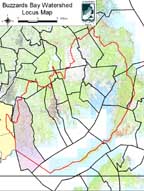 Westport Locus Map
Open 150 kb size map.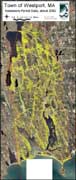 Westport Parcel Map
Open 82 kb size map.
Open 389 kb size map.
Land and Water Statistics:
Category
Value
Comments
Corporate Boundaries including coastal waters:
89.80 mi2
BBNEP calculation from MassGIS Town Boundary layer.
Land + Freshwater:
52.110 mi2
BBNEP calculation from MassGIS Town survey layer. Town parcel data totals= 49.33 mi2 (does not include Watupa Ponds).
Area in watershed:
44.386 mi2
=85.2%. BBNEP calculation using BBNEP watershed boundary.
Land Area – Freshwater bodies:
50.07 mi2
BBNEP calculation using open water and deep marsh area from DEP wetlands GIS layer. DHCD=50.06
2005 Population Density:
289.2 per mi2
BBNEP calculation, based on land+freshwater
Public Boat Ramps
Gooseberry Island, paved ramp.
Route 88 Bridge, paved ramp.
Permitted Pollution Discharges and Toxic Waste Generators
EPA's enviro-mapper showing surface water dischargers or waste generators.Groundwater dischargers are not shown.
Westport 2007 Phase II MS4 permit annual report
Other EPA NPDES information for Westport
Public Beaches
Horseneck Beach (State Facility)
Links
Commonwealth of Massachusetts Information Page on Westport
New Bedford Standard Times info page on Westport
Today's Westport News from the New Bedford Standard Times
The Westport River Watershed Association Home Page.
The WRWA is the second largest watershed organization in the Buzzards Bay watershed.
Selected Correspondence, Newspaper Articles, and Reports
Westport Board of Health Stormwater Regulations
Version Approved April 2009 and drafted by the Buzzards Bay NEP.
June 2008 Wetland Brochure prepared for the Conservation Commission by the BBNEP (300 kb PDF)
Full size High resolution print quality version (1.3 kb PDF file)   cover letter
March 2002 pamphlet on herring run restoration at Adamsville Pond by town of Westport (300 kb PDF file)
February 28, 2002 comments to MEPA on Westlakes development and golf course (144 kb PDF file)
Briefing on Hix Bridge Tidal Restriction: Should debris under bridge be dredged?
Potential Wetland Restoration Sites
The following downloads are excerpts from our report Selected Inventory of Potential Wetland Restoration Sites in the Buzzards Bay Watershed. Click the links to open the files in your web browser, or right click to save to your computer. Graphics on these pdf files has been degraded to reduce file size. Request a CD if this report (click the above link for more info)to obtain higher resolution pdf files.
Appendix 6. Sites in Westport (2.3 MB pdf file).
Elected Officials
Selectmen: 636-1003
Craig J. Dutra – Chairman, R. Michael Sullivan – Vice Chairman, Steven J Ouellette – Clerk, Antone C. Viera, Jr., Richard M. Spirlet
Assessors: 636-1012: John McDermott, Robert Grillo, Stephen J. Medeiros
Town Clerk: 636-1000: Marlene Samson
Board of Health: 636-1015
John J. Colletti, Sean Leach, Karl W. Santos Staff: Senior Health Agent, James Walsh 636-1015, Health Agents: John Swartz and Raymond Belanger
Planning Board (636-1037):
James T. Whitin, Chairman (*2017), William D. Raus, Vice-Chairman (*2019), Marc De Rego, Clerk (*2018), David Cole (*2016), Andrew Sousa (*2020)
Staff: James K. Hartnett, Town Planner, Town Planner, 636-1037
Highway Surveyor, Christopher Gonsalves
Appointed Officials
Town Administrator, Timothy J. King, 636-1150
Police Chief, Keith Pelletier
Fire Chief, Brian Legendre
Town Accountant, Theresa Provencal, 636-1040
Building Inspector / Zoning Officer: Ralph. G. Souza, 636-1035
Wharfinger (inc. Harbormaster and Shellfish Warden), Gary Sherman, 636-1105
Town Moderator: Steven Fors (2016)
Appointed Boards and Members
Finance Committee
W. Hugh Morton, Shana Shufelt, Tracy Priestner, John E. Miller, Warren M. Messier, Charles "Buzzy�? Baron, Robert N. McCarthy, Gary J. Carreiro, Mark Carney,
Conservation Commission: 636-1019
Paul Joncas, Chairman, David Aguiar; Vice-Chairman; Richard Lambert; Michael Duval; John Reynolds; Grace Orr; Jason Powell
Staff: Leone Farias, Principle Clerk; Conservation Agent; Chris Capone
Zoning Board of Appeals: 636-1004