POPULAR PAGES


Weather and forecast for New Bedford and the Buzzards Bay watershed.
Our climate adaptation website.
restore.buzzardsbay.org


Septic System Test Center Results



Information on the Bouchard B120 oil spill.
Other Buzzards Bay Organizations


Website of the citizen's group, The Coalition for Buzzards Bay.


Info on the municipal official group, the Buzzards Bay Action Committee.
---
News, Features, and Information for Buzzards Bay and the NEP
Wetland and Habitat Restoration and Protection Grants Due May 11, 2015
The Buzzards Bay NEP, through the Massachusetts Executive Office of Energy and Environmental Affairs' (EEA) Office of Coastal Zone Management (CZM), is making available $40,000 in federal funds as part of the Buzzards Bay municipal grant program. The funds represent unspent money from last year's grant. This grant round will exclusively focus on the protection or restoration of wetlands, uplands, and important habitat. We expect to fund one to several proposals with these funds depending upon requested amounts and scoring ranks. Go to our grant funding page for more information.
Spring 2015 lecture Series
The New Bedford Whaling Museum and the Buzzards Bay Coalition are teaming up to a offer a 3 part lecture series titled, "Where the Land Meets the Sea: Working to Restore and Maintain the Health of the Buzzards Bay Watershed." The Wednesday evening lectures include presentation by environmentalists on the restoration of rivers, estuaries, and New Bedford Harbor. The series will be held at the museum on March 25, April 1, and April 8 at 6:30 p.m. Go to www.whalingmuseum.org/programs/where-land-meets-sea-2015 for more information.
Severe Ice In Buzzards Bay
During much of February and early March 2015, sea ice was extensive in Buzzards Bay, covering at its maximum, nearly the eastern third of Buzzards Bay. The level of icing caused the Coast Guard to recommend that vessels avoid the Woods Hole Passage. The Northeast Marine Pilots adopted the following measures for applicable vessels transiting the waterways of southeastern New England: daylight-only transits and minimum one nautical mile visibility in all serviced harbors, and through the Cape Cod Canal. The MODIS satellite false color image below from February 28, 2015 shows the extent of icing in Buzzards Bay and areas of Cape Cod.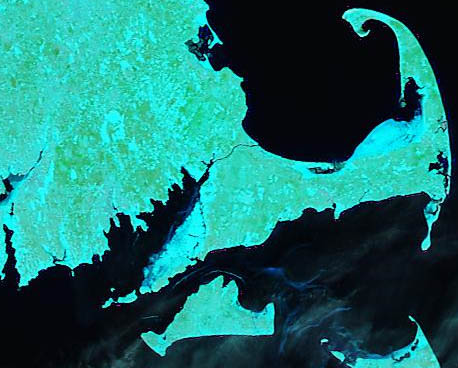 Climate Change Vulnerability Assessment Completed
Earlier this year, the Buzzards Bay National Estuary Program hired the environmental planning group SeaPlan to undertake a climate change vulnerability assessment and adaptation planning study for water quality infrastructure in New Bedford, Fairhaven and Acushnet. SeaPlan has completed that study, and their final report is posted for comment at our SeaPlan study webpage. Besides the online report, SeaPlan developed two online viewers to characterize the vulnerabilities of specific sites in the three municipalities to various hurricane and potential sea level rise scenarios. These viewers are available at the above link.
Southern New England Coastal Watershed Restoration Program Funding
The U.S. Environmental Protection Agency (EPA) has received funding to implement an initiative called the Southern New England Coastal Watershed Restoration Program. The goal of this initiative is to bring together public and private stakeholders to collaborate on initiatives to protect, enhance and restoring watersheds along southeastern New England. The geographic area of the program includes the coastal waters and watershed lands spanning from Westerly, Rhode Island to Pleasant Bay, Massachusetts. The watersheds of Narragansett Bay, Buzzards Bay, the south side of Cape Cod and the Islands face similar opportunities and challenges. The program's goal is to help promote and develop innovative and effective approaches to preserve and restore the region's critical resources.
This summer, the Buzzards Bay NEP and Narragansett Bay Estuary Program are assisting EPA in disbursing funds related to this initiative. In the first year of funding, the Coastal Watershed Restoration Program has decided to focus on the critical issue of nutrient pollution. This focus will be on both nitrogen loading to impaired coastal waters and habitat and phosphorus loading to impaired fresh waters and habitat. Funding will be for projects designed to prevent or reduce sources of nutrient pollution, or increase the capacity of partners to do so. Both large and small proposals are encouraged.
We received 19 proposals totaling $3,082,379 from 12 entities (3 non-profits and 9 governmental subdivisions of the Commonwealth) by the June 9, 2014 pre-proposal deadline. For more information about the Southern New England Coastal Watershed Restoration Program activities in the Buzzards Bay watershed, go to our new website restore.buzzardsbay.org. For projects in the Narragansett Bay watershed, which includes areas of Massachusetts in the Blackstone, Ten Mile, and Taunton River watersheds, go to the New England Interstate Water Pollution Control Commission website, as they are administering the funds for the Narragansett Bay Estuary Program.
Updated Buzzards Bay Management Plan Available
In November 2013, the Buzzards Bay NEP steering Committee approved the 2013 update of the Buzzards Bay Comprehensive Conservation and Management Plan (CCMP). The original CCMP, developed in 1991, became a blueprint for NEP and its partners in their forthcoming efforts to protect and restore the water quality and living resources of Buzzards Bay and its surrounding watershed. The CCMP introduced many new concepts to local government including the need to establish watershed limits on the discharge of nitrogen from wastewater (especially septic systems) and other nitrogen sources, the importance of stormwater discharges as a cause of bathing beach and shellfish bed closures, and the recognition that the climate was changing. The Buzzards Bay NEP has now updated the Buzzards Bay CCMP to reflect progress achieved, new problems facing the bay and its surrounding watershed, and the ongoing unresolved problems that remain since the original plan was finalized. This updated Buzzards Bay CCMP includes existing, new, and revised goals that relate to 21 key issues facing the bay and watershed. In each of the 21 "Action Plans," we identify strategies for government, citizens groups, and the public to employ to meet the continuing challenges we face.
The document is posted online and hard copies of the updated management plan will distributed to local libraries and municipal boards in early 2014. Go to our
New CCMP page
to read the document.
Buzzards Bay NEP Undertaking Sea Level Rise study
The Buzzards Bay National Estuary Program (BBNEP) and the Massachusetts Office of Coastal Zone Management are evaluating the potential expansion of the existing Federal Emergency Management Agency (FEMA) 100-year floodplain using Flood Insurance Rate Map base flood elevations for Buzzards Bay municipalities. The floodplain will be expanded with 1-foot, 2-foot, and 4-foot scenario increases in sea level. The existing floodplain will be extrapolated upward based on the FIRM base flood elevations. Using a recent assessor's data set, the number of buildings, their assessed values, and municipal structures are being enumerated within these various sea level rise expansion scenarios for each Buzzards Bay municipality. Go to our
Flood Zone Expansion with SLR
page for more information about the project and to read 6 new draft reports for Buzzards Bay towns.
Information on past Wind Farm proposals for Buzzards Bay
Looking for information about the South Coast Offshore Wind Project? Read about meetings, and the information we posted about a similar 2002 proposal for Buzzards Bay that explains many of the regulatory and environmental issues that would need to be addressed for siting wind turbines in Buzzards Bay on our
Wind Farms page
. Have you noticed a windmill to the south as you have crossed the Bourne Bridge? We have a photo of the Massachusetts Maritime Academy wind turbine that began operation in 2006, as well as information on the water turbines proposed for Vineyard Sound.
Other Popular Pages and Downloads
1980s Historical Eelgrass GIS Coverage Posted
On our
eelgrass page
we have posted links to download GIS data showing the distribution of eelgrass mapped in Buzzards Bay during the 1980s. In most of Buzzards Bay, eelgrass reached it post-1930s wasting disease peak abundance in this decade. In the coming weeks we plan on disturbing new GIS coverages, maps, and georeferenced aerial photographs showing eelgrass abundance in the 1940s, 1960s, and 1970s for selected parts of Buzzards Bay.
Massachusetts Estuaries Project reports for Buzzards Bay
Reports for
West Falmouth Harbor
and
Phinneys Harbor / Back River complex
have been released. Other reports will become available in the coming years. We have provided some support for this effort for selected subwatersheds as described on our
Subwatershed Land Use and Nitrogen Loading
page.
WETLAND LOSS MAPS available for viewing.
We have updated our wetland loss page to include new maps we produced based on DEP's wetland change maps sent to Buzzards Bay municipalities in 2004. Click the link to read more.
Bouchard No. 120 Oil Spill in Buzzards Bay
On April 27, 2003, an oil barge, carrying 4.1 million gallons of No. 6 fuel oil, spilled an estimated 98,000 gallons of oil into Buzzards Bay, the second largest spill in the bay's history. More than 93 miles of coastline were affected, and hundreds of birds killed. Click the link above to see recent cleanup summary reports. Other popular pages and links include our page
US Coast Guard: 98,000 gallons best estimate of oil spilled
, the New Bedford Standard Times
Op Ed article
on how the Buzzards Bay NEP helped in this determination, and our
Oil Spill Legislation page
.
Living Resources of Buzzards Bay: Synthesis reports produced for the 1991 Comprehensive Conservation and Management Plan, 2013 Redux, Buzzards Bay National Estuary Program Technical Report, Massachusetts Coastal Zone Management, October 18, 2013. 98 pp.

Have you confused us with another Buzzards Bay organization?
In the 1980s, the Buzzards Bay NEP had a "Citizen Advisory Committee" or CAC that was part of the program and was helping with the evaluation of pollution and identification of management options to protect and restore Buzzards Bay. This CAC broke off from the Buzzards Bay NEP and eventually became two independent, not-for-profit organizations. The first organization called itself
The Coalition for Buzzards Bay
. It was a '501(c)3' educational and outreach a citizen-based group. The second became the
Buzzards Bay Action Committee
, a non-profit organization composed of municipal officials, that has become more involved with state, local, and federal legislative and regulatory issues. Today, both organizations are on the Buzzards Bay NEP's
Steering Committee
, and both have adopted as one of their major goals, the implementation of recommendations contained in the Buzzards Bay Comprehensive Conservation and Management Plan.
The views or information contained here do not necessarily reflect the views of the Commonwealth of Massachusetts or the US EPA.
---