LID Meeting Registration
LID Meeting Today in Marion
[This page is retained for informational purposes. Ideas exchanged at this meeting were incorporated into the
updated CCMP
.]
Walkins: you may not get a free lunch, but we can probably fit you in
LID NOW: How to make Low Impact Development Happen in Your Community
The goal of LID is to mimic a site's predevelopment hydrology by using design techniques that infiltrate, filter, store, evaporate, and detain runoff close to its source.
Place and Time:
Wednesday May 24, 2006, 12:00-2:45 in the Town of Marion, at the Music Hall in the village center. Optional 11:20 tour of the Marion village LID demonstration project (across the street at in Island Wharf Park)
Who should attend:
Municipal planners, conservation agents, Municipal Phase II coordinators, planning board members, selectmen and others. Workshop may be limited to 50 persons and preference will be given to municipal officials in the Buzzards Bay watershed if space is limited.
Theme:
Development in the Buzzards Bay watershed is continuing at a rapid rate. The impacts of new development and redevelopment can only be minimized with the adoption of strategies like Low Impact Development (LID). However, LID will not happen in the Buzzards Bay without changes in municipal policies and regulations. Some of these changes will be triggered by enforcement of Phase II MS4 permits issued to the towns. Other change will occur when state or local governments adopt more rigorous stormwater treatment standards. Some changes, like setting minimum road width may require collaborative policies and regulations among several departments; other changes require town meeting votes. These actions will be the focus of this workshop. Recommendations arising out of this workshop will be incorporated into an updated Buzzards Bay management plan, which will include a new LID action plan.
Cost:
Free, but space may be limited, so reserve early. Complimentary lunch will be provided by the BBAC.
Directions:
The meeting will be held at the Marion Music Hall, Take exit 20 off of Rt. 195 onto Rt. 105 (Front Street) east into Marion. Go right off ramp, go straight (bear left at fork) to stoplight. Go through stoplight. The Marion Music Hall is approximately 3/4 mile on the right (large old red brick building).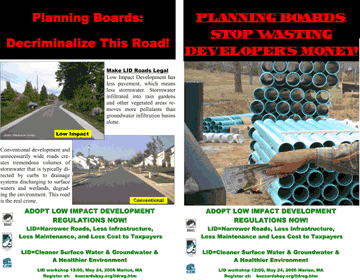 Click to see posters sent to area planning boards
Agenda
| | |
| --- | --- |
| 11:20 | Optional tour of the Marion village LID demonstration project (across the street in the Island Wharf Park) |
| 12:00 | Complimentary lunch provided by Buzzards Bay Action Committee. BBAC members will conduct their Board meeting during this period. |
| 12:30 | Welcome and Opening Remarks, Vincent Furtado, BBAC Chairman |
| 12:35 | Workshop Goals and the New Buzzards Bay Management Plan, Dr. Joe Costa, BBNEP |
| 12:45 | What is LID? Scott Horsley, Horsley Witten Group |
| 1:15 | LID: What works and what does not? Rich Claytor, HWG |
| 1:45 | LID: How to get it done. John Rockwell, BBNEP |
| 2:15 | Moderated Speaker Panel Discussion with Audience Q&A |
| 2:45 | Closing Remarks |
Please download, print, and post or distribute the flyer. (a 51 kb pdf file)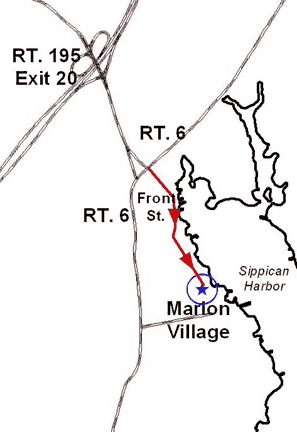 ---