National Estuary Program Information
National Estuary Programs as models for Watershed Management
The Buzzards Bay NEP is one 28 National Estuary Programs in the United States and its territories. These NEPs have become a model for watershed management and planning around the country. For more information about the National Estuary Program, visit the
US EPA National Estuary Program home page.
These NEPs have also joined to form a collaboration called the Association of National Estuary Programs. "ANEP" is a non-profit organization that represents the public interests of National Estuary Programs around the US. Go to the
ANEP website
for more information about the goals and mission of that organization and their current activities.
For information on the other National Estuary Programs, please visit their websites below>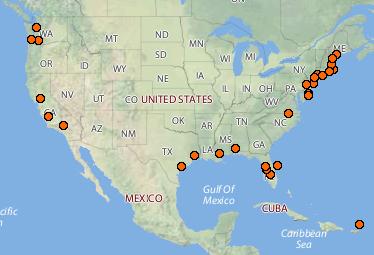 Interactive Maps of the NEPs
Yahoo Maps showing NEP office Locations
(Click on a dot for more information about the NEP.)
Google Earth KML file
(Requires Google Earth to be installed on your computer. If left clicking does not open the file then right-click to download the file then open with Google Earth.)
Other Links
The US EPA has set up a website for

as an education resource for school children and teachers, with more information about estuaries and the NEP.
In the 1999, the Buzzards Bay NEP prepared a report about NEP funding, particularly how NEPs are able to leverage considerable amounts of funding. This
BBP Report on NEP funding.
generated a lot of interest.
Subsequently the US EPA has required that all NEPs report annually the funding that they have leveraged through the efforts of their program. In 2004, EPA determined that NEPs leveraged an impressive eleven dollars for every one dollar in federal funding they received. These accomplishments are highlighted in EPA's 124 page report
Community-Based Watershed Management: Lessons from the National Estuary Program (NEP) (pdf file)
.
A related 2003 journal article by Schneider
et al.
titled
Building Consensual Institutions: Networks and the National Estuary Program (184 kb pdf)
discusses how the non-regulatory NEPs establish networks to achieve and implement their goals.
Federal agencies and programs are now undergoing performance reviews to evaluate the effectiveness of these programs, and to identify how they can be improved. This initiative is called the
Program Assessment Rating Tool (PART)
. To see how the
EPA's Oceans and Coastal Protection Program
(which manages the NEP program among other initiatives) is doing, read their
OMB Part review
.
---