Buzzards Bay Oil Spill Cleanup Status Maps (Draft)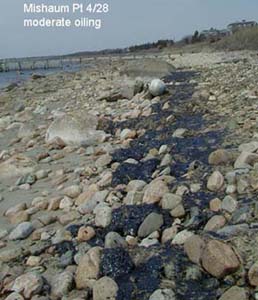 Selected May 31, 2003 Draft Maps
These maps have the same categories as shown in the legend below. Note that most areas previously designated light to heavy oiling after the spill are now designated "Treated and in Maintenance." No areas have yet been officially "signed off" by the Massachusetts Department of Environmental Protection. These are draft maps for informational purposes only to give viewers the sense of cleanup. Please note that these maps may contain errors. In certain areas, such as the rocky intertidal, rocks will remain blackened even after the cleanup activities. Mostly 75-150 kb GIF files.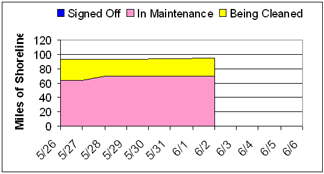 Bourne and Falmouth
Upper Buzzards Bay, parts of Marion, Wareham, parts of Bourne
Marion
East Mattapoisett
Mattapoisett -West
New Bedford to Fairhaven
Round Hill Dartmouth to New Bedford
Mishaum Area Dartmouth
Westport and Rhode Island
Rhode Island
Elizabeth Islands
Click here for the
June 11, 2003 Shoreline Cleanup Plan (78 kb pdf file)
.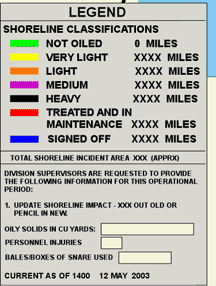 ---