2012 Buzzards Bay Municipal Grant Program
Buzzards Bay NEP Announces $122,000 in Environmental Grants to Five Municipalities
The Buzzards Bay National Estuary Program, part of the Office of Coastal Zone Management, and administered by the Massachusetts Executive Office of Energy and Environmental Affairs, will award $122,000 grants to five Buzzards Bay watershed municipalities to fund land conservation and infrastructure improvement projects designed to conserve open space and rare species habitat, protect drinking water resources, restore wetlands, study nitrogen discharges to estuaries, and help open shellfish beds.
This year's awards to Buzzards Bay watershed communities are as follows:
Mattapoisett –$35,000 to protect land in the Mattapoisett River Valley aquifer. The town proposes to acquire and permanently protect 19.5 acres of wetlands and forest in two parcels of land adjacent to existing protected town water department land and other protected properties. The entire property lies within the DEP Zone II area designated for the protection of the public drinking water supply. The land is also designated as BioMap Supporting Natural Landscape and Priority Habitat for Rare Species by the Natural Heritage and Endangered Species Program.
Westport — $20,000 to develop engineering designs to treat a stormwater discharge at Drift Road. Drainage from the municipal stormwater system flows untreated into the East Branch of the Westport River via Sam Tripp Brook. This section of the Westport River is on the state's 303(d) list of impaired waters for bacteria and nitrogen and is closed to shellfishing for portions of the year. Treatment of the discharge is expected to contribute to improvements in water quality.
Wareham — $20,000 to develop engineering designs to treat a stormwater discharge in the downtown Wareham Village area. This site discharges untreated stormwater into the estuarine portion of the Wankinco River, and these stormwater discharges contribute to shellfish closures. Treatment of the discharge is expected to contribute to improvements in water quality.
Wareham — $3,000 for a land protection project on the Weweantic River. The town will use the funds for a real estate appraisal on a 28.4-acre property along the shores of the Weweantic River. The site includes a diverse assemblage of forests, wetlands, and shoreline habitat, including freshwater and tidewater. This property has been a priority for acquisition due to its strategic location and the potential to create a large continuous block of protected land.
Dartmouth — $17,000 for a tidal flushing feasibility study for a salt pond-salt marsh system. This work will help the town complete a comprehensive feasibility study as part of an effort to restore permanent tidal flushing to a salt pond at the corner of Gulf Road and Smith Neck Road. The channel connecting the pond and marsh to Apponagansett Bay periodically fills with sand, gravel and cobble, and requires regular maintenance dredging. The salt pond suffers from environmental degradation when the channel becomes blocked for an extended period of time, which has resulted in fish kills and noxious odors. The funding will be used to hire an environmental engineering subcontractor to conduct a feasibility study and develop conceptual designs.
Carver — $27,000 for a study on nutrient loss from cranberry bogs to groundwater. The grant will enable measurements to groundwater at six cranberry bogs in the Weweantic and Wareham River watersheds. The proposed work builds on an existing project that aims to understand nitrogen loss from two configurations of cranberry bogs. By increasing the understanding of nitrogen loss from two common bog types, the study will support watershed nitrogen modeling and assist cranberry growers in identifying best management practices to control nitrogen releases from agricultural lands. Selected growers, USDA, the UMass Cranberry Extension, and Marine Biological Laboratory scientists are partnering with the town in the study.
Read EEA's press release.
Buzzards Bay NEP Awarded Bourne Stormwater Engineering Design Services
In partnership with the Town of Bourne, and as part of our municipal grant program, the Buzzards Bay NEP awarded a contract to Green Seal Environmental Inc. to provide engineering services to assist the Town of Bourne develop stormwater treatment designs to reduce stormwater volumes and pollutants discharging contributing to water quality impairments in Cohasset Narrows. The RFR was posted April 12, 2012, the application due date was Friday, June 1, 2012 by 4:00 PM, and the work commenced at the end of July. Go to our stormwater designs procurement page for more information about this project.
If you are considering an applying to the Buzzards Bay NEP for funding, please remember that we only fund projects in the Buzzards Bay watershed shown below.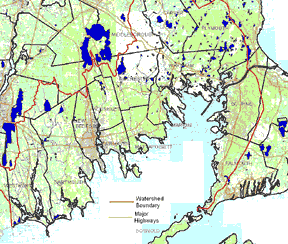 Click the map for an enlargement
2012 Municipal Grant RFR Information and details
In the Spring of 2012, the Buzzards Bay NEP, through the Massachusetts Executive Office of Energy and Environmental Affairs' (EEA) Office of Coastal Zone Management (CZM) announced the availability of $140,041 as part of the Buzzards Bay municipal grant program. Funded by the U.S. Environmental Protection Agency (EPA) and administered by our program, this grant program aids towns in testing and treating stormwater discharges, protecting wetlands and wildlife habitat, improving water supplies and safeguarding open spaces. The Buzzards Bay NEP posted a Request for Responses (RFR) as part of our municipal grant program at the Commonwealth of Massachusetts' Comm-Pass.com system. Applications were due by 4 PM, Thursday, June 28, 2012. In July, the grant review committee met and made recommendations on the projects.
Read the 2012 cover letter to the municipalities on our current grant round.
The Buzzards Bay National Estuary Program provides grants a technical assistance to Buzzards Bay municipalities in their efforts to protect and restore water quality and living resources in Buzzards Bay and its surrounding watershed. Our funding is made available through the Massachusetts Coastal Zone Management office and the Executive Office of Energy and Environmental Affairs, and is posted on the state's procurement website Comm-Pass.com (search "Buzzards" after clicking the "search for a solicitations" link in the "SOLICITATIONS" tab).
We provided this link the RFR (MS word document) Download the 2012 RFR as Microsoft Word document (type your responses directly in the document)
Eligible Respondents to our Grant Programs
Unless otherwise specified in an RFR, eligible municipalities include Fall River, Westport, Dartmouth, New Bedford, Acushnet, Fairhaven, Rochester, Mattapoisett, Marion, Wareham, Middleborough, Carver, Plymouth, Bourne, Falmouth, and Gosnold. However, specific restoration and protection projects must lie principally within the Buzzards Bay watershed (see map above). For participation in the stormwater program, the discharge must be contributing to an existing impairment.
Municipalities must submit separate application forms for each grant proposal. Municipalities may submit any number of applications in any grant category. However, no single project award can exceed $35,000, and no municipality may be awarded more than $50,000 through this solicitation. Municipalities may submit applications in partnership with other public or private organizations, or subcontract tasks, however, we will award contracts only to municipalities. Municipalities should never self-select grants and limit their applications to local priorities or municipal grant limits because it is impossible to predict how applications will fare against projects in other towns. Municipalities should always submit all of their good proposals.
Application Information
To view our solicitation, and to download the forms, go to www.commbuys.com/bso/. On the search for solicitations page type "Buzzards Bay Watershed" on the keyword line, and on the 4th line down select "open" in the document status pull down box, then click the "search" button. A results line will appear "1 documents match your search." Click on this. (Sorry there is no hard link, this is a dynamic link website.)
For your convenience, below is the is the RFR as a MS Word document that is posted on the CommBuys website. Applicants can type their responses and proposal information in the document. Applications may require additional Commonwealth forms (although most municipalities already have these on file with us), and these can be downloaded on the COMM-PASS website link above.
Download the 2012 RFR as Microsoft Word document (type your responses directly in the document)
Eligible uses of funds
Below is an overview of projects eligible for funding according to the 2012 RFR. Generally there are no other limitations on the use of funds, other than as defined in the RFR. Refer to the RFR for additional details.
Stormwater remediation designs,
Implementation and construction of existing stormwater designs,
Stormwater mapping support,
Wetland/open space/habitat restoration, preservation, acquisition or protection,
Digitization of wetland boundaries or land elevations from wetland permits,
Migratory fish passage and habitat restoration,
Water quality testing in support for establishing priorities for stormwater remediation,
Construction of a boat pump-out facility in a municipality or harbor when none exists,
Creation of online reporting systems for tracking of operation, maintenance and monitoring of innovative and alternative septic systems, and
Other activities in support of the Buzzards Bay Comprehensive Conservation and Management Plan.
Questions Received and Responses to the 2012 Municipal Grant Round
The Regional Planner Sarah Williams will accept questions about this RFR in writing by mail, fax, or email through 4 PM, Wednesday, June 6, 2012. The Buzzards Bay NEP will post responses to questions (including those received at the site visit), if any, on this website by Wednesday, May 23, 2012, as well as on www.Comm-Pass.com. These answers are for clarification purposes only and do not constitute an amendment to the RFR unless expressly stated as such. Responses to questions, if any, will be posted here, as well as on www.Comm-Pass.com. These answers are for clarification purposes only and do not constitute an amendment to the RFR unless expressly stated as such.
Questions received (which may be paraphrased), and answers to those questions.
These responses should be considered tentative, and for informational purposes, and will will not be finalized until the Question period ends.
QUESTION 1:
RESPONSE TO QUESTION 1:
No Questions were received this year.
The Buzzards Bay National Estuary Program, a planning and technical assistance unit of the Massachusetts Office of Coastal Zone Management, made available funding to assist eligible Buzzards Bay watershed municipalities in the protection of open space, rare and endangered species habitat, and freshwater and saltwater wetlands, to help restore tidally restricted salt marshes, to develop designs and remediate stormwater discharges threatening water quality, to provide support for mapping stormwater drainage networks, to construct pumpout facilities, to update town parcel data (MassGIS is in the process up updating municipal parcel data statewide, therefore only those towns that are not scheduled to be brought up to Level 3 standards by MassGIS until FY13 are eligible in this category. Eligible municipalities include: Acushnet, Fairhaven, Mattapoisett, Rochester, Wareham and Westport), to digitize wetland boundaries approved in permits, to assist in the monitoring of water quality to prioritize stormwater remediation, to address problems in migratory fish passage, and to implement other recommendations contained in the watershed management plan for Buzzards Bay.