Town of Rochester, MA Information
Town of Rochester Website

Commonwealth of Massachusetts Information Page on Rochester
Government
Address: Town Hall, 1 Constitution Way, Rochester, MA 02770
Phone: (508) 763-3871; Fax:763-4892
Form of Government: Board of Selectmen (3 members); Administrative Assistant: ; Open Town Meeting
Board of Selectmen Meetings: Monday evenings, Board of Selectmen Chairman: Bradford N. Morse

For this weeks Board of Selectmen's meeting agenda, visit the Wanderer Newspaper website.


Demographics
2000 Population (2000 U.S. Census): 4,581 (percent increase=16.8%)
1990 Population (1990 U.S. Census): 3,921
2000 Housing Units: 1,634; (including unoccupied)
Average Persons per Unit: 2.80
Topo Map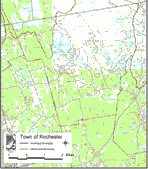 Topographic map of Rochester, MA.
467 kb jpg
1.8 MB jpg
Parcel Map

Topo Map of Rochester with parcels and recent wetland changes (DEP maps).
450 kb jpg
1.7 MB jpg
Aerial Photo Map

2005 Color aerial map of Rochester
480 kb jpg
1.9 MB jpg
Land Use Map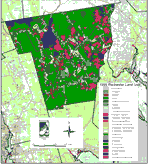 Land Use Map of Rochester
467 kb jpg
1.8 MB jpg
Demographics
2000 Population (2000 U.S. Census): 4,581 (percent increase=16.8%)
1990 Population (1990 U.S. Census): 3,921
2000 Housing Units: 1,634; (including unoccupied)
Average Persons per Unit: 2.80
Land Use and Geography
Total Land Area: 18.92 sq. miles;
Dry Land Area: 18.46 sq. miles
Population Density: 518 per sq. mile

CPA Brochure
The Buzzards Bay NEP produced a Community Preservation Act brochure at the request of the Rochester Conservation Commission. We printed 2,800 copies of the brochure helped town meeting members identify the costs and potential benefits of adopting the CPA in the Town of Rochester. On Monday June 5, town meeting members approved putting the CPA on the fall town ballot.
This brochure was actually modeled after another one that we prepared for some Town of Carver residents. However, in that case, the residents skipped the town meeting vote, and directly formed a ballot question committee. Once this occurred, we were unable to print the brochure for the residents. To understand why this is the case, visit our
conflict of interest laws page
(look for link to document AO-01-03).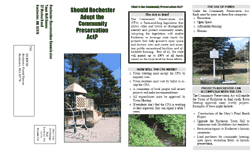 Rochester CPA Brochure (200 kb PDF)
Permitted Pollution Discharges and Toxic Waste Generators
EPA's enviro-mapper showing surface water dischargers or waste generators.
Groundwater dischargers are not shown.
Rochestor 2007 NPDES Phase II MS4 permit annual report
Potential Wetland Restoration Sites
The following downloads are excerpts from our report
Selected Inventory of Potential Wetland Restoration Sites in the Buzzards Bay Watershed
. Click the links to open the files in your web browser, or right click to save to your computer. Graphics on these pdf files has been degraded to reduce file size. Request a CD if this report (click the above link for more info)to obtain higher resolution pdf files.
Appendix 8. Sites in Rochester (2.2 MB pdf file).
Site Locus Map for Rochester (2.2 MB pdf file).
Town of Rochester Wetland Loss Map (1 MB jpg file)
Links
Commonwealth of Massachusetts Information Page on Rochester
New Bedford Standard Times info page on Rochester
Today's Rochester News from the New Bedford Standard Times
Sol Brothers Inc. Farm Case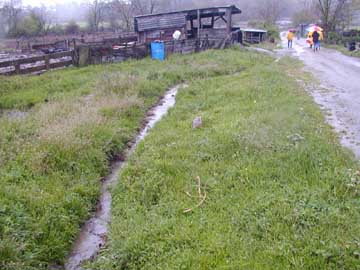 BBP Report on water quality issues surrounding a Rochester Piggery
(1.4 MB pdf file, may take a while)
BBP A no pictures version of the report that will load in less than 1 minute
- (a 53 kb pdf file)
Newspaper stories and threads
Rochester residents know what makes their town special.

NB Standard Times article 6/4/02: Article on BBP report on water quality impacts from Sol farm

NB Standard Times article 4/24/02: Testing ordered for waste on Sol's farm

NB Standard Times article 4/9/02: Judge grants 10 days for Sol to prepare a case

NB Standard Times article 4/3/02: Selectmen candidate headed to court over pig farm


Town Information Links

Town of Rochester Official Website
The Wanderer
A weekly newspaper serving the communities of Marion, Mattapoisett and Rochester in Southeastern Massachusetts.
Elected Officials
SELECTMEN 763-3871
Richard D. Nunes, Chairman
Naida L. Parker, Vice Chairman
Bradford N. Morse, Clerk
MODERATOR
Greenwood Hartley, III
TOWN CLERK
Naida L. Parker
HIGHWAY SURVEYOR
Jeffrey Eldridge
HERRING INSPECTOR
William D. Watling, Jr.
BOARD OF HEALTH 763-3871
Karen A. Walega, Health Director
Dale Barrows
Glenn Lawrence
David Souza
PLANNING BOARD
Bendrix L. Bailey
John DeMaggio
Gary Florindo
Arnold Johnson
Michael C. Murphy
Lee Carr
Chris Silveira
Appointed Officials
TOWN ADMINISTRATOR
Michael McCue
TOWN COUNSEL
Blair S. Bailey, Esquire
TOWN PLANNER
Mary Crain
CHIEF PROCUREMENT OFFICER
Michael McCue
FIRE CHIEF 763-2611
Scott Weigel
FINANCE COMMITTEE
Peter Arminetti
James Austin
Anthony Ruocco
Kristian Stoltenberg
BUILDING COMMISSIONER
James Buckles, Building Commissioner
FACILITIES MANAGER
Andrew Daniel
CONSERVATION COMMISSION (508-763-5421 x3)
Kevin Cassidy
Michael Conway
Laurene Gerrior
Christine Post
Rosemary Smith
John Teal
Christopher York
Laurell J. Farinon, Conservation Agent
ZONING BOARD OF APPEALS
Richard J. Manning, Jr.
David Arancio
Richard D. Cutler
Thomas Flynn
Kirby Gilmore
Davis Sullivan
SOIL CONSERVATION BOARD
Richard Charon
Gary Florindo
Cheryl Forand
Stephen LeConte
Bruce H. Taylor
David True
EMERGENCY PREPAREDNESS DIRECTOR
Paul Ciaburri
MATTAPOISETT RIVER VALLEY WATER PROTECTION OVERLAY DISTRICT REPRESENTATIVES
Frederick Underhill
Laurell J. Farinon
TRI-TOWN RIVER COMMISSION
Kevin Cassidy
Brad Morse
David Watling
SRPEDD REPRESENTATIVES
Susan Peterson (Selectmen representative)
Susan Peterson (Selectmen Rep)
---