Population Trends
The 2000 US Census has affirmed that the Buzzards Bay watershed remains a fast growing area. Among principal towns in the watershed, population growth averaged 8.8% (1). Actual rates varied widely among towns, ranging from an actual decline of 6.2% during the decade in the City of New Bedford, to a tie of 16.8% population increase in the Towns of Rochester and Falmouth.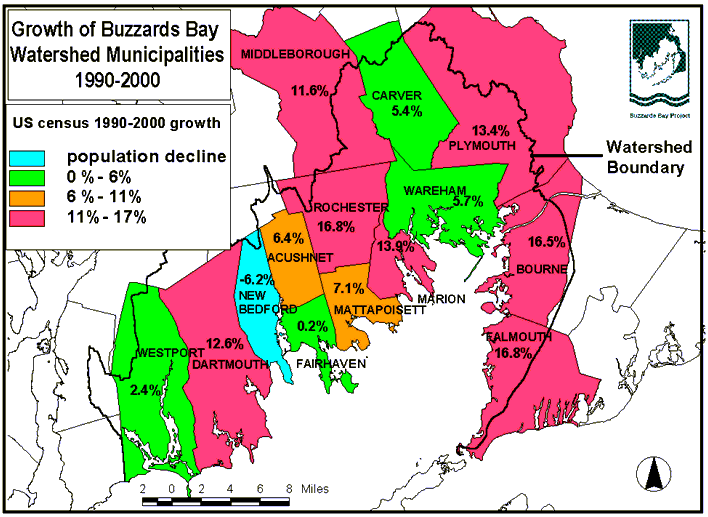 The population trends are actually complex. Because one third of the watershed population is found in New Bedford, a city with a declining population, the population in the entire watershed increased only 2.6% in the decade (2). If New Bedford is excluded, total population in the remaining watershed increased 9.8%.
The population downturn in New Bedford appeared to have occurred principally in the first half of the 1990s. In the past few years, permits for new single family units and multifamily units in New Bedford have been increasing, and the city has been undergoing redevelopment. These changes, coupled with proposed extension of commuter rail service and the planned New Bedford airport expansion suggest a higher growth rate in the watershed for the next decade.
Construction and New Development
Like most coastal areas, the Buzzards Bay watershed is losing more and more open land to development. One of the strongest indicators of population trends and changes in land use are the number of permits municipalities issue for the construction of single family homes (SFH). What is remarkable about this data is that the number of permits issued increased 50% in the last five years, suggesting higher population growth rates in the future.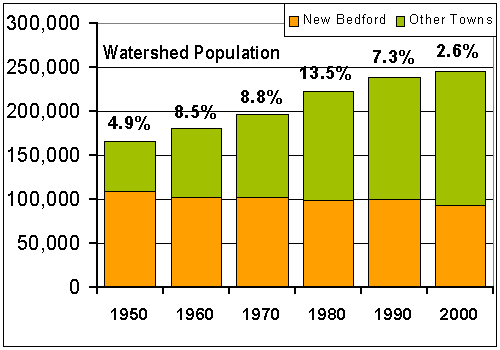 Like population growth, new home construction is not occurring at equal rates among Buzzards Bay towns. For example, the Town of Fairhaven, which has a very stable population, still had a 163% increase in the number of new home permits over 5 years, but annual permits totaled less than 50 per year. In the Town of Falmouth, permits have increased only 28%, but the town issued a remarkable 273 permits for new homes in 1999. The challenge to Falmouth's infrastructure and permitting capacity has been so great, that in 1996, the town set a cap of 200 permits per year (with certain projects excluded.)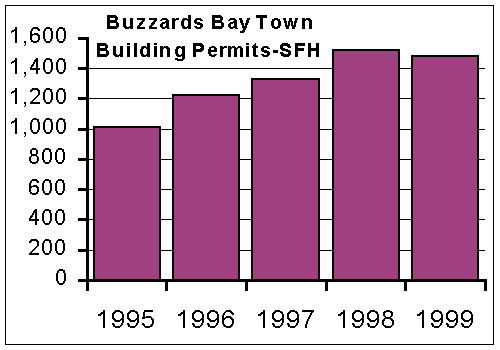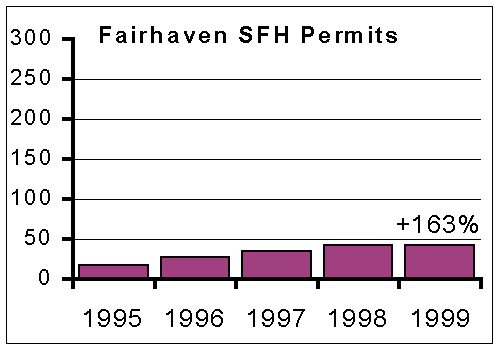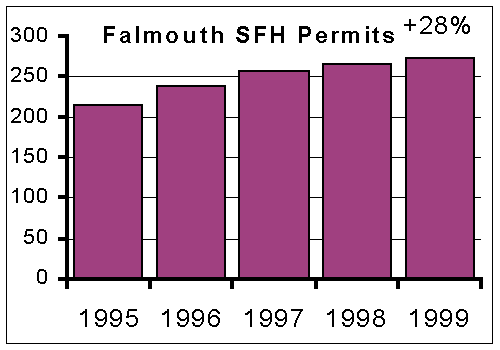 2. Based on watershed populations for Westport, Dartmouth, New Bedford, Acushnet, Fairhaven, Mattapoisett, Rochester, Wareham, and 80% of Bourne, 25% of Falmouth, 84% of Carver, 20% of Plymouth, and 6% of Middleborough (values based on % of population in watershed in the1990 census).