Toxic Pollution in Buzzards Bay
Sub-pages: Hazardous Waste Pickup | MA Hazardous Waste Cleanup Laws | Pesticides


Related pages: Seafood Safety | 1991 Toxics Action Plan | 2007 draft Toxics Action Plan | Nitrogen Pollution | Stormwater Pollution | Oil Pollution | Reporting Environmental Violations


A major focus of the Buzzards Bay National Estuary Program is to address toxic pollutant discharges to Buzzards bay. This page links to the major categories and initiatives under toxics reduction and management for Buzzards Bay.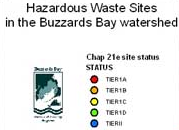 Interactive Google earth Map of Chapter 21e sites
(requires Google Earth (a free program) installed on your computer).
Other Links on Hazardous and Toxic Materials
Link to EPA's discharge mapper site: see dischargers in your town
EPA's posting of NPDES individual permits for Massachusetts
Search EPA's online enforcement and compliance data for NPDES individual permits
Search EPA's online permit compliance system includes data from NPDES permit reports.
---