Buzzards Bay Oil Spill: Bouchard Barge No. 120
Overview of the Bouchard 120 oil spill
On Sunday April 27, 2003, the Tank Barge Bouchard No. 120 struck rocks south of Westport, MA, when it passed on the wrong side of a navigational marker at the entrance of Buzzards Bay. The resulting 12-foot gash on the bottom of the hull released an estimated 98,000 Number 6 fuel oil in Buzzards Bay. The vessel was on route to deliver oil at the Mirant electricity generation facility located on the Cape Cod Canal.
A large fraction of the released oil washed ashore at Barneys Joy beach in Dartmouth the next day, but because of shifting winds and rough seas in the days following the spill, oil continued to wash ashore for more than two weeks eventually landing on more than 90 miles of shoreline. The spill impacted a variety of natural resources, including wildlife (mostly birds, with 500 found dead), salt marshes, rocky shorelines, recreational beaches, and shellfish beds, which were closed for many months after the spill in some areas to protect human health.
The emergency response phase of the cleanup, overseen by the US Coast Guard was terminated by September 2003. Non-emergency cleanup activities continued after that date under the Massachusetts' hazardous waste spill laws, through a required Massachusetts Contingency Plan (see our Cleanup Status page). Most areas were cleaned pursuant to the Massachusetts' law by 2004, but cleanup activities continued at a small number of difficult sites through the fall of 2007, and all cleanup activities essential ceased by 2008.
Separate from the state and federal clean-up activities (estimated to have cost more than $36 million dollars for the emergency phase), and separate from the $9 million dollars in fines levied by the federal government in 2004 (as part of a criminal liability settlement), the Natural Resource Damage Assessment (NRDA) has been ongoing, and has involved state and federal scientists reviewing all the data associated with the spill to determine the full extent of environment impacts and damages. Based on the findings of the NRDA, additional environmental restoration actions will be required by the responsible party, the Bouchard Transport Company. A partial settlement of the NRDA damages was agreed upon in November 2010, and the entire NRDA process is expected to be complete in 2011. Two property owner damages class action lawsuits were also settled in November 2010 and January 2011. Go to our oil spill costs page for more information and links to the class action suit webpages.
This page has general information about the oil spill and links to sub-pages with more detailed information.
Sub-pages:   Recent Updates  |  Cleanup Status & Maps & Announcements  |  Health Issues  |  Impacted Areas  |      Other Impacts  |  Important Links  |  Municipal Actions  |  Corrections  |  Cleanup Time-line  |  Cleanup Objectives  |  Cleanup Methods
Related pages: MA Hazardous Waste Cleanup Law  |   MA Oil Spill Commission  |   Reporting Violations  |   Oil Pollution Information  |   Today's Bay Conditions  |   Beach Information  |   Web Stats
NOAA DARRP Administrative Record
Bouchard No. 120 Photo Pages:
Fairhaven Pictures  |  Mishaum Pictures  |  First Flight Pictures  |  Long Island Restoration  |  NOAA Incident News Photos   |  NOAA Damage Assessment Page Photos   |  Massachusetts DEP Photos   |  US Fish & Wildlife: Images  |
Note: Our most recent updates are on the middle of this page.
Also: Visit Massachusetts DEP's Bouchard website. Their pages includes dozens of great pictures.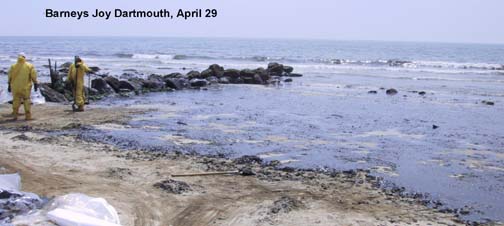 Largest Oil Spill in Buzzards Bay in nearly 35 Years
Second largest recorded
On Sunday April 27, 2003, the Tank Barge Bouchard No. 120 ran aground and spilled an estimated 98,000 of gallons of Number 6 fuel oil in Buzzards Bay. Dr. Joe Costa, Executive Director of the Buzzards Bay NEP, prepared this page to provide residents, municipal officials, and managers, information about the spill, its environmental impacts, and about the progress to cleanup and restore affected areas. The information on these pages was compiled from various sources and first reports, and is subject to revision. The views or information contained here do not necessarily reflect the views of the US Coast Guard or any state or federal agencies responsible for the cleanup. Email information and corrections to joe.costa@state.ma.us. The official Coast Guard website for the Bouchard spill can be found at the Incident News Website.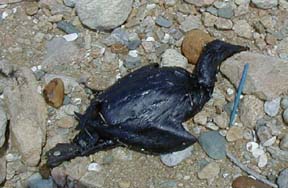 Buzzards Bay NEP Role
What was the role of the BBP during this oil spill?:The Buzzards Bay National Estuary Program is a technical assistance and planning unit of Massachusetts Coastal Zone Management. We were often confused with the citizen advocacy group, the Buzzards Bay Coalition (which headed up the volunteer effort), and sometimes with the municipal official organization, the Buzzards Bay Action Committee, which has brought area municipalities together for coordinated regional protection efforts, like oil spill response.
The Buzzards Bay NEP was not directly responsible for either oil spill response, clean up, or assessment. These roles are prescribed to the Coast Guard, the state Hazmat contractor, municipal first responders, the Bouchard Oil Company, and Massachusetts DEP, and other agencies. However, we provided important technical support to state agencies and the Coast Guard in support of these actions, such as the production of maps with living resource information. BBP staff also assisted in the wildlife rescue efforts in the first 10 days when there was a shortage of trained personnel. Perhaps most importantly, we maintained this detailed website about the spill because we recognize that full unbiased disclosure of events and keeping the public and municipal officials informed about the spill and clean-up efforts would help speed the protection and restoration of Buzzards Bay. Click here to learn more about our history.
Resident Calls and Response
During the immediate emergency response, the US Coast Guard was the lead agency for coordinating spill cleanup activities and overseeing the Incident Response Command Center. During the spill, the citizen group, the Buzzards Bay Coalition also maintained an oil spill hotline for residents, or they could also call the Command Center. After the Command Center closed in September 2003, a new contractor (a Licensed Site Professional), GeoInsight, began handling the remaining cleanup under the oversight of Mass DEP. As of December 2007 area residents can still report oil or oil related problems by calling the GeoInsight at (978) 692-1114 during working hours. Calls about the Natural Resource Damage Assessment will be handled by state and federal agencies involved through a separate process.
At the time of the spill, and subsequent months, if you experienced financial losses because of the spill in any way, your were supposed to file a claim. The Bouchard Transport Company paid most of these claims soon after they were filed. Some residents had active litigation as late as 2007.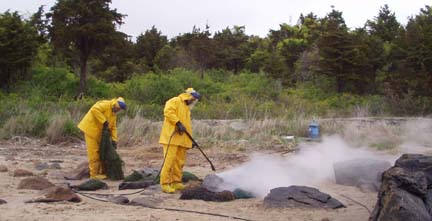 Most of Buzzards Bay was closed to shellfishing in the days and weeks after the spill because of potential health risks from possible oil contamination of shellfish. By 2004, most areas were reopened. Only a few heavily oiled beaches remained closed through 2007. Questions regarding any remaining fisheries closings should be directed to the Massachusetts Division of Marine Fisheries at 508-563-1779, Mondays through Fridays 8 A.M. to 4:30 P.M., or your town's Shellfish Warden.
Immediately after the spill, oiled birds were first treated the New Bedford Zoo, then at a wildlife rehabilitation facility established on the grounds of the New Bedford Wastewater Facility at Fort Rodman. Residents were requested not to handle oiled wildlife themselves. These emergency facilities closed late in the summer of 2003.


Cleanup Time-line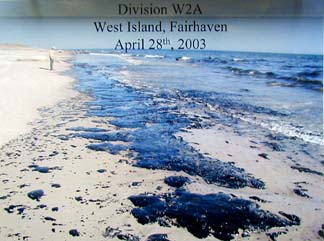 The emergency response cleanup, with the US Coast Guard as the lead agency, continued through September 2003. Cleanup under Massachusetts hazardous waste spill laws (overseen by DEP) began in 2003 and continued in a number of areas through 2007.
Early on, DEP noted that the cleanup will consist of several phases. The duration of these phases would depend upon the degree of oiling and the type of shoreline affected. For example, certain areas like sandy beaches were far easier to clean than rocky shorelines.
DEP's defined cleanup phases are as follows:
Phase I: Emergency/Initial Response. This phase involves the stabilization of the vessel and stoppage of oil release, mobilization of response equipment, protection of environmentally sensitive areas, and the initial cleanup of heavily oiled areas. Phase I lasted from days for sandy beach to weeks and months for some rocky and marsh areas. [This phase ended in September 2003].
Phase II: Ongoing Treatment and Removal of Oil. This phase involves the use of many different cleanup methods depending on shoreline type. Trained experts evaluate all areas and determine which cleanup method is most appropriate, taking into account level of oiling, environmental sensitivity, and other factors.
Phase III: Monitoring and Maintenance. After an impacted shoreline area has been deemed by the cleanup crew to reach the initial cleanup level, another team of experts is sent to the area to confirm that this is the case. On sandy beaches, this level has been reached when there is no visible oil present. On rocky shorelines and areas of mixed sand and gravel, this level has been reached when there is no sheen and the oil on rocks does not come off on one's fingers when touched.
Phase IV: Official Inspection: This phase involves the inspection of impacted, cleaned areas by federal, state and local authorities. No area will pass this phase if any of the authorities are not satisfied that an impacted area is sufficiently clean, and that no risk is posed by use of the area. Nearly all areas have now passed inspection.
Phase V: Long-Term Cleanup: The final phase of the cleanup involves a detailed and comprehensive examination and assessment of any residual impact of the oil spill. Questions considered in this phase include: are there any additional actions needed? Has the spill damaged any natural resources? What changes, if any, have occurred as a result of the spill? This phase will last for several years.
For additional information about the final phases of cleanup, or if you believe there are unresolved problems, please contact Mass. DEP at 508-948-2850.
Priority Sites and Clean-up Progress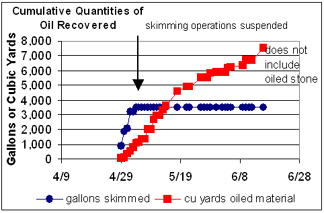 In the days and weeks following the spill, to better communicate the status of the clean-up, the Coast Guard identified beaches never oiled, areas in maintenance, and those areas that are believed to be cleaned to some acceptable endpoint ("IRAC" endpoint. Click on the link to below to see the last cleanup status maps we produced. During the cleanup, the Coast Guard released periodically an updated schedule for the planned cleanup of each oiled area.
To see an example, click here for the June 27, 2003 Shoreline Cleanup Plan (100 kb pdf file).
All top wildlife priority coastal bird nesting sites, including sites used by two endangered species (Roseate Tern and Piping Plover), were largely cleaned by May and June 2003, and were used by birds in the 2003 nesting season. These areas included Barneys Joy, Ram Island (Mattapoisett), Bird Island, Allens Pond, and Penikese Islands.
GeoInsight, the current cleanup contractor, continued IRA inspections for the state hazardous waste cleanup program well into 2004. During these inspections, the inspection teams removed oil patties, tar balls, and oiled wrack that they found, where feasible. Here is GeoInsight's first IRA plan issued September 15, 2003:
GeoInsight September 15, 2003 IRA Plan (132 kb pdf file)
GeoInsight September 15, 2003 IRA Plan Table 1 (78 kb pdf file)
GeoInsight Errata to the September 15, 2003 IRA Plan (91 kb pdf file)


View the last posted cleanup Information and last oil spill cleanup status maps.
These plans were updated, and new plans were created for other areas, and these can be viewed on the Cleanup Status page.
Cleanup Objectives and End Points
The Massachusetts DEP and Coast Guard together adopted different cleanup endpoints for different types of beaches. These cleanup goals were part of first emergency phase of the cleanup and called the Immediate Response Action Completion (IRAC) guidelines. For example, under these guidelines, sandy beaches were to have no visible traces of oil. However, oiled rocks were acknowledged to possibly remain black for a year or more. Certain types of habitat, like nesting areas for endangered species, were to have very specific cleanup goals. By fall 2003, most oiled areas were defined as "Treated and in Maintenance", with some areas are "Signed Off" off under these cleanup guidelines by the Massachusetts DEP. Even after a beach was signed off according to the IRAC guidelines, cleanup actions continued to remove any new tarball landings or newly discovered oil. After the emergency phase, cleanup actions continued under the Massachusetts hazardous waste spill cleanup regulations.
For more information about the first phase cleanup goals, click on the IRAC Guidelines.
Last Information Updates
Thursday, January 20, 2011
During the past several months, the Bouchard Transport Company has entered into legal settlements for damages with the federal government, the Commonwealth of Massachusetts, and residents along Buzzards Bay. We have updated our Oil Spill Costs page with this information.
Thursday, September 09, 2010
We have updated the Cleanup Status Page with information the Natural Resource Damage Assessment and information about a recent court settlement.
Friday, May 15, 2009
We have received from GEOInsight Inc. the Phase IV Final Inspection Report, Phase IV Completion Statement, and the Partial Class A-2 Response Action Outcome statement. Go to the Cleanup Status Page to view the combined report.
Wednesday, May 13, 2009
DMF reported to us that 135 acres of shellfish beds remain closed related to the oil spill (129 acres in Fairhaven around Hoppys Landing area, and 6 acres in Mattapoisett at Leisure Shores). Generally, shellfish beds were opened as beaches were approved as clean by DEP, but these two areas have remained closed because of residual buried oil at these sites delayed state approval.
Monday, March 2, 2009
We posted on the Cleanup Status Page a report we received last Fall from GEOInsight Inc.
State and federal agencies continue to work on the Natural Resources Damage Assessment. Most elements of the damage assessment have been finalized, except for the final assessment on bird impacts, including damage to the endangered Roseate Tern population.
Tuesday, May 20, 2008
We have posted some figures from Appendix B and Appendix D from the August 2006 RAO report prepared by GEOInsight Inc. The new postings include oil summaries for individual segments around Buzzards Bay. Go to the Cleanup Status Page to view these files.
Friday, February 15, 2008
We have posted a report prepared by GEOInsight Inc. titled "PHASE IV REMEDY IMPLEMENTATION PLAN. LEISURE SHORES AND HOWARD'S BEACH PORTION OF SHORELINE SEGMENT W1F-02 (BRANDT ISLAND WEST) MATTAPOISETT, MASSACHUSETTS" dated February 8, 2008. Go to the Cleanup Status Page to view it.
Friday, December 7, 2007
We overlooked posting a report that we received this Fall. We posted a report prepared by GEOInsight Inc. titled "PHASE IV REMEDY IMPLEMENTATION PLAN. LEISURE SHORES AND HOWARD'S BEACH PORTION OF SHORELINE SEGMENT W1F-02 (BRANDT ISLAND WEST) MATTAPOISETT, MASSACHUSETTS" dated August 2, 2007. Go to the Cleanup Status Page to view it.
Friday, June 29, 2007
We posted a report prepared by GEOInsight Inc. titled "Phase IV status report Hoppys Landing (Long Island) portion of shoreline segment W2A-10 Fairhaven, Massachusetts" dated June 27, 2007. Go to the Cleanup Status Page to view it.
Updates previously posted on this page in this section were moved to the oil spill past updates page.
Documented and Potential Adverse Impacts
Where the oil comes ashore, the shoreline type, habitat, and oil volume, will define its impacts. Major concerns include shellfish bed closures, oil on beaches, habitat loss, and wildlife impacts.
To make this make this page more manageable in size, we have created these sub-pages with more information.
Impacted Areas
Shellfish Impacts
Bird Impacts
Other Wildlife Habitat Impacts 
Buzzards Bay Beach Information.
Bird Mortality Summary

No. 6 fuel oil can be very adverse to wildlife, and as noted on our No. 6 fuel oil information page, bird mortality is relatively high compared to other oils. The graph shows bird mortality in Buzzards Bay recorded in the weeks after the spill. Two species of Loon accounted for nearly half the bird deaths, in the first data set, but 38 species were represented were represented in this preliminary data set (the final estimate of bird mortality will be published as part of the NRDA reports expected to be released in 2008).
Of special interest is the fact that Buzzards Bay has the largest colony of Roseate Terns in North America, a US endangered species. Roseates have been relocating to Ram Island (Mattapoisett) during the last eight years, but Ram Island was a heavily oiled by this spill, and this important habitat remains a key focus of cleanup efforts. In Buzzards Bay, there are also many breeding sites for the US Endangered Piping Plover, and some of these nesting sites were at risk from the spill.
Go to our bird impacts page for more information on oil impacts to birds
Public Health and Safety Issues
At the time of the spill, all government officials recommend that the public stay off beaches wherever they see work crews, or accumulation of oil or tar balls. This oil was considered a hazardous material, and citizens were advised not attempt cleanup. If you got oil on your skin, it is recommended that you use baby oil or mineral oil available in most pharmacies and supermarkets. If you have a cat or dog, it is recommended that you use vegetable oil, because the animals lick their fur, and baby oil should not be consumed. If you believed your pet was been injured, you were advised to seek veterinary services, then contact the Coast Guard. Go to our Health Issues page for more information.
US Fish and Wildlife list of species in Buzzards Bay potentially at risk
US Fish and Wildlife press release on environmental impacts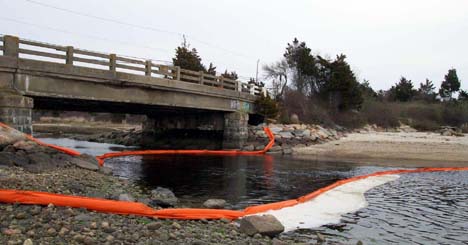 Municipal preparedness
Buzzards Bay area municipal Fire Departments and Harbormasters have long recognized they are the first responders in the event of both big and small oil spills, and their actions are critical in the first 24 to 48 hours to protect their town's natural resources. They therefore planned and trained for oil spills. Because of municipal concerns, in 1994 12 Buzzards Bay watershed municipalities signed an Oil Spill Mutual Aid Agreement to share equipment and personnel in the event of an oil spill. In 1991, 1994, 1998, 2000 the Buzzards Bay NEP provided grants to the municipalities to purchase oil spill response equipment, and to help pay for oil spill training. The purpose of this effort was to help municipalities be the first responders in local spills, and to help minimize impacts of central bay spills coming ashore. Read this 1998 press release on oil spill training. Read this article by Dr. Joe Costa in the NB Standard Times about town actions to protect sensitive areas in the first days of this spill.


First morning aerial views of the spill.
Buzzards Bay Quick Facts
Factoid: More than 2 billion gallons of oil, gasoline, and other hydrocarbons are shipped through Buzzards Bay annually.
Buzzards Bay is a moderately large estuary located between the western most part of Cape Cod, Southeastern Massachusetts, and the Elizabeth Islands. The bay is 28 miles long (45 kilometers), averages about 8 miles (12 kilometers) in width, and has a mean depth of 36 feet (11 meters). It is approximately 228 square miles (590 square kilometers) in size. [This is the nautical chart definition of Buzzards Bay. For management purposes, state agencies include a larger area to the Rhode Island border, or 269 sq. miles.] The coastline stretches over 350 miles (563 kilometers–this includes inner harbors, bayward facing portions of the Elizabeth Islands, and portions of the Cape Cod Canal within the watershed.) and includes 11 miles (18 kilometers) of public beaches that lure thousands of tourists from Massachusetts and neighboring states. More than 12,000 boats can be found moored or on Buzzards Bay during peak summertime holidays. Eleven coastal communities share the bay (City of New Bedford and Towns of Westport, Dartmouth, Acushnet, Fairhaven, Mattapoisett, Marion, Wareham, Bourne, Falmouth, and Gosnold (Elizabeth Island Chain, town hall on Cuttyhunk Island), and 5 more are in the watershed. Go to our watershed information page for other useful facts about Buzzards Bay and its watershed.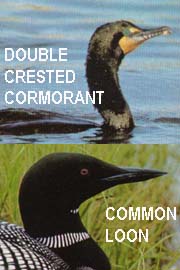 Loons, Scoters, Grebes, and Cormorants
Twenty-nine species of birds are being affected by this spill. Loons have been most affected, but double-digit death tolls have been reported for Scoters, Eiders, Cormorants, and Grebes. Click on the picture of the Loon and Cormorant on the right to see other pictures or find links to other birds affected.
Related Links (will open in second window)
Coast Guard Bouchard No. 120 Oil Spill Incident News website.
Massachusetts DEP Bouchard No. 120 Oil Spill Page
Woods Hole Oceanographic Institution Press release on the Buzzards Bay Oil Spill
US Fish and Wildlife site: Buzzards Bay Oil Spill Takes Toll on Wildlife
NOAA Damage Assessment Page for Buzzards Bay
NOAA Damage Assessment and Restoration Program Fact Sheet for Buzzards Bay (pdf file)
NOAA document on Damage Assessment Process for Oil Spills
NOAA document on adverse effects of oil
EPA's website on oil spills, including allowed cleanup methods
Bouchard Transportation Company
News Stories
New Bedford Standard Times:
Complete story synopsis of the Buzzards Bay Oil Spill with story links for each day
Article by Dr. Joe Costa in the NB Standard Times about town actions to protect sensitive areas.
First News Stories
April 28 WHDH New England News report
April 29 WCVB Channel 5 Article Oil Spill Closes Bay To Shellfishing
April 28 WCVB Channel 5 Article-first report