Sailing Club Information for Buzzards Bay
Related pages: Nautical Charts  |   Boat Pumpouts  |   Oil Spill Response  |  Boat Ramps and Launches  |   Fishing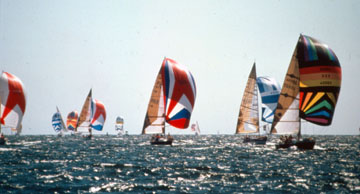 Sailing Clubs and Associations in and around Buzzards Bay
Enjoy Buzzards Bay through boating. Most boat clubs welcome new members.
The Community Boating Center– a non-profit located in New Bedford, MA
Southern Massachusetts Sailing Association (SMSA)
MYC: Mattapoisett Yacht Club
LTYC: Low Tide Yacht Club (New Bedford, MA)
NBYC: New Bedford Yacht Club (Padanaram Harbor, South Dartmouth, MA)
Beverly Yacht Club (Marion, MA)
Wild Harbor Yacht Club (Falmouth, MA)
Buzzards Bay Sailing School 99 South Road, Pocasset; 508-563-9757 (June through August)
Old Sigh Race Club races out of Red Brook Harbor, Bourne on Wednesday evenings and holds special PHRF events.
Pelagic Sailing Club is a Dorchester club with a "Southern Fleet" which participates in Buzzards Bay events.
Cataumet Club Corner Scraggy Neck & Squeteague Harbor Roads, Cataumet;
Chappaquoit Yacht Club West Falmouth
DC-10 Frostbite Fleet, Falmouth
Falmouth Yacht Club 290 Clinton Ave., Falmouth; 548-3865
Massachusetts Maritime Academy Sailing Club Taylors Point, Buzzards Bay; 830-5000×1504
Megansett Yacht Club 237 County Road, North Falmouth; 563-9812
Quissett Yacht Club Quissett, Falmouth
1 Shipyard Lane, Cataumet
Wenaumet Bluffs Yacht Club Pocasset
Woods Hole Yacht Club 58 Bar Neck Road, Woods Hole; 548-9205
Sailing Events
Buzzards Bay Regatta Information
The Buzzards Bay Regatta is purportedly the largest multi-class regatta in North America, typically attracting over 400 boats across 15 different classes. The three-day event is hosted by the Beverly Yacht Club in Marion and Community Boating Center in New Bedford, Massachusetts.
Some of the sailing clubs in the list above hold special events. For example, the Old Sigh Race Club holds an Old Sigh Race Series. Click on the links above for more information.
---
Boat Safety Information
USCG Auxiliary Flotilla 65, 1NR, (New Bedford/Fairhaven, MA)
Acushnet River Safe Boating Club
Coast Guard Auxiliary's National Web site (CGAUXWEB)
United States Coast Guard Home Page
United States Coast Guard Office of Boating Safety Web Site
USCG Auxiliary's First District-Northern Region
US Power Squadron
USCG/MSO Providence
Of interest: US Army Corps of Engineers, Cape Cod Canal Field Office, Buzzard's Bay, MA (508) 759-4431
call (508) 759-5991 for prerecorded TIDE and WEATHER Information
---
Boat Sewage No Discharge Area Info
No Discharge Area Fact sheet for Buzzards Bay
Buzzards Bay No Discharge Area 1999 Press release
---
Important Numbers:
U.S. Coast Guard Station: Cape Cod Canal, Sandwich, MA 508-888-0020
U.S. Coast Guard Station: Woods Hole, MA 508-457-3253
Search & Rescue Emergencies: Cape & Islands – 457-3210
The Coast Guard Monitors Channel 16 (2182 kHz) & Channel 22 (157.1 mHz),
Call the Coast Guard on Channels 12 & 22