Information about Cranberry Bogs and the Environment
BBP related pages: Pesticide Info  |  Cranberry Initiative
Cranberry Bogs in the Buzzards Bay watershed
The Buzzards Bay NEP often receives inquiries regarding cranberry bog issues. This is not surprising, because most of the state's 13,000+ acres of cranberry bogs are found in the Buzzards Bay watershed. To help respond to these requests, we have set up this web page of commonly asked questions and concerns, and direct readers to other sites for detailed information.

Cranberry bogs have long been an important part of Massachusetts' culture, economy, and history. In 1996, cranberry production in Massachusetts exceeded $117 million in product value, accounted for 35% of world production, resulting in 5,500 jobs, and $2 million in payroll to Commonwealth residents. Cranberry production represents the third largest single agricultural commodity in Massachusetts, following greenhouse plants and dairy farms.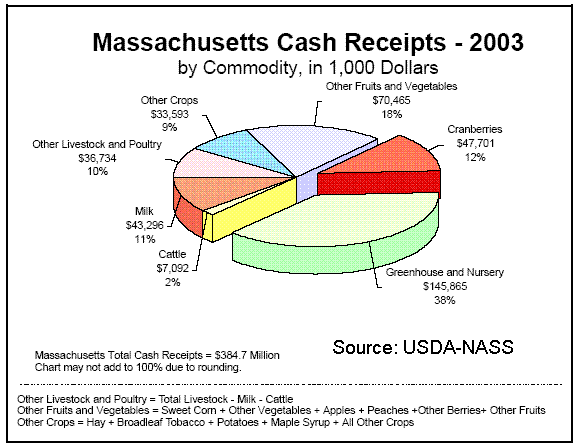 Throughout the 1990s, cranberry prices increased steadily and dramatically. This resulted in an increased acreage of bogs in Massachusetts. In 1999, prices collapsed, reaching a low of $11 per barrel for some independent growers, and still have not yet recovered. Prices are below production costs for some farmers (for many, the "break-even" price is $30-$35 per barrel), and acres of cranberry bogs in active production have declined somewhat. These trends are shown in the graphs below.


To view the original data and reports used in the graphs above, visit http://usda.mannlib.cornell.edu/MannUsda/viewDocumentInfo.do?documentID=1044, www.nass.usda.gov/nh/pdf/03cran.pdf, www.nass.usda.gov/nh/05frtveg.pdf, and also www.nass.usda.gov/nh/cranaug04.pdf. Price are for weighted coop -non coop, and fresh and processed berries as per NASS reports. Fresh berries may sell at 80% more per barrel than processed berries, but fresh berries have a much smaller portion of sales. Later reports may include revisions to previous year estimates, and 2004 data may be subject to revision.
Like any industry in Massachusetts, there can be environmental impacts from cranberry production. Elsewhere on this website we explain the cumulative impacts and nutrient loading from residential septic systems, lawns, golf courses, dairy farms, and municipal roads. Like these sources, cranberry bogs also release nitrogen and phosphorus into the environment. Concerns are also often raised regarding pesticide and other contaminants released into the environment, as well as water withdrawals from ponds and groundwater.
What permits are required by cranberry bog operators to withdraw groundwater or surface water for irrigation?
The Water Management Act (M.G.L. c.21G) of 1986 authorizes the Massachusetts Department of Environmental Protection (DEP) to regulate the quantity of water withdrawn from both surface and groundwater supplies. The purpose of the Act regulations (310 CMR 36.00) is to ensure adequate water supplies for current and future water needs. Persons planning to withdraw water from ground or surface sources in excess of an annual average of 100,000 gallons per day or 9 million gallons in any three-month period must apply for a Water Management Act Permit. Compliance with permit limits is self-reporting.
Visit DEP's Water Management Act Page
Click here to open (right click to download) the form Cranberry Growers with permits must file annually with DEP
Must the cranberry bog operator post notices of when pesticides are applied to cranberry bogs?
Generally, OSHA regulations require a posted notice of pesticide applications and potential hazards for farm employees. If the cranberry bog is adjacent to a public way, state or local regulations may require such a posting, or the bog operator may elect to post such a notice. Certain restricted pesticides also require posting as follows:
333 CMR 13.03(19)
No application of restricted use or state limited use pesticide, as classified in 333 CMR 8.05(3), bearing the Signal word "Danger" for the purpose of producing an agricultural commodity shall be made to a site within 50 feet of a public way unless notice of the application is given by the posting of a sign. All signs posted pursuant to 333 CMR 13.03(19) shall:
(a) Be posted at least every 200 feet along the perimeter of the treated area facing the public way and at every principal entrance to the treated area facing the public way;
(b) Be posted prior to the application, but not more than 24 hours prior to application;
(c) Be removed no sooner than 48 hours after the application and no sooner than the expiration of any Restricted Entry Interval (REI) stated on the label instructions under the heading "Agricultural Use Requirements."
…
(e) Have a background color that contrasts with red. The words "Danger" and "Peligro", plus "Pesticides" and "Pesticidas" shall be at the top of the sign, and the words "Keep Out" and "No Entre" shall be at the bottom of the sign. Letters for all words must be clearly legible. A circle containing an upraised hand on the left and a stern face on the right must be at the center of the sign…."
How are pesticides applied to cranberry bogs?
Most often, pesticides (herbicides, fungicides, insecticide), as well as fertilizers, are applied to cranberry bogs through the water sprinkler irrigation system. This process is referred to as "chemigation." Pesticides are sometimes also applied by hand sprayers or wipers. Occasionally helicopters may be used. Commercial and agricultural application of pesticides can only be applied by Massachusetts state certified applicators. Most bog operators are certified, or they may hire a private contractor.
Read the University of Minnesota Extension Service's Page of Chemigation Safety Measures.
Most growers have adopted "Integrated Pest Management" or IPM. IPM includes a combination of biological, cultural, or chemical control methods as part of a strategy to reduce pesticide use. According to a Cranberry Institute study in 1996, 60% of Massachusetts cranberry Bog acreage may be under IPM, although the use of specific practices vary. For example, the authors of this study estimated 45% of Massachusetts cranberry bog acreage uses weed mapping. Use of IPM is improving, and a 2002 IPM assessment by the cranberry institute suggests use of selective IPM practices of one type or another may be as high as 94%. However, not all growers use IPM in a comprehensive manner (read also the 2002 Cranberry Pest Management Strategic Plan and also NE IPM's Massachusetts Cranberry Report). To implement IPM, bog operators hire IPM scouts, who use insect nets and sticky traps to monitor pest activity, and conduct weed mapping.


Visit BBP's Pesticide Information Page
Massachusetts Pesticide Bureau's Licensing Information Page
Click here to open (right click to download) the form Cranberry Growers with permits must file annually with DEP
What are "flow-through" bogs?
Most cranberry bogs in Massachusetts are physically separated from streams and ponds by berms, roads, or other feature. In addition, many bogs have a "tail water recovery pond" that can capture rain and irrigation water flowing off a bog to hold the water for a prescribed number of days after a pesticide application so there are no impacts to the stream (e.g., certain pesticides could cause a fish kill).
A small percentage of older cranberry bogs, perhaps only 10% or 15% of all bogs in the Buzzards Bay watershed, have a stream flowing through them without a berm or other features. These "flow through" bogs make it difficult to retain restricted use pesticides for the prescribed number of days. Because pesticides are most often applied through spray irrigation, cranberry bog operators use shields or "half-head" sprinkler systems to prevent the stream from being sprayed. However, drainage ditches in the bog may flow back in to the stream. The cranberry industry has recognized this problem, and has been working with farmers to rectify the problem, but it is expensive to isolate streams and construct tail water recovery ponds, so many flow through bogs remain. This issue of flow through bogs prompted the Buzzards Bay NEP's "Cranberry Bog Initiative" described in the links below.

BBP's Cranberry Bog Initiative


BBP's Work with a Town of Falmouth-owned Cranberry Bog
Flow through bogs are also a concern with the passage of herring. This subject is discussed in a Massachusetts Department of Fisheries, Wildlife and Environmental Law Enforcement newsletter article below. Read also this Best Management Practices for Cranberry Growers with Anadromous Fish page from the Cape Cod Cranberry Growers Association.
1986 Massachusetts Water Management Act and supporting programs (89 kb pdf file).
The act requires water withdrawal permits for certain cranberry rogs, and requires a tail water recovery system for pollutant management.
310 CMR 23.00 RENOVATION OF ABANDONED CRANBERRY BOGS
310 CMR 23.05 (3) Performance Standards: "A tail water recovery system shall be established as necessary to protect water quality downstream. The system shall be able to retain on site a volume of water equal to the capacity of the bog for at least five days prior to discharging into a pond, river, or wetland. A by-pass canal shall be constructed and maintained as necessary to isolate naturally flowing water away from the bog area. The by-pass canal shall be constructed within the existing dike system or in an upland area. Bypass canals shall be provided with fish passage structures or adequate flows to protect anadromous fish runs."
Wetland Losses Associated with Cranberry Agriculture
More information about historic and recent wetland losses associated with cranberry growing can be found on our Wetland Losses in The Buzzards Bay Watershed page.
More Links Relating to Cranberry Bogs and the Environment
Cape Cod Cranberry Growers' Association GROWER ADVISORY Agriculture Regulations of the Wetlands Protection Act and neighbor relations
Cape Cod Cranberry Growers' Association GROWER ADVISORY Conservation Farm Plans: Benefits, Content, and Use
Massachusetts IPM (Integrated Pest Management) Guidelines for Cranberry Bogs
Mass Department of Ag reports on Cranberries
University of Wisconsin Page on Cranberry Bog Environmental Issues
State of Washington Study: Evaluation of Efforts to Reduce Pesticide Contamination in Cranberry Bog Drainage
State of Washington Study: Assessment of Cranberry Bog Drainage Pesticide Contamination
University of Massachusetts Cranberry Bog Page
University of Massachusetts Integrated Pest Management message page
University of Massachusetts 2004 Insect Management report.
State of Maine Cranberry Bog Cultivation Requirements
Wisconsin MOU on cranberry pesticide problems (note comment on use of retention ponds)
Cape Cod Cranberry Growers Association list of advisories
Seattle newspaper article: Supreme Court rejects challenge to no-spray buffers around salmon streams
Links Relating to Cranberry Bog Production and the Economy
2001 Strategic Plan of the UMass Amherst Cranberry Experiment Station
State Press Release: Fish to be Raised on Cranberry Bogs in Demonstration Project Designed to Bolster Industry
Some cranberry growers are considering abandoning some of their bogs because the USDA has added funds to a program that would pay for bogs to be restored to wetlands and farmers would get paid for lost land value or revenue. It is estimated that 1.5 million dollars may become available to Massachusetts cranberry growers. The links below provides information from USDA.
Fact sheet on Wetland Reserve Program 2008 Farm Bill Fact sheet
Q&A from Wetland Reserve Program 2008 Farm Bill Fact sheet
USDA Manual for Wetland Reserve Program 2008 Farm Bill Fact sheet
Cranberry Stressline: An cranberry industry news and opinion website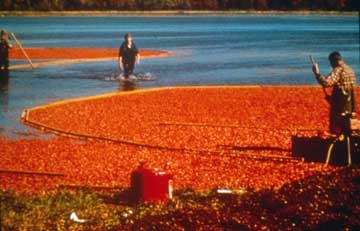 The first two weeks of October are generally the best time to catch a cranberry harvest in Southeastern Massachusetts.
Return to Wetlands Protection Page
---